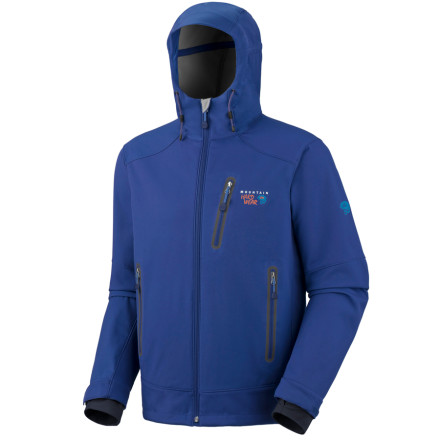 Step out onto the wing of the plane and see if you notice any wind. Nothing, right? It must be the windproof Motivity Softshell fabric of your Mountain Hardwear Mecurial Jacket. OK, the wing of a plane may be a slight exaggeration, but you get it. The Mecurial fights off drafts while you're skiing, climbing, or hiking, so you never get that chilled-to-the-bone feeling that a stiff breeze can give you. The stretch fabric also provides the maximum range of motion so you never feel restricted, and you never pull a seam apart. Mountain Hardwear takes pride in its shaped hood, which has the uncanny ability to turn with your head, never blocking your vision, and the interior security pocket ensures that you don't get back to the car at the end of your hike with no keys.
Share your thoughts
What do you think of the
Mountain Hardwear
Mecurial Softshell Jacket - Men's
? Share a...
Any chance any more of these will be coming...
Any chance any more of these will be coming in? The size selection right now is kinda bad.
A-Issac88. Unfortunately, the Mercurial jacket has been discontinued. For Fall 2012 look for a new jacket called the 'Principia Jacket' which is the update to the Mercurial for the new season. I hope this info helps!
This jacket has been great. It can easily handle minor rain and snow storms, and it is great for skiing (helmet sized hood is awesome). Be sure to get a size adequate for layering if its going to be used in cold weather.
It doesn't feel anything like a soft-shell, At first I was a bit skeptical but put the sleeves under water and the water simply beaded away. The lining is incredibly soft fleece, but is not for super cold temps. Anything below freezing would require some layering as the shell breathes very well. The large hood is nice for wearing the helmet and climbing or just having that extra space for the dome. The only downfall I noticed is that the thumb inserts are tight and are not comfortable to wear. Overall, I would buy this jacket again in a heartbeat. Taken some bad falls on the mt bike and it holds up wonderfully. Buy it, you won't regret it.

I'm 5'11 and the medium fit good.
I own the green XL jacket; I am 6'0" and 190 lbs. I mainly use the JKT for an under layer for backcountry skiing and touring. I will pack my Shell Jkt and wear the Mecurial for the climb to my touring trip and keep it on under my shell on the decent. Two weeks ago we started at Turnagain Arm Alaska and the parking lot read -6 degrees out. The top of the 3000ft climb was 15 degrees. All I wore for the climb was an underarmour base layer 2.0 and the Mountain Hardware Mecurial JKT and was warm and fine even at the low temperatures.

The thumb holes are a nice feature for casual wear but do not function well when skiing with gloves.
I haven't tried it out in the field yet, but I always like reading about how things fit when buying online, so thought I'd comment. Not sure how it was too short for "too short" in the previous review. I'm 6' 2", 180 and the large fits perfectly. There is enough room to fit a medium weight sweater and baselayer underneath. I could probably throw another layer on top of that if need be; it would be tight, but managable. Good arm movement, lightweight, and the hood is big enough for a helmet. Blocks wind and warmer than the you'd think given the weight. The red color is intense, but I like it.
I'm 5'10 180 lbs and I got a large. It fits good but it is way too short. The thmb holes are cool but too short so you can't use them with gloves becuase the cuff jams up. It's really nice and kept me warm all day snowboarding in 40-50 degrees on a windy day with just a T shirt on underneith but, it just has a few problems so I'm returing it. It'd be good if you just wanted it for climbing, but for skiing or boarding it sucks.
Got this in Red and its an awesome color, material, and fit. Don't know how people go in 33F weather in just a baselayer and this, but I guess I do get cold easier than most. 40F though I am fine.

I love MH fits, definitely for lean people. I get a S in all other brands because it seems i need a potbelly for anything else. For this I got a medium and fits perfectly for my 5'11, 175lb toned build, and not swimming in it like i do in other brands.

Very comfy material all around, and expected MH build quality. Will use this for Snowboarding, biking, hiking, and through NYC hurricanes.
I am 5'8" 165 muscular build would you...
I am 5'8" 165 muscular build would you recommend a med. or large?
I say go with medium. I'm your exact same size, Then again, I don't like to layer. If you want to put stuff underneath, then get a large.
medium if you layer with fitted baselayers. im 5'11 175 muscular build. and its a nice fit with some room wearing 2 thick baselayers.
Really nice alpine cut softshell
Worked great as the outer layer downhill skiing w/ a 260 weight merino base and a MH Dual Fleece in 16F w/ gusty 15-40mph winds, w/ the blowers running full tilt, no sun, and a fair amount of wet natural snow coming down as well. I could feel a suggestion of a chill in the forearms in the stronger gusts on the lifts but that was it. Water resistance is much better than expected as well, 1/4" thick snow/ice encrustations in the fold areas of the jacket rolled right off after 5 minutes or so in the lodge and 15-20 minute jaunts in heavy sideways rain showers have produced no soak through. I imagine this would get saturated and have some seam leakage at some point in prolonged exposure to heavy downpour though. Seems to breath very well so far in more aerobic pursuits as well.

This jacket has the best fitting hood I've yet to experience, whether I'm rocking a helmet or not.

I'm 6'2", 185-190lbs, w/ ~44" chest and long arms and torso and got this jacket in an XL. Waist hits just below the belt and stays put pretty darn well through full ROM. I can feel some pulling on the gaiters in the last 5-10% or so of full reach if I try the same test w/ my thumbs through the kind of small thumbholes, but the sleeves exhibit virtually no creeping up when not using the thumbholes, so not a huge concern to me. There's enough room to fit a pretty substantial midlayer under this thing w/o feeling bunched up or overstuffed as long as the mid layer is not cut super baggy.

Aside from adding maybe another half to 3/4" of sleeve and waist length, the only improvement I would make to this jacket is to make the storm flap/zipper park a bit more substantial. It never seems to want to lay flat w/ the fleece backing oriented toward the chin/neck.

Definitely worth the price it's selling for right now IMO, and seems like it could take the place of my hardshells as outer wear >70% of time.
weight? should be a standard on the specs...
weight? should be a standard on the specs by now come on
1 lb. 13 oz. - 813g. (MHW Website)
Unanswered Question
how does this compare with Marmots ROM?...
how does this compare with Marmots ROM? Using this mainly for early/late season rock climbing and winter ice/mixed climbing
Perfect weight for moderate temp ice climbing. Stretchy for good range of motion and sheds snow, water and ice.