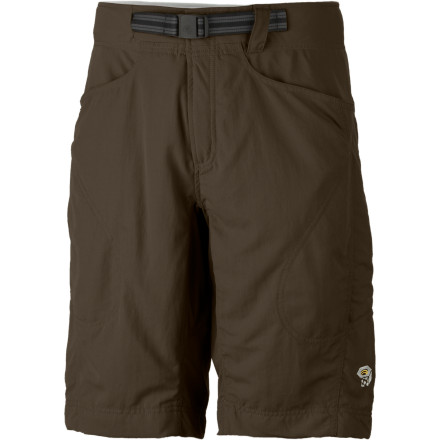 Detail Images
Lined with micro-chamois softness and armed with a backpack friendly conical waist, the Mountain Hardwear Men's Matterhorn Shorts are ready to take on whatever adventure you are. A DWR finish sheds moisture so you don't have to muck around in swampy trousers and a UPF rating of 50 keeps the nasty Sun at bay through shadeless sections of trail. Mountain Hardwear designers integrated a belt into the waist for easy adjustment and to ensure you don't have to suffer mile after mile due to a clunky full-wrap belt.
I had to return these shorts after finding the waist size to be off by at least two inches. I could just about put a pack on and pull the shorts up over it.
Fit is on the small side of the range given in the sizing guide in the XL size; I wear a 39 and was expecting a 40-42 XL to be loose but fit was only slightly loose. I think a true 42 would be really struggling and a 40 would just fit. Material is very nice and feels more like a light cotton than a heavy canvas. it is a softer and quieter material than most technical shorts and other MHW models geared to climbing. Great for hiking and just plain general around town wear without looking like short shorts. I'm 6'4" and the hem lands slightly below the top of the knee. The quality of stitching, seams and construction are very good. The pocket description is wrong, this piece has two front pockets with mesh, two back pockets without mesh drain and one side pocket with zipper without mesh drain on each side for a total of 6. The material dries fairly quickly, and lightly beads water, but the comfort waist material dries slower. Actually this is a fair trade off of increased comfort. Over all, this is a very good short for hiking and general use.
I have a question about sizing. I'm usually...
I have a question about sizing. I'm usually a size 33 waist...what size do you think would be best for these shorts?
go medium. i wear about a 34 and the large is loose on me.
Doesnt Matter-horn where you go these shorts are for you!
Best shorts I have worn! Super comfy, light and does not restrict movement! I love the side cargo zippers! I thought they would be prone to wrinkles, but after 5 min of wear they look brand new!
I'm wondering are these shorts flexible...
I'm wondering are these shorts flexible enough for climbing?
I'm afraid it may be too stiff to strech your limbs?
Best Answer
Pony. You could climb in these but they don't have a ton of stretch. They were more designed with hiking in mind. If you are looking for a climbing specific short I would check out either the Coolidge Trunks, the Runout Shorts, or the Talus Short all from Mountain Hardwear. The Coolidge Trunk is the one I have been climbing in this summer and they have been working well! I hope this info helps!