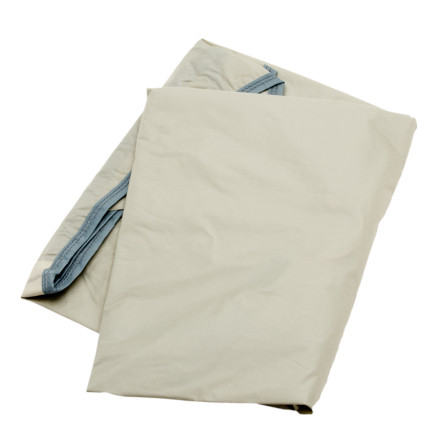 Detail Images
The Mountain Hardwear Lightpath 2 Footprint protects the floor of your tent from premature wear and tear due to run ins with rocks, sticks, and other campsite detritus. It also adds water repellency in soggy conditions and works with the Lightpath's rain fly and poles to create an ultralight shelter.
I bought this footprint without really thinking about what it would do for the tent... which is basically nothing that a tarp or piece of clear plastic couldn't do for a much lesser amount of money. It does everything it says it will, protect the bottom of the tent, clip onto the tent, etc ( I never tried the ultralight structure because honestly my hammock set-up is lighter and is also bug proof...) I got the tent on sale for $100, so I just wasn't able to justify spending half that much on a footprint.

Bottom line: if you want to spend the money go for it as it works nicely, if not a peace of clear plastic from a hardware store cut to size will work just as well.
Does what it should. I have not tried the ultra-light setup but it seems like it would work well.
Will this fit all model years of Lightpath...
Will this fit all model years of Lightpath 2? I bought the 2007 previously, and now want to get the footprint. (the blue rain tarp just doesn't cut it, yanno?)
It should fit all years of the LightPath as the tent has not changed over the years and seasons. Thanks!
The fit is tight and a bit odd, otherwise great. Took it and the matching MH Tent on tour of four corners region and worked great under snow, dust and rain. I would highly recommend.