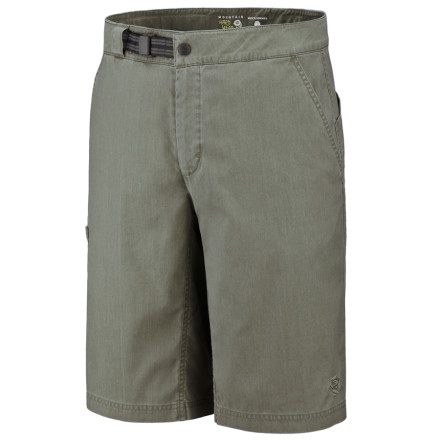 From cramped flights to breezy beaches, the Mountain Hardwear Men's Kurtis Short takes the edge off warm weather adventures with its easy, flexible fit. Scramble through a day hike or shimmy down a slot canyon without a second thought thanks to the gusseted inseam that provides extra room to move. A reinforced seat, adjustable waist, and a fine, micro-sanded interior eases you through rugged conditions in durable comfort.
Is this close to Mountain Hardwear's Runout...
Is this close to Mountain Hardwear's Runout shorts? The Runouts are my favorite, and although I have 5 pairs, they are starting to wear thin... Thanks!
DavO. These are close... but, if you want to pick up the newer version of the Runout Shorts check out the Cordoba Shorts. I have a couple pair and they are some of my favorite shorts. The Kurtis Short is made with a lighter fabric but have a similar inseam length to the Cordoba Shorts. I hope this info helps! Cheers!
NIce material, annoying features
These shorts are comfy and light, but the snap waist and belt are a kind of nuisance. Having a size 30 waste, I bought a small and have a little bit of trouble getting a decent fit at the waste. The belt doesn't like to stay cinched very well. The snap waste doesn't really like to stay snapped either, and though there is a button with a loop inside the waste you can fasten, it's a bother to do and Is easily forgotten, making for a small surprise when trying to undo the waste for whatever reason you have to remove your shorts. Other than that, they're durable and comfortable and breathable, though I do wish they were a hair shorter.
Really light and comfortable shorts for the trail. Just the perfect length for trekking, not too long and restricting, but not too short to not comfortably wear in front of other people. Dry quickly too!
Awesome short! If unsure buy a size up
Great shorts good material. hit me just right below the knee. Would definitely buy a couple more pairs of these to wear all the time.
Great short, a little small
I love these shorts. I own two pair and I not only thoroughly enjoy them myself, but I get compliments on them as well. Great for lounging and hiking. Super comfortable and long lasting. I'm picking up another pair before they discontinue them. (They do run a bit small. I typically am a 33-34 waist and I need a Large. Medium is very tight. The built in belt works great.)
For me, the fact that these run small works wonderfully; I typically can't wear a men's 30, (usually a 27-29 waist) but these fit perfectly, and unlike so many of the "short shorts" that are made for women, these are a great length for those of us who want a longer inseam. The cotton/nylon material is durable, yet light and cool when you are hiking or backpacking. I liked my first pair so much, thanks to Backcountry's great prices, I have at least one pair in every color. Oh yeah, I wear them for swimming too, and the velcro pocket kept my money clip safe even when I forgot and dived off the boat into the lake . . .
I have a 36" waist and the Large size was too small. It is certainly not the 36" to 38" listed on the size chart.
These shorts are sturdy, yet light enough for warm weather. They are very comfortable and work great for hiking, camping, climbing, whatever. Comfortable and easy to move around in, and the built-in belt works great too.

(I have a 34" waist and the Large fits fine.)
I beat the shit out of these, and they keep coming back for more. I wear them hiking, biking, river running, disc golfing, working, to the park, on road trips, on plane trips, to barbecue, and more. In the last year, I wore these shorts on the majority of days that it was in any way reasonable to wear shorts, and they have held up great, and performed flawlessly every time. (Even if your idea of flawless is being able to wipe barbecue sauce off them when grilling). Great pair of shorts, I'm planning to get a few more pairs for the summer. The only pair of shorts I've ever had that was this versatile are my Dickies shorts, which are a bit heavier than these, and not quite as easy to move in. I'm a big fan, I'll wear these until Mountain Hardwear stops making them.
The Med didn't fit my 34" waist. Too snug.
I have been wearing these all summer and really like them. There are a few nice features that make these different. The cotton/nylon material feels and looks like cotton, but is thin and lightweight. The cargo pocket has velcro closure, so my cell phone doesn't fall out. And the integrated belt design is pretty slick.
Unanswered Question
Will you ship to Canada? What would costs...
Will you ship to Canada? What would costs be for 1 pair of shorts?