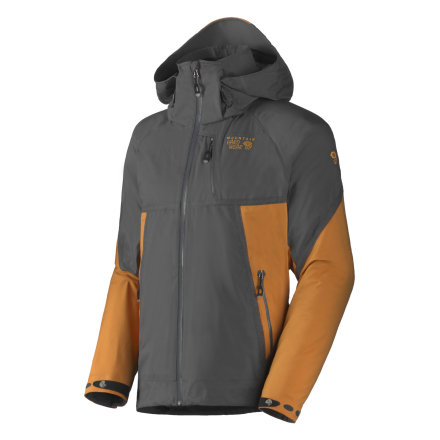 Community Images
I am 5'6" and ~ 155 lbs. Would a Medium...
I am 5'6" and ~ 155 lbs. Would a Medium or Large be the right size for me. I would like to have some room for a baselayer. Thanks!
Best Answer
If you're just interested in a baselayer beneath that, I think a small would work fine. If you're layering something down or Primaloft under it, a medium, maybe. I'm 5'1l" 155 and I think the smalls work for me, even with a thicker layer like down or Primaloft, but I like the compact alpine fit. If you prefer looser cuts, medium will work. I think you'd be swimming in a large.
I've used the Kramer Jacket on campus, throughout this grueling winter in NE Ohio. I have always been very please with the quality of a Mountain Hardware build. The jacket has an awesome fit and a EPIC collar. I am 5'5" with a slim athletic build and am very pleased with a medium fit. There is plenty of room to layer (MH Octans Fleece) without compromising the slender design. Along with three outer and one inner zip pockets, there is an internal mesh space for quick access to gloves or a beanie. The shoulder area is lined with a very plush "synthetic fur" for extra warmth. The Kramer Jacket supplies a good amount of warmth and performs very well in windy conditions. The water proofing could have performed a bit better, but I am very happy with this purchase. I would like to reiterate how ridiculous the collar on this jacket is. The Kramer collar alone is enough to keep you warm all season.
Great jacket?fit is a challenge
Finally found this jacket after purchasing 3 other Mountain Hardware shells. I was looking for a "technical" looking shell that would keep the elements out and keep me warm as long as I used layers. I also wanted a jacket that I could use snowboarding and wanted the functionality of the POW skirt and hood. Well, this jacket seems to be what I was looking for! The craftsmanship is top notch and the design is cool. The only frustrating thing is the sizing! Mountain Hardware has different sizing for different jackets. One jacket fit me in an XL and another jacket XL was huge! I'm a fit 6'2 guy 210lbs and the large is a little tight…so I tried the XL and it's a perfect fit!! The only true flaw that I found is that the jacket is a little short in the waste. MH could have designed this jacket to be about and inch longer.
The Fit: I'm around 5'9" 151 lbs with a 40" chest. The medium jacket fits perfect with my dimensions without layering and I would consider it an Athletic fit similar to Norrona's only a bit more generous. With a base layer + fleece, it became too small for my liking.

Everything Else : I owned this jacket for a little less than a year and it did it's job. The micro climate zoning is very nice and helps with warmth when you are only wearing a baselayer + the jkt. The pit zips work like they should dumping heat when necessary. The waterproofness is very good, but it's not gore-tex so it will eventually soak through. But with this being a winter sports jacket.....how much does being completely waterproof really matter? The collar on this jacket is high and was a feature I really really liked about this jkt. The hood is a bit on the large size so accommodating a helmet shouldn't be a problem. The Conduit Softshell material seems pretty burly, but I never really tested that out. It has ok breathability but the pit zips help with that. The softshell material doesn't stretch very much either.

In the end it was returned due to size issues and to get Polartec's new Powershield Pro softshell material.
Can anyone tell me how this jacket compares...
Can anyone tell me how this jacket compares to the MHW Ascent MCZ? Other than the hybrid softshell component, it seems very similar. Is it a bit heavier and warmer?
dlombard. The Ascent MCZ uses a Conduit Hardshell material throughout the Jacket with fleece welded strategically to the inside of the jacket (Micro Climate Zoning or MCZ) in where the body loses heat during activity. The Kramer utilizes the same MCZ fleece laminated around the jacket but now combines Hardshell and Softshell fabric combined in the shell... as you correctly identified. Due to the fleece backing of the softshell material in the Kramer it could be a little warmer overall. I hope this info helps!
I'm 5'10", 200 lbs, bought the Large. Size is perfect. FItted but not too tight with a fleece and capilene underneath. I've taken it on 2 winter climbs. Once above 12K ft and the other over 13K ft. Windchill was close to zero on both occasions. Snow on the first climb, strong wind gusts on the second. Blocked the wind beautifully. Used the pit zips to let the heat out. Excellent pockets, zippers, and craftsmanship. My only complaint is that I would say it's a bit short. I wear it with ski pants with no suspenders. Need to get some suspenders to wear them together.
Hi, I m 5`8" and 176lbs, which size do you...
Hi, I m 5`8" and 176lbs, which size do you recomend me? I have a good bargain for a M size, should I go for it?
Jorge. You will probably be the most comfortable in a large. I feel like medium would be a little tight in the chest. I hope this info helps!
This is a little late, it might help someone else.

I'm About 5'9" 151 lbs with a 40" chest and I fit into a medium nicely with NO layers. WITH layers (base + fleece), this jacket cramps up a little fast. You should def. go large.
snug fit, short waist, nice materials
I used the fitting table for the product. I am 5'9", 165lbs with 33" arms and 41" chest. The table recommended medium. The coat fit snug like a dress shirt. The arms were too long. The back of the coat barely made my waist. If I was bending over or sitting on a ski lift, my lower back would be exposed. You would need to wear bibs not to have this problem.
The appearance, materials and craftsmanship of the coat are good, but I do not like its fit/design. I returned it and will get something else from a different manufacturer.
I am 6-3 180 pounds. Would the XL be the...
I am 6-3 180 pounds. Would the XL be the right fit or would it be too bulky with a 32 inch waist?
I am 6' 2", 205lbs (Fit) and 33" waist. The XL is a good fit. I tried the L but it was too tight. XXL would be way too big.
Awesome jacket. Makes me wish I was in the mountains when I put it on. Plan to use it for snow activities and fishing in the mountains. No cons to say since I paid less than 200.
I got the jacket toward the end of the season when I'll wear it but I've been pleased with it so far. The fit is good and it feels comfortable. I wore in for a hike in the rain and it kept me perfectly dry.
i just received my Kramer and noticed a...
i just received my Kramer and noticed a disconnect with the posted specs. Backcountry, and other sites, list a total of 7 pockets. My jacket has 5. I do not appear to have the mp-3 pocket or the sleeve pocket.
Does anyone else have this issue?
Did they change the style mid year?

One other thing. Right above the powder skirt, above both hips, is a snap that hangs down from about a 2inch lead. Does anyone know what that is for? (to connected to integrated ski pants?).

Thanks for your help

Cheers,

Chris
Chris S. The jacket has 1 chest pocket, 2 hand pockets, 1 internal mesh (water bottle) pocket, and 1 internal zip closure pocket = total of 5 pockets. Not sure why the specs say 7. The jacket has never had a sleeve pocket. Sorry for the confusion...
I bought a Kramer in January 09 and it does in fact have 7 pockets, including the mp3 and sleeve pockets. I'm guessing they changed the style since then but never updated the description.
I love this jacket. I'm a bit of a tall slender guy at 6'1" 185 lbs and have always had a bit of a hard time finding jackets that aren't a tent around my mid-section. Mountain Hardwear's slim athletic fit fits me perfectly, like nothing ever has before even Arc'teryx. Add to that the Kramer's combination of hard shell where you need it and soft shell where you want it, throw in taped seams and waterproof zippers throughout and you have a shell that can't be beat!
I really wish this jacket fit me
This jacket looks great and has all the technical items that I was looking for. I just wish it fit. The jacket is cut a little short and tight through the chest. I am 6' 200 lbs and the Large was too tight, and the XL the arms were too long.
This is a bulletproof soft/hard shell jacket. If your on the mountain this unit will keep you secluded from the elements. I have been on the chairlift at -23C with a wind and been very impressed with the protection this jacket delivers. I wear an old school MEC fleece with a base layer and stay well insulated.

I note that this is a great SKI jacket. I have used it on a few snowshoe expeditions and it does offer the same protection, though I find that it does not breath as well and as a result did heat up went exerting. (That really is all I have to say in a negative manner) The two way pit zips take care of the issue quite handily.

The detachable hood leaves plenty of room for a helmet and offers as much if not better peripheral view of any I have tried. The powder bib is well thought out and works well, though I recommend still using a bib pant if you plan to be in the deep stuff.

All of the seams and zips are well taped - you can tell this is manufactured from experience and research.

One small critique: I really do question the 'pass holder' gadget. Anyone willing to gamble by attaching their seasons pass to this has much faith in light plastic. I also question the functionality of it... you would still have to unzip to present your pass.

That aside, I say well worth the investment.
, ☃bcs_badge_alumni_label☃
Pesto/Grill
I am finding two different pictures of the...
I am finding two different pictures of the pesto version of the kramer jacket. Backcountry has a mostly gray with green sides and the mountain hardwear site as the opposite. Which one is it?
Best Answer
Gordon. See the Q&A below... I think that will answer your questions. Thanks!
The Mountain Hardwear website's picture...
The Mountain Hardwear website's picture of the Kramer jackets shows the Black/Grill color as being mostly black with gray accent panels. But the Backcountry website shows it as being the opposite...mostly gray with black accents panels. Which picture is correct?
Best Answer
Amy. Good catch. The picture on the Backcountry site is correct. Check out the gear guru picture for confirmation. Hope this helps!
Write your question here...what is the...
Write your question here...what is the best way to measure yourself to get the right fit for the kramer jacket with out orrying it being to small/tight like to make sure I can wear other things for layering. I am 5 10 180 lbs snowboarder
Best Answer
Marcel. Not sure on the best way to measure yourself... but, we have a sweet sizing chart on our website that you can access from the product pages. If you want to skip that measuring part at 5'10" and 180 you would more than likely be a large in the Kramer Jacket. Hope this helps!