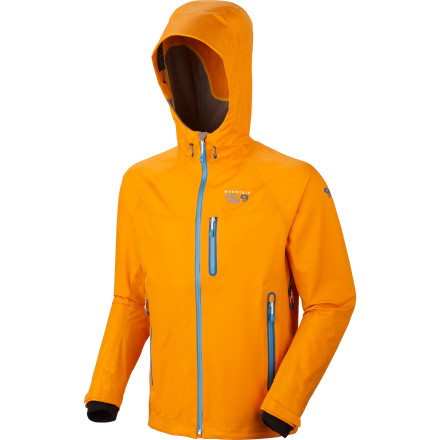 Detail Images
The Mountain Hardwear Men's Kepler Softshell Jacket features its own scientific breakthrough: the ultra-breathable Dry.Q Elite technology, which delivers total waterproof protection along with incredible breathability. Whether you're racing up a bootpack to the ridge, or slowly working your way up an ice face, the 'always on' air permeability of this softshell means you stay comfortable from the get-go.
Chest-high pockets accommodate a harness or pack
Helmet-compatible hood features and extra-beefy brim for foul weather
Watertight zips seal out moisture
Butter Jersey inner cuffs comfortably encirle your wrists for extra warmth and draft protection
Micro-chamois chin guard eliminates zipper chafe
DWR treatment holds up for 80 washes
I like it but it is a strange jacket. The material is a cross between a soft shell and a hard shell. Only heavier.



The main zipper only comes up below the chin so being on a chairlift or being on the side of a windy mountain would suck balls if you wanted to try and hunker your face behind the jacket like you can with the majority of other jackets made for skiing or mountaineering.



The hood is enormous and fits like complete shit without a helmet on. With a helmet it is perfectly fine.



The sleeves are a bit tight but I am finding that is the case with many new jackets coming out. 'Slim Fit' or 'Athletic Cut'. I call it a 'Skinny Metrosexual Cut' for the guys who own skinny pants.



The butter cuffs are fine and the thumb loop is less than useless. The velcro cuff straps are all you need. Though I don't find a need for them because the sleeves can't go up any further on my arms and they don't seem excessively long.



The front pockets are in the standard location for a regular knock around jacket so them saying they are chest height is a claim that is full of shit.



The jacket is a good jacket and it would work well if it fits you. I am 5' 7" and 200lbs. The large fits me fine except in the arms. I really don't have much of a gut and carry the majority of my weight through my shoulders, back and chest. I can't imagine how it would fit a taller guy. The jacket isn't long on my torso at all and I don't find the arms long either.



This jacket is either going to fit you or it isn't. I think every guy is going have little issues with the cut of it.



Bottom line.. It is awesome to have a soft shell that can handle wet conditions and can breath when you are sweating like a little piggy underneath.
Why do the hoods in the photos above look...
Why do the hoods in the photos above look so different? Some look much bigger than others. I found a used one but I am concerned how big the hoods are. I will NOT be using with a helmet. Thanks.
Looks like some of the photos are from previous years of this jacket? I don't have it, and it doesn't specify, but I'm betting that hood is helmet compatible.'



You probably should hop on live chat with Backcountry and get some clarification...
The hood is enormous. It is made for wearing a helmet and looks a bit dorky when up without one on. Especially because the main zipper stops below the chin and you get this huge opening for your face so you get this large amount of excess material making a sail for any gust of wind to catch. I don't see how it would stay up without a helmet on if it was windy out and you caught a gust in the face.
The search is over...
Familiarity:

I've used it once or twice and have initial impressions

Fit:

True to size
This is I think the 5th coat I've ordered in search of the perfect soft shell. This is finally the one I'm going to keep. It's sweet. I was a bit concerned with one of the reviews that this was more like a hardshell. It is a bit more firm than my TNF apex soft shell but it's quite soft. The fit is sweet and a bit more athletic feel but not too tight. I love the under sleeve zippers to cool off and the thumb cuffs in case of strong winds to keep your arms warm. It's a light coat but pretty warm. Love the hood just in case of inclement weather.
Great Jacket...different color?
Familiarity:

I've used it once or twice and have initial impressions

Fit:

True to size
Got the "state orange" which in the pictures depict a bright orange with white zippers, red details around the zips, and black inner cuffs. What came in was orangish red jacket with slate grey zippers and slate grey inner cuffs with no zipper details. Not a big deal to me just something to look out for. Fit is fine and I love the features. Haven't put it "through the wringer" yet but just wanted to give some warning on the color.
kepler sizing
Familiarity:

I've put it through the wringer

Fit:

Runs small
This would be the great successor to MH discontinued Synchro Jacket. It is all there, improved waterproofing with Dry Q and full taping, thumb gaiters, light fleece lining. The only drawback for me was the sizing - It is MH typical with the exception of the forearm section of the jacket, which is very conservative. Concervative enough for return. If you lift or have fully developed physique you may want to consider the restriction. otherwise good product.
Great jacket
Familiarity:

I've used it several times

Fit:

True to size
This jacket is awesome, and I think I can clarify the negative reviews. The jacket has an athletic fit but it's a little shorter than a heavy duty hardshell (frankly it's somewhere in between a softshell and hardshell in length, like it is in most attributes). I don't think the cut is boxy like some have said. It is slightly shorter and has an athletic fit so some people with big arms and shoulders have to size up and I think the combination of these factors makes it come off as boxy. Also, it is a little heavy (it's the weight of a softshell), but I don't find this to be a problem. The face fabric is soft but totally waterproof, which I think is this jacket's best attribute. It just feels to nice. It's also a lot quieter than most hardshells, if you care about that. I like the cuffs (unlike some reviewers). They're comfy, although a little short for putting your thumbs through, but I think they would be more awkward if they were long and hanging down.



That all being said, I don't think this jacket is going to actually replace anything in my closet. I'm still going to have a hardshell and a softshell, but I imagine this will be my go-to in most situations. The hard shell winning out if it's warm and frankly I mostly wear my softshells around town or on casual hikes anyways. I rarely wear them climbing or skiing.



Just for another sizing datapoint I'm 5'11'' and 175 pounds, with bigger shoulders and arms. I ordered a large and I like the sizing. It's a little loose in the body but it's not too bad and I'm happy with it (plus that's how everything fits on me). If you're about my dimensions but evenly proportioned then I'm sure you could fit in the medium but not with a lot of room for layers.
What is the difference between this jacket...
What is the difference between this jacket and the Mountain Hardwear Chinley? 3L Jacket?
Best Answer
Dan,



The major difference between the MHW Keplar and the MHW Chinley is that the MHW Keplar is a softshell while the MHW Chinley is a hardshell.



The Keplar has a helmet compatible hoods while it looks like the Chinley does not.



Hope this helps.



Jared D.

Gearhead

800.409.4502 ext 4055
Ok Jacket
Gender:

Male

Familiarity:

I returned this product before using it

Fit:

True to size
First I didn't wear this jacket out of the house, this review is only based on fit. Roomy to somewhat roomy fit that would allow for layers / down vest underneath. One major complaint is the inner lining that has holes for your thumbs at the cuff is way to short(same comment that Iggy said). I didn't see any other great features in this jacket to justify the price. I went with the Outdoor Research Valhalla Jacket (a softshell) instead.
Nice but not perfect
Familiarity:

I've put it through the wringer

Fit:

True to size
First shortcoming are the cuffs. I am 5'10, 160lbs and I bought the medium size. If I put my thumbs through the holes in the cuffs they cut into my hand like crazy. The sleeves seem long enough so it appears that they did not design the cuffs correctly. I have a Northface and Spyder jackets with cuffs that were done right. Not a big deal even for skiing since this is a warm weather shell. It fits a bit snug but there is room to add layers. I usually wear two layers with a mid layer fleece and it is roomy enough and comfortable. The fabric is not as stretchy as in some soft shells but it does not feel restrictive even in aggressive skiing. There is one inner pocket. The hand pockets are large and the chest one accommodates a cell phone plus some small things. I am happy with the product overall.
Thinking to buy a softshell that breaths...
Thinking to buy a softshell that breaths like a champ for hiking and some winter use. Do you thing that this MH Kepler is too much for that propose? Maybe would I have to find something else that fits in the hiking and backpacking category and not in alpine-climbing one? Little confuse here. The Marmot Zion is the other choice I am considering which is recommended for hiking use.Thank you.
Best Answer
Honestly, between these two jackets I would probably go with this one. It's super breathable and a major benefit as well are those pit zips, even if you are getting really hot all you have to do is unzip the underarms and dump that excess heat. The reason why this jacket is classified where it is rather than just hiking is because the sleeves and body are built for more mobility in the arms which isn't necessarily a necessity for hiking, but its not going to hold you back either.
I am 5'5' 130 pounds, is this jacket sized...
I am 5'5' 130 pounds, is this jacket sized up to layer? Is a small ok for me? Is it as fitted or athletic as it states? Thanks, G
This jacket has an athletic fit, which means there will not be a ton of room for layering. A small will probably work, but I would suggest checking your measurements against the sizing chart near the price, to be sure. Best of luck!
I picked this up at a local gear shop who was doing a sort of garage sale. I just picked it up on a whim because I needed a rain jacket very bad. It was definitely the best decision I made. It has held up great even in torrential downpours. The DryQ is incredibly lightweight and oh so breathable. I'm 5'10 and 155lbs and the medium works great. Fits plenty of layers underneath as well.
Great Jacket
Gender:

Male

Familiarity:

I've put it through the wringer

Fit:

Runs small
Bought this for use in London's cold and rainy climate. Has suited me for almost any condition so far. Completely waterproof and am planning on skiing in this jacket in the Swiss alps with some layers underneath. I could not be happier with my purchase. It's breathable, lightweight and can add a layer if you size up like I did. I am 5'10" 165lbs and bought a large. There is a ton of flexibility to move if skiing or climbing... Great value for a quality product. I would reccomend this jacket to anyone looking to be active in cold weather. The lining is rather thin, but seems to work in almost any condition however.
I'm 5'11 about 180 pounds...what size...
I'm 5'11 about 180 pounds...what size should I get?
Best Answer
If you like a more technical tighter fit only wearing a baselayer underneath, go with a medium. If you want a more relaxed fit for layering (down jacket ect) go with large.
Any chance the Azul in size small will be...
Any chance the Azul in size small will be in stock anytime soon?
We do not have any more Azul S on order at this time.
which size should i take? I'm 5'7 ...
which size should i take? I'm 5'7 150lbs
Hey fish, I suggest checking your measurements against the sizing chart to get the proper size. My guess is a small, though possibly a medium. The chart is below the price on the page. Best of luck!
Best Answer
The medium would probably be your best bet. Mine fits great even with a few layers underneath it.
More breathable than Windstopper
I got my Kepler to replace an old Dragon. Since the Kepler is ostensibly the replacement for the the Dragon, I thought I might share my impressions on the Kepler in comparison to the old jacket.

The Kepler seems to be a hard shell with a soft touch. On the MHW website, you can find this jacket in the shell section, described as a softshell. While that seems confusing (in no small part due to the fact that the site has a separate section for softshells where the Kepler is NOT located), it makes a lot of sense once you get your hands on it. It definitely has a soft feel both on the inside and on the face fabric, but the Dry.Q Elite membrane itself is rather stiff and a bit crinkly. The jacket overall is a lot softer than any hard shell, but it definitely is a shell. It's a lot more shell-like than the outgoing Dragon, as the face fabric feels more solid but the interior is actually softer against bare skin.

The fit is basically what I expected based on my experience with the Dragon and other MHW alpine jackets. The length in the back is long enough for bike riding. One thing that keeps coming up in reviews is the arm width/length. I definitely could have gone for narrower arm holes (where sleeves meet chest) because the jacket does lift up quite a bit when I lift my arms, but otherwise, the arms are perfect. I'm a pretty big-armed guy and the sleeves are plenty wide and long. I think when people talk about the lack of proper arm length, they mean when using the thumb loops. The butter jersey cuffs are recessed pretty far behind the wrist, so the thumb loops seem like an afterthought. The arms feel way too short when I use the thumb loops. When I forgo the loops and use the butter jersey cuffs as cuffs, the arms feel fine (and my wrists are ridiculously comfortable). Overall, I would say the fit and feel of the Kepler is an improvement over the Dragon.

It's waterproof. There is no doubt about that. My old Dragon was clearly not waterproof. It didn't even have a watertight main zipper. It did take a pretty serious rain to wet out the Dragon, but the Kepler is waterproof in all rains. The 40,000 mm waterproof rating means you could put a 130(!) foot column of water on the shoulder and not a drop would get through.

The Kepler is also significantly more breathable than the outgoing Dragon, which used Windstopper instead of a waterproof membrane. The Dragon, while more breathable than any waterproof-breathable I had tested up until now, still developed the microclimate problem common in shells. There wasn't any airflow so my body heat and sweat made the inside of my Dragon much like a tropical jungle. This happened to an even greater extent in my various waterproof-breathables. But in the Kepler (I suppose due to the air permeability of Dry.Q Elite) no microclimate develops. I took it on a serious bike ride on a foggy rainy day, and the only place I felt moist was under my backpack. My head was dry, my chest was dry, and my armpits(!) were dry. This crazy breathability and the lack of a microclimate means two things: 1) Overheating and the fatigue that comes with it are non-existent. You really can go harder longer in Dry.Q Elite. 2) Body heat and sweat escape so quickly that you might want an extra layer compared to a Gore Tex shell. It completely blocks the wind, but that plastic bag effect you probably are used to in waterproof-breathables just isn't there.

Overall, the Kepler is an outstanding piece that delivers on all its promises. There's not much to complain about, and it's all minor stuff. It's definitely a massive step forward from the Dragon and the status quo.
I'm giving it four stars because the fabric is savvy and this things totally feels bombproof. Serious zippers. Serious fabric.

Unfortunately, compared to other MH jackets (I most recently purchased the Cutaway), this is kinda snug. I know they say softshell, but it's definitely different, with much less stretch and moveability. It's also cut kinda close in the armpits and sleeves. I'm no giant, (5'7, 140, got the medium like my Cutaway), but this thing seriously pulls at my armpits and elbows when I move around. The sleeves are also shorter than the other comparable softshells I've tried (MH, Stoic, EMS, Arcteryx). And there's crinkle. I definitely feel crinkle. Not awful, but this is definitely more firm-shell than soft.
This shell is awesome, and the bright yellow has so much steeze! So far for me its been completely waterproof and super breathable. It's got that classic Mountain Hardware quality as well with watertight zippers and a very custom fitted hood which can fit over a helmet. Another nice feature is the wrist cuffs with thumb holes to keep out the snow and the burly pit zips. Such a great storm day jacket, would recommend to anyone!
I love this jacket but want a little more...
I love this jacket but want a little more insulation. Can anyone recommend a jacket like that?
You might want to check out the MH Snowtastic Jacket. Sounds like most believe it is warm.
Snowtastic and Kepler are made of the same material. Try the Gravitor, which has some insulation.