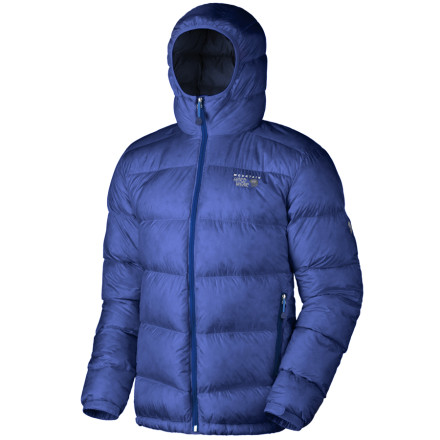 Detail Images

Community Images
Layer up or fly solo with the Mountain Hardwear Kelvinator Down Jacket. Build with burly ripstop nylon and featuring 650-fill down, this down jacket adds warmth while you belay your leader on ice, and keeps you toasty back at camp too. Stash your essentials in your pockets and head up to altitude without fear of the cold.
2013 Kelvinator Down Jacket
Familiarity:

I've used it several times

Fit:

True to size
I bought my jacket last season, as a Close Out from the prior year.
I love this jacket. I would give it Five Stars if it wasn't for my jacket being Feathers and Down. Either way, for the many jackets I have had in NW Montana, this would still be the warmest. I've worn it out in Sub-Zero weather and been plenty warm.
Pretty stoked on this jacket. For size reference, I am just shy of 5'10", 173 lbs, broad shoulders with a 42 inch chest, and the large was right for me.
i'm thinking of getting one of these but...
i'm thinking of getting one of these but how small does it pack down to? fist size or bigger?
Best Answer
Probably not quite that small. It's only 650-fill, so it's denser than some of the superlight jackets out there, and you can't compress it too much or it'll damage the down and it won't loft up again. I used to have the MH Phantom, which was a similar jacket to this one, and based on that I'd say you could compress it down to about 2/3 the size of a Nalgene bottle. Like a Chipotle burrito, roughly.
Good for summer mountaineering
Familiarity:

I've used it several times

Fit:

True to size
Use it on Elbrus mountain in july. Was very strong wind, but feel fine in this jacket. Ventilation is not very good, i was wet sometime. And not enough length. Felt cold on back when sit down.

Quality is good.



For winter alpinism need something warmth. Especialy in Russia.

PS. Sorry my English. =)
Can I store my Kelvinator in its little...
Can I store my Kelvinator in its little bag during the summer?
You could, but it's better for the down to be stored uncompressed (hanging up/bigger sack) when you're not using it. Makes the down last longer.
Bought this as a puffy to wear while standing around and belaying during ice climbing in the White Mountains of NH. Plenty of room, Hood fits over my helmet, zipper come right up to my nose, very warm and will compress down smaller that the compression sack it comes with.
Good coat, just a little tight
I was torn between this and the Marmot Ama Dablam. I ordered both in a medium, but the Kelvinator was just a hair tighter in the pits. I'm keeping the Ama Dablam as it's a bit bigger, and has longer sleeves. I'm 5-11, 170lbs. Wider shoulders, longer arms. If you're on the Med/Lrg fence you might want to size up. I tried on a Large MH Ghost Whisperer and it fit fine...



Random sizing info, but maybe it'll help you.
dream
Gender:

Male

Familiarity:

I've used it several times
Awesome down jacket!! feels like im wearing a sleeping bag, so comfy and warm. awesome for any condition the world throws at you. very soft material that is very rip proof .
How does this fit compare to MHW compressor...
How does this fit compare to MHW compressor hood? MHW Alchemy softshell? Typhoon Jkt or Jovian? I have these, but cant try this jacket on it Australia.

cheers
Best Answer
They should all fit relatively the same but expect any down jacket to fit a bit large because they are not designed to pull tight to your body they are designed to be light, fluffy and leave lots of air space
The Wasatch Skimo crew warming up during the citizens series.
Can the kelvinator down jacket be waterproofed,...
Can the kelvinator down jacket be waterproofed, if yes does it last very long.
Not really. It would involve coating it with something and even then you'd run into problems with the seams. The easier option would be just to wear a shell over this jacket when you anticipate wet weather.
Dave. Unfortunately, this jacket cannot be waterproofed. In order to do so would involve taping the seams somehow and making the fabric waterproof with some sort of laminate or coating. If you are looking for a waterproof down jacket or waterproof insulated jacket in general I would suggest the Absolute Zero Jacket from Mountain Hardwear or Gravitor Jacket from Mountain Hardwear as well. The Gravitor would probably be the closest thing, insulation-wise, but it is made utilizing our Thermic Micro synthetic insulation instead of down. I hope this info helps!
What is the rating for temperature. Are...
What is the rating for temperature. Are the sleeves nice and long???
Gail. Unfortunately, the jacket does not come with a temperature rating. This is mainly due to the differences in metabolism from one person to the next. What I can do is give you the amount of down that is in the jacket. In a Men's Medium there is 176 grams of 650-fill down. The more down... the warmer. You can use this number to compare warmth between jackets and it is probably the best number I can give you. The sleeves are not overly long... but, they are long enough! I hope this info helps!
I want to sleep in this jacket every night
I am a woman who was surfing all my favorite gear sites for the perfect down jacket in vain, when, this jacket appeared. I am a womens S/M 5'4 130 lbs and ordered the men's small. It's a little big for me but that makes it prime for layering. I have never loved a down jacket more. It has the perfect amount of down fluff so I am still toasty warm at high altitudes on snowy nights without feelings like Ralphie's brother in A Christmas Story ("I can't put my arms down!"). And it's super compact when I stow it in my pack. Overall...super freakin awesome
So they say it's cold outdoors huh! well it isn't cold enough. You know those cold chillers with the bone chilling humidity well; let's just say they won't be bothering you anymore.

I've had this jacket for two weeks now and it's been in service ever since the day i received it. It's much lighter than i expected but the warmth is just great, i've used it as a mid-layer, jacket etc.. I don't even feel the wind.
last thursday it was about -15 c and all i had under was a t-shirt i went out to the lake to test it out i was warm the whole time. yesterday we had 35-40 mph winds and we went for a walk with the dogs i was feeling great.
My original concerns were how resistant the ripstop was, how warm and how water resistant\windproof this jacket was and let me tell you i have been pleasantly surprised. it is exceptionally warm, it repells water lightly, i havent felt the wind nor the humidity. I purchased this jacket for the humidity factor i was tired of freezing and getting the chills and i don't regret buying this jacket. overall 5 stars and it looks great in black.

The only thing missing were my goat stickers, but the shipping was very quick.
I have worn the Kelvintor jacket most of the winter without an outer layer. Combine it with a shell or other jacket and you have a warm, winning combination
Phil Jacobs
Although it is pricey, I love this jacket. I started with the large and decided that it was a bit baggy in the waste (6'1" 165lbs) and traded it for a medium, which fits nicely. It could be a tiny bit more trim in the waste, but not bad at all. I got the Kelvinator voltage green, which I think looks nice -not too limey and not too bright.

Great buy!
Warm light jacket but be careful
Awesome jacket. I wear it biking around town, hiking, climbing, pretty much everything. This is my first down jacket and it's great for how light it is and can stuff down real well. Only problem is it is rather fragile. A lone branch caught my sleeve and ripped a hole releasing all the down in the compartment. I did my best to stop it and used some electric tape to patch it back up but I'm still uneasy about anything else catching it again. Also since it''s down it doesn't perform well when wet but that gives me more motivation to move around and warm up. Other than that it's a great buy!
This thing is amazing! I needed a light, small-when-packed down layer for backpacking and this is it. I have a First Ascent Guide jacket with 800 power fill for when it's just stupid cold out, but that was a bit bulky. The Kelvinator's hood and elastic makes it feel like a custom fit just for me. I was debating a jacket with a hood, but I'm glad I got this because it's just so much more convenient and warmer when standing around in the wind. I layer a Marmot Tamarack (awesome) jacket over this, and can even tuck the hood down and out of the way if I want to only use the hood on my shell. I don't notice it's there, plus it's like a built-in neck gaiter for the back of my neck. Just too much good to say about it. Stole one online for 142.95!!! Very difficult sizing. I'm 5'9", 150lbs, no gut. The small and medium were close, but I finally chose the medium since the small jacket dug into my arm pits - uncomfortable with layers on. Other than that, the sizing was almost identical. My cold winter, "standing around" setup is a Capilene 3 half-zip, 200wt fleece jacket, plus this = cozy blast furnace!
I am looking to get the Kelvinator jacket...
I am looking to get the Kelvinator jacket but am concerned on size. I owe the MH Windstopper Tech jacket size medium and it fits me perfectly. However, I bought the MH Chillwave Down Parka size medium and the sleeves were WAY too short and now need to return. I am about 5'11" and 170# athletic build with slightly wider shoulders but not huge, but i think that might be why the chillwave didnt fit.

Any advice on the Kelvinator fit? I dont want to be swimming in a large if i go that route, but I dont want to have to go through another return... I mean winter is already here.
Best Answer
5'9 solid 160,med is snug with just tee on,another layer and way to tight.Hood is small,if you plan on layering or future weight gain size up.