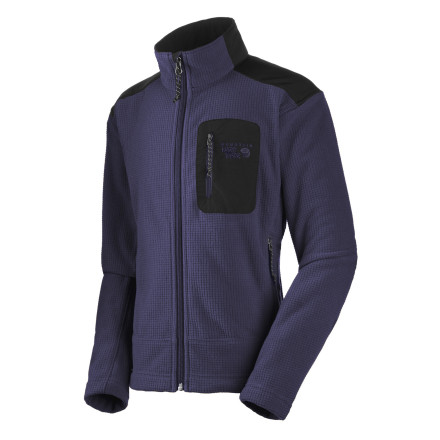 The Mountain Hardwear Boys' Kapow Fleece Jacket is your little guy's go-to insulator for everything from the first day of school to a winter ski trip. Taslan reinforcement panels hold up to daily abuse, and three front pockets store his small essentials.
I think this jacket is adorable, just like Dad's. My son is 6 years old and average size for his age, I orderd an XS according to Mountain Hardwear's size chart, I was a little surprised at how short this fleece seemed to be, the sleeves are long, and much like the Men's style M.H. it is fitted and hits right at waist line. It was so cute we decided to keep it, although I'm not sure how long he will wear it because the body is short, a size small would've been better. The sleeves run long so we have to roll them a little for a custom fit. The fabric is nice, has a cool pattern and is a nice light weight fleece for summer & fall.
Very nice jacket. It's fitted, so we ordered a size up. The color is really fun, and we especially like the texture.
Bought this for my son and he loves it--including the color. The quality is great. It keeps him warm but isn't too bulky to keep in his locker at school
I purchased the Mtn. Hardware Kapow Jacket for my sons 10th birthday. Previously for the last 2 years he has worn a North Face Khumbu jacket. The Kapow is equivalent in warmth and quality to the Khumbu. My son loves it and is glad he got the Kapow instead of another Khumbu. Oh, and it has something the Khumbu does not...the beloved Napolean pocket....KAPOW!!!
The Kapow Fleece Jacket is a nice jacket. My son likes the style. I was anticipating it to be slightly larger so he could wear it for a couple of seasons. Unfortunately, this will not be the case. Luckily, I have two younger sons who will like this hand-me-down.
This jacket was my 10 year old son's favorite Christmas present this year. My two older kids have Mountain Hardwear jackets and he was dying to have one too, so I'm glad I could find him one in a kid's size. The "waffle-fleece" material is fairly lightweight, but it still keeps him very warm (and since he's a wild man, it allows him to still move freely and go crazy on the playground). I've had great luck with all the Mountain Hardwear products I've purchased.
how do u wash and dry the mountain hard...
how do u wash and dry the mountain hard wear kapow jacket
Gage. Inside the jacket, about 1/2 down the inside chest seam, just above the hem, there is a white tag with washing instructions. Check it out. If you still have questions let us know... but, what I think you'll find is something like this:

"machine wash cold, wash separately, do not bleach, tumble dry low, do not iron, do not use fabric softener, do not dry clean"