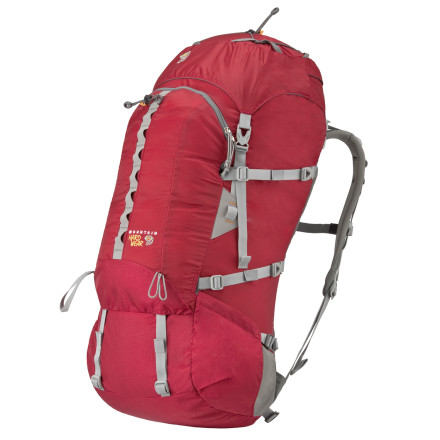 The effective suspension and simple, lightweight design of the Mountain Hardwear Kanza 55 Backpack give you the features you need to trek quickly and comfortably into the alpine. A Hollow-Core center stay and a HardWave framesheet work together to keep your pack's load from buckling so it'll rest comfortably on your back while you traverse steep boulders on the way up a mountain saddle.
Molded mesh back panel is padded and provides a great deal of ventilation for summery mountain quests
Tough nylon fabrics feature a double silicon finish to guard against rips, punctures, and the occasional summer shower
Several compression straps shrink the size of the pack to accommodate smaller loads so they don't flop around
Top lid aids compression but can be removed to shave ounces off your load
Beneath the top lid, the expandable top skirt makes room for 375cu in (6L) of additional gear, food, or clothing
An exterior hydration sleeve zipper makes the refill process easy while on the move
Ice axe and pole attachments secure your tools, ski poles, or trekking poles while you hitch a ride to the trailhead
Sleeping pad straps and front compression strap conveniently stow away for a cleaner, snag-free pack
Excellent pack, especially for the price
Gender:

Male

Familiarity:

I've used it several times
Love this bag. Haven't taken it backpacking yet, but it has become my new cragging backpack and I love it. It allows me to take out a 60m rope, harness, climbing shoes, a rack and other gear, food, beverages, fleece, hardshell, attack book, headlamp and other random stuff all in one unit and still has ~15L to spare.



The good:

The straps on the side and bottom allow you to get the pack very compact when you're not stuffing it to its limit and the two draw cords allow for easy cinching and release of the main closure. The bag is simple in that it has one large compartment and one small, but it also has two internal bags that are accessible from the top (one has become my beer bag and the other my sandwich bag), which I find quite handy. The shoulder and waist straps as well as the stiff, padded back make for very comfortable hiking (and tyrolean traversing) once customized for your body. The loops on the outside are great for fixing extraneous stuffs to the outside and when climbing are useful while organizing your rack. Lastly, I'm very impressed with how light the bag is considering its capacity and comfort.



The bad:

I only have two gripes with the bag and for me they are pretty small. First, the metal stripe down the center of the back can be felt on your vertebrae when hunched over for scrambling, so I wish they would have put a little padding there. Second, I wish the waist strap came with small compartments for keeping phone, camera, snacks, maps close at hand.



Overall, an excellent purchase, especially for the price. Great for the crag and I imagine will be the perfect capacity for the several night stay in the mountains. I should add that I am 5'8", 140lbs with a 19" back and I ordered size M.
uncomfortable
Familiarity:

I returned this product before using it
metal strip down the back bone of the pack had a couple of pressure point even when the pack wasnt loaded. all the storage was nice, it was just not a comfortable pack for my body. I am 6' 185 lbs and ordered a large. sent it back and got a lowe alpine zepton 50 that i am extremely happy with.
Do you think it is possible to use the...
Do you think it is possible to use the compression straps to hold a pair of skis in an A-Frame formation?
You could use the side ones to hold skis, the only thing is that since they are specifically designed for that, they may not perform or hold up the skis high enough so they are not dragging on the ground and thus causing issues when hiking.
Thanks Sans! I ended up with TNF Terra 45 that claims the side compression straps double as ski straps. I figured the slightly smaller sack will keep me from my usual overpacking.
I'm planning a trip to backpack around...
I'm planning a trip to backpack around Europe next summer over a period of 21-25 days. Can anyone give me any reasons why this pack would NOT be a good pack to take? Thanks!
The only one I can think of is that it might not be big enough. 55L is pretty big, and I'm sure you could pack light enough to fit in it, but if you want to accommodate different climates, changes of clothes, maybe camping gear (all depends on the type of trip you're doing), you might want something in the 60s.
Best Answer
I am not going to talk you out of this pack but like Angus said how well this pack will work for you depends on a lot of factors like what kind of gear are you going to carry, where are you gonig to be staying, what are you going to do with your gear when your thumb isnt hitching a ride?



What I am going to do instead is offer a more versatile option. Check out the Deuter Quantum, its got more room for all your gear and has a lot more access rather than just being a standard top loader. Also, check out the added daypack that you can remove for your shorter excursions ... nifty!



http://www.backcountry.com/deuter-quantum-7010-backpack-4270cu-in?ti=U2VhcmNoIFJlc3VsdHM6ZGVhdXRlciBwYWNrczoxOjE2OmRlYXV0ZXIgcGFja3M
Hi, would this pack at max weight capacity...
Hi, would this pack at max weight capacity be comfortable for all day, difficult hikes for a bigger guy, who is 6'5" and approx 220 lbs? Thanks!
All day comfort at max capacity is going to be tough for any backpack, companies tend to be generous with their ratings. I'm not sure of max capacity of this pack but if you go a few pounds underneath you should be fine.
Best Answer
I can't find the max weight limit either, but I doubt you'll be comfortable all day past 40-45lbs.



For max comfort in about this volume pack, I like the Osprey Aether 60 and the Gregory Z55.
I agree with Phil and know first hand that the Gregory Z55's limit is around 40 lbs. I have the Z65 and it's a great pack whose limit is 45 lbs however, if I take it to its limit it constantly needs adjustments and isn't comfortable. 35-40 lbs for the Z65 is perfect and 30 - 35lbs would be it for the Z55. If you need to haul more than that look into the Baltoro series from Gregory for your needs. They're beasts! Hope this is helpful.
It looks like, from the photo's, that at...
It looks like, from the photo's, that at the bottom where you can put your sleeping pad, that those straps are very short. Has anyone who owns this had problems with big pads being able to fit?



Also i can't tell from the photo, but on the front compartment, does the zipper go all the way down on one side, or is it just a short zipper accesss from the top? Also, it doesnt look like there is a very big pocket on the lid. How big is it? Does anyone have any clue or guess at how many L the main compartment can hold - not inlcuding all the pockets?


The straps at the bottom are 12 inches long, and will fit around pads up to 4 inches wide.

As far as the zipper, it is relatively short.

But the pocket in the lid is fair sized- about 375cu in
I've had this pack for about 2 years and use it constantly. I'm pretty heavy on my gear, so for anything to last me more than a few seasons is AWESOME.
The pack is easy to adjust on the fly to switch the weight between your shoulders and hips. The hip belt is detachable and padded really well so it doesn't bother you at all even after a hard days hike. The lid to the pack is removable and you can actually fasten it around the hip belt to create a sort of fanny pack.
Once loaded, it carries easily and will keep your back straight with it's nicely shaped and lightweight center stay. I can fit everything I need for a comfortable 3-5 day excursion and wouldn't hesitate to suggest this pack to anyone else.
how heavy is the hollow -core stays? What...
how heavy is the hollow -core stays?
What material is it made of
ebatungbacal. It is a single, anatomically pre-curved, lightweight, and extremely strong aircraft aluminum stay. I don't know the weight of the stay by itself but the entire pack (medium) weighs in at 3lbs 2oz... which is pretty light for a full featured 55L backpacking pack! I hope this info helps!
how will you manage to bring along a tent...
how will you manage to bring along a tent with a tiny backpack as this (weekend hike)
I own this backpack and carry around a Big Agnes Lynx Pass tent for our trips. I have the tent strapped onto the bottom where the sleeping pad typically goes.

My sleeping pad is filled with air though, so it's much more compressible and can fit in the main compartment of my bag
How to Measure Your Torso Length
From Backpacker Magazine
i am 6'0'' 185 lbs, what size would be...
i am 6'0'' 185 lbs, what size would be recommended?
Hey there, you need to measure your torso length (most important variable) in order to determine the correct size to buy; see video.
Mountain Hardwear Kanza 55
Man, these guys can make packs. I know there are several other companies that make just backpacks, but MH puts a simplicity into theirs that no other company can seem to figure out. I own several MH packs (fluid, dihedral, direttessima, trad) and I just picked this one up for a lightweight large volume backpacking pack. Took it for a short test drive and my first impressions are awesome. The key to a pack, in my opinion, is simplicity. I dont want a pack that requires tools to adjust, nor do I want a pack that has more moving parts than my car. The "alpine" suspension/harness is very comfortable and moves with your body without all the "pivot points" or "floating shoulder straps", basically, things that can break. The weight of the pack is transferred by one flat metal rod that goes the length of the pack vertically. On the upper half of the suspension, it has the "hard wave" plastic frame-sheet which is such a simple idea but works great at keeping the pack rigid (horizontally), but also flexing with your back (vertically). The waist belt holds comfy and tight, and is very soft and flexible (removable and replaceable). It is very effective at supporting transferred weight, without being full of techy crap. This pack hugs your back and feels like it becomes a part of you. Pockets; one lid, one big front, and two side stretch. To keep the overall weight of the pack low (3 lbs) the material is light (100D, 315D), and silicon impregnated (repels water awesome), which is sufficient for most alpine/backpacking outings, however probably wont hold up as good as say, 600D packcloth. If I was going on a weeklong bushwhack in the ADK's, I would probably consider a burlier pack. Nonetheless, the 100D Cordura fabric on other packs I own has been through some off trail adventures and is still going strong. The outside straps are lighter and thinner than most normal pack straps, but are still sufficient enough to handle most gear (also to keep weight low). The design of these straps is genius (as with other MH alpine packs). Side compression straps to shrink load or strap gear, and also front compression straps that tuck away into the front pocket when not in use (for a clean look). Bottom straps also can shrink load or strap gear, and tuck away. With all of the straps tucked in, the pack is very streamlined and simple, and with the straps deployed, you can fix a butt load of gear. Great pack, great design, great price. FYI I'm 5'10 and got the medium; great fit.