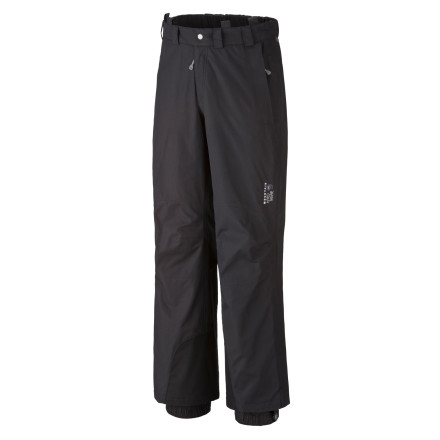 Videos
You've been eyeballing the mountain all autumn long, and now it's time to carve some lines. Pull on your Mountain Hardwear Hestia Pants and get ready for a day of ripping. A shell made from Mountain Hardwear's waterproof, highly breathable Dry.Q Elite fabric keeps the snow out and your heat in while you race down groomers and bowls alike.
Full length side zippers offer ease of access
Abrasion-resistant scuff guards increase longevity
Gaiters stile attempted powder intrusions from below
Removable suspenders for convenience and added support when necessary
Fully taped seams complete a weatherproof design
Mountain Hardwear Dry.Q Elite
Quality construction, Too large in leg
To start off, I am a huge MHW fan and the pants are a quality constructed product, I have no doubt they would last for years and keep you warm and dry. However, I am forced to return them for the second and final time because they are oddly sized. I ordered the XL so I could layer up and move comfortably but found that the pant leg was prohibitively wide-especially from the knee down. It was almost impossible to fit the pant leg into my gator, no matter how I tried to fold it. So I exchanged for the L (Backcountry sent me a free return label which I thought was a step above other retailers), hoping that would fix the issue. Although the waist was more fitted, the pant leg was still too large. It was also hard to even get the gators closed (OR Crocodile XL) and made my leg feel uncomfortably tight.
Is there a brushed material on the inside...
Is there a brushed material on the inside or is it just shell material?
Unfortunately no. But it would be great if they did... I'm still a pretty big fan of these pants, though they could use a couple tweaks.
m.d100553847. The inside lining of the Hestia Pants is light taffeta. Not brushed. This is a two-layer shell pant with a hung taffeta lining. Brushed backs are typically found on softshell pants or three-layer woven outerwear pants. I hope this info helps!
To you have size S (inseam short 28in) and...
To you have size S (inseam short 28in) and to you ship to Malaysia?
Best bet for a quick answer to your questions will be to initiate a chat with a BC rep using the link at the top of the page. Best of luck!
KingKong. As far as the sizes in stock are confirmed I would either call or email customer service at Backcountry.com. And due to agreements with distributors around the world Backcountry.com is limited to selling in the United States. I hope this info helps!
Don't get me wrong, these are great pants. I bought them mainly because they are full zip offs and shell only (no insulation). I've only used them for ski touring so far, and they are amazingly breathable, and what seemed to be wind-proof. I like the suspender option and the leg openings are plently big (maybe a little "bell-bottomy"). The construction is pretty rugged too, and I think that they will last me a good while. My only complaint is that they are very very long. If they offered short/regular/long instead of just the reg, that would be great. I'm about 5'7" 148 lbs and the small/reg fits well every where but the length...
What is the difference between this and...
What is the difference between this and the Bokta pant?
Outer fabric is described as different, but I'm unaware of the advantages/disadvantages of dobby weave vs regular ripstop (which I assume Bokta is made of)
This pair of pants has two layers of fabric while the Bokta pants have three layers. They're both made out of the Dry.Q elite fabric and as far as I know both use the same weave
Best Answer
I have these pants and I made some very simple modifications to them. First thing I did was put a snap button on the cuffs so I can cinch them around my boots. You can get a kit at Walmart for $5.00. I suggest you practice on an old pair of pants first. The second thing I did was cut the powder skirt out. I wear gators so these were just in the way. I can post some pictures if anyone needs to see what I am talking about.
Can you post some pictures about the power skirt cutting? Thank you.