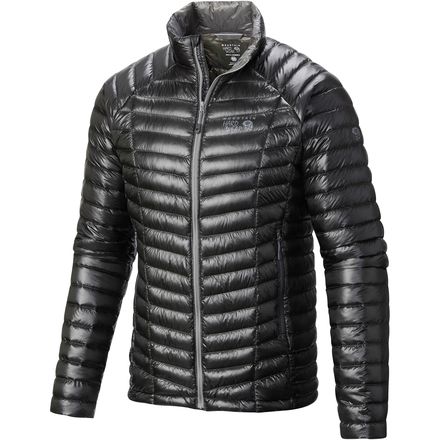 Detail Images

Community Images
Description
It might just be the next greatest thing to ever happen to you.
A bold statement, we know, but when you zip on the Mountain Hardwear Men's Ghost Whisperer Down Jacket, the ridiculous warmth and lightness of the Ghost Whisperer might be the next greatest thing to happen to you. The 800-fill Q.shield down brings massive warmth without weight, and the down resists moisture so it won't stop insulating if it happens to get a little soggy. Its lightweight Whisperer ripstop nylon pairs up with the down to make this puffy weigh in at a mere 7oz so you'll be able to throw it in your pack when you're climbing or harvesting some backcountry turns without it taking up too much space or acting like a lead balloon in your pack.
Whisperer nylon ripstop
800-fill Q.shield down
Interior toggle hem
2 zippered hand pockets
Stowable design
Great Great Great Jacket
Familiarity:

I've used it several times

Fit:

True to size
I love that jacket so warm and no weight to carry in backpack. on each and every hike now I keep it with me . Love it !!!
Best Down Jacket
Familiarity:

I've put it through the wringer

Fit:

True to size
I was a little hesitant to get the Ghost Whisperer because of the price tag, but I did anyway based on its great reviews - and I'm really glad I did. It's amazingly light weight - the lightest down jacket I've ever owned. The outer material is extremely light and seems thin, but it's remarkably tough. I've caught the jacket on rough wood and trees and it hasn't been any worse for the wear.

The outer material shed moisture, but things do get damp somehow, the hydrophobic down still keeps me warm. So you can wear it as an outer piece, or layer it under a ski shell.

My one gripe would be that it's slightly boxy fitting, but minimally so.

I'm 5'11 150lbs and a medium seems to be the proper size. Because I'm skinny, that my be why it seems boxy.
nice, light and toasty!
Familiarity:

I've used it once or twice and have initial impressions

Fit:

True to size
I've been eyeing this jacket for close to 6 months based on an indefinitely wild review. spotted a medium on clearance and pulled the trigger. i've taken it out camping twice this fall and boy, did it keep my core warm! the jacket is incredibly light and compresses to the size of a small to medium grapefruit. my only quip is the sizing. i'm a short dude with a muscular build, wide shoulders. torso fits great but sleeves were a little long for my arms. my easy fix was just to cuff 'em. perfect fit! i highly recommend it! i can't wait to layer it up this winter in wisconsin!!!
Never Leave It At Home
Familiarity:

I've put it through the wringer

Fit:

True to size
Full disclosure I used to be an MHW ambassador, but it's safe to say this was/is one of my favourite all-time layers. It's so light and packable that you really never have an excuse to leave it at home, and hey, the best layer is the one you have with you. Highly recommend it for ski touring keeners.
Solid, light weight jacket!
Familiarity:

I've used it several times

Fit:

Runs large
So far, so good! This jacket is everything that I had hoped it would be. Super light, warm and highly wind resistant. It easily packs into its own pocket. Just throw it into your summit bag and forget about until you need it or wear it around town and look like a Bad Ass...choice is yours. Fabric does seem flimsy, but the shoulders have taken backpack strap abuse with no problems The medium leaves a little room to spare in the torso and I feel that I could have gotten away with a small. It's a bomber jacket.....Get it!
Solid Lightweight Jacket, if it fits
Gender:

Male

Familiarity:

I've used it several times

Fit:

Runs large
I like this jacket. It's light, warm, and easy to pack.

Makes a decent mid-layer in cold weather.

The small fits me perfectly, but I initially tried the medium, which wasn't bad except the torso was way too big, which appears to be a common problem based on other reviews I have seen.

Additionally, my jacket is holding up well so far (after numerous active uses) but my girlfriend who bought one at the same time had a small tear form at the cuff after minor, non-rigorous use.

The material does feel flimsy but holds up well, and the jacket looks good too.



Overall, would recommend.
Worth checking out..
Familiarity:

I returned this product before using it

Fit:

True to size
I did end up returning this jacket so I cannot comment on functionality. Just look and fit. This jacket is light weight and feels "weak". Thats not to say that it could not keep you warm, it feels that it can tear easily. However, the coat has a tapered silhouette which appealed to me. At my size, a M fit great but if you have any kind of belly, this jacket may not be that flattering on. They call the fit "active" so if you are trim, then you will like the fit. The sleeves were plenty long without being an issue. I returned the coat because I did not like the sheen that the coat had. Reminded me of the satin disco jackets. I took a chance and went with the Python color but it just wasn't my scene. I know that this coat rates out well for its weight to warmth ratio so it may be worth checking out.
"Down" Grade
Familiarity:

I've used it several times

Fit:

True to size
My biggest disappointment with this jacket.
Mountain Hardwear lowered the fill rate from 850 to 800 and didn't even reduce the price.
What set this jacket above the others was the weight-v-warmth factor.
I suppose it makes little difference in the scheme of things, as I hope to never be in a situation were that little extra is going to save my life. My question is…if you have a multi award winning product that is literally flying off the shelves, (excuse the very small pun) why down grade it?
Sigh
Gender:

Male

Familiarity:

I returned this product before using it

Fit:

True to size
So I received my jacket, tried it on and was sad because it was too large. I guess I was thrown a bit because of it being listed as an active fit in the tech specs. In the biking world an active fit means it's sized really small. I took a chance because it was on clearance - oh well.



I was really impressed by the weight (or rather lack of weight). The other reviews have stated that it will not take a pounding and I can see their point. The nylon is whisper thin to save weight. I would never wear it as an outer layer, especially given the steep price tag, but it's perfect as an under layer or as an extra layer of warmth while sleeping.


I will order a large when I see one on sale, but I think for the extra ounce I'll be ordering the hooded version.
Another Great Mountain Hardwear product
Familiarity:

I've used it several times

Fit:

True to size
Light weight, occupies little space in carry on luggage where every cubic inch counts, fits as advertised. Purchased large, sleeves a little long considering I wear a 34-35 inch dress shirt. This jacket adds flexibility to many outdoor clothing situations. Wear it under a gore-tex paclite rain shell or under a Mountain Hardwear Gore Windstopper. The combined weight of the Ghost Wisper and Paclite Shell is 20 ounces.
Backcountry beat everyones price by a significant margin.


Weighs nothing, warm, allround awesome
Familiarity:

I've put it through the wringer

Fit:

True to size
Only downside is price, get it on sale like I did. This jacket weights nothing, as someone said, it's like a cloud of warm air around you. It'll get some down leakage, but overall its tougher than the fabric would lead you to believe and its darn warm. Makes a good outer layer from 30-50F or so and a very good midlayer as well. Its not stretchy though.
light insulation
Familiarity:

I've used it once or twice and have initial impressions

Fit:

True to size
Bought this as an insulating layer for hunting later in the year. This jacket is super light and quite warm for how light it is. I agree with others about the quality of the zipper. It's not great but works and was designed for minimal weight. Haven't tested the water resistance but I chose this jacket for weight and the waterproof down. Sizing wise, I was hoping for a slightly snigger fit since it will be mostly used as a mid layer but as a outer layer it fits great. The Md. Would have been too snug. I'm looking forward to testing durability but from first impressions I'm very happy.
Great service and shipping from Backcountry.com
A great ultralight down jacket
Gender:

Male

Familiarity:

I've used it several times

Fit:

True to size
Overall, really happy with this jacket. It has kept me warm down to 20F with a few layers underneath doing very mild activity like walking (so, low self-heating). It is versatile in the sense that it can be worn comfortably with say 1-3 layers underneath, and it can be worn underneath a shell, and because it is so light it is great for physical activities. However, although the material seems surprisingly durable considering its weight, I would recommend wearing a shell or even just a fleece over it to protect it from abrasion if you're going to be coming into contact with trees, rocks, etc.

<p>
I bought this jacket in color Shark (dark gray with orange-red zippers), size medium, after looking over a bunch of the ultralight down jackets. I was originally interested in the Patagonia ultralight down jacket, but it was hard to find on sale, so I shopped around and landed on the Ghost Whisperer which, as it turns out, I like the style of better than the Patagonia. I have gotten many compliments on the jacket, which is always a bonus.

<p>
I'm in Boston, MA and use this primarily around the city which in general means windy and 10-30F conditions in winter, and my activity level in that use case is basically just brisk walking. For this type of use, this jacket performs well, especially if you layer up a little underneath. I have not used this jacket with a shell yet but I imagine that would provide a significant warmth boost and also improve wind-stopping ability. I have fit-checked it underneath a shell and it seems to fit well.

<p>
The jacket does a better job blocking the wind than say my North Face Denali hoodie, but is not wind proof. I have found that the wind sneaks in through the collar, as it is fairly low around the neck and does not snug up against the skin. Wearing a collared shirt or sweater helps a lot in this regard. Same goes for the wrists--they do not fit snugly around the skin because there is basically no elastic there. I do not think this is actually a problem, as I do not think much heat actually escapes through there, and when wearing gloves the wrist openings tend to be sealed up pretty well by the glove. I would be really interested to try the hooded version of the Ghost Whisperer, as I suspect that would cut down the wind through the collar. There is a cinch cord around the waist which is critical to get the maximum warmth out of this jacket, as heat will escape through the waist if not cinched down. The cinch mechanism seems to work fine, although it does seem a bit lightweight, as do the zippers, but that is kind of the nature of the beast.

<p>
This jacket is a great fit. For reference: I wear a dress shirt size 15 1/2" collar, 34-35" sleeve; Frank & Oak size medium button up shirts; Bonobos size medium button up shirts. Ghost Whisperer chest is good, waist is good, sleeve length is good. Collar is maybe a little loose, but comfortable. The fit is on the slim side, which I like. I have worn it comfortably over just a thin base layer, like a t-shirt, and also over t-shirt + collared button-up + wool sweater. Obviously it is looser with just a tee, and a little on the snug side with two shirts and a wool sweater, but it's fine. The range of motion on the arms is great--does not tug or pull, feels really free.

<p>
The pockets are not super useful--I have tried keeping lightweight cotton or wool gloves in them, and that works okay. They are probably best used for paper items, ID cards, wallet, etc. I would not keep anything potentially abrasive in there (e.g. keys) as I would be concerned about accelerated wear and tear. One of the pockets doubles a stuff sack which I have not tried yet. It has an extra zipper pull built in for this purpose.

<p>
Overall, awesome jacket, really happy with the purchase. Not sure I would have purchased if not on sale though, these ultralights run pricey.
Great, but almost perfect
Familiarity:

I've used it several times

Fit:

Runs large
I've only had initial impression of this jacket so far, I'll get some pics up and update my review in time. I went with the hoodless because I plan to use it predominantly as a midlayer It's biggest attribute obviously is the warmth to weight ratio, this thing is a feather.

Take note that the sizing is odd compared to other Mountain Hardware items. I'd seen this comment often on the jacket but still went for a Large, which is the size I have for every other Mountain Hardware shirt/jacket I own. I'm 6'3 180 lbs and was swimming in it. Returned it for a medium and it's absolutely perfect. However a medium shouldn't be perfect for my long armed gangly self, it really fits like a medium tall.

Like any ultra light gear, you tend to sacrifice strength and durability for weight. I haven't had any problems yet, but lets just say I won't ever be bushwacking with this jacket on. It's pretty clear that the fabric will not withstand much abuse, this is a winter skiing midlayer or fall hiking outerlayer for me, I'm going to have to try to not be too rough on it.

As far as this notorious cuff problem? Yes, the cuffs could be improved with some better elasticity. Is it a deal breaker? Absolutely not in my opinion, it's really not that bad, I have skinny wrists and while there is a gap it's not overly noticeable to me. Maybe it would be a bigger issue if the sleeve's were too long for me (which is the case for alot of people with this jacket as it fits like a tall size), but as is the sleeves come down to wrist level and it's not a big issue.

Overall, I'm really happy with the jacket. It really is incredibly warm for it's 7 oz weight. However I would be perfectly willing to add just a smidge more weight for a chest pocket, and to beef up the main zipper just a bit. With some minor changes this jacket could really be the bees knees, but as is it's still pretty darn sweet. I'll see how it holds up over time and adjust my review accordingly.
Cool coat, not completely thought out
Familiarity:

I returned this product before using it

Fit:

True to size
Cool looking coat and warm for its weight. But I decided to send the coat back for three reasons.
1.) It has no chest pocket, not inside nor outside. Almost all others similar models from other companies have the chest pocket for a reason: it is needed.
2.) The cuff elastic on the sleeves is not...well...any good. Mountain Hardware over-engineered the coat and made the sleeves too long, the elastic stuff too high techy and the cuff too big. Bad triple whammy. It does not grip, it does not stretch, and it is too big. So the sleeve just goes past my wrist and down to my thumb. Jacket size is a Medium. My sleeve length is a 34 and the sleeves are still too long. Jacket is true to size except for the sleeves.
3.) The zipper is to meek for this coat and it is glitchy. Gets stuck at bottom when engaging and disengaging zipper.
Great lightweight down jacket
Familiarity:

I've used it once or twice and have initial impressions

Fit:

True to size
Ordered the MH GW jacket to use on hiking trips and for use on business trips when I travel to cold locations. So far have only used it for the latter, but it worked great.

Pros: lightweight, as advertised. Stuffs into its own left pocket, and works well as an airplane pillow (or a pillow inside your sleeping bag). Was toasty warm down to 20 degrees with a lightweight TNF fleece underneath. Without a layer underneath, was comfortable outside in mid 20's to lower 30's for short periods of time. The fit is very good. I'm ~6'2" and thin; the large fits me very well.

Cons: as some other reviews I've seen stated, the zipper does feel a bit on the delicate side. I say that because I have to futz with it a bit to get it to pull apart or go back together, and it is a very small, thin zipper. But this is part of the weight savings, so I can accept it.

Overall, very happy with the purchase. Got it on sale for ~1/3 off, and am glad I spent the money for this model over some competitors.
Excellent, pricey, a bit fragile, shiney
Fit:

True to size
This is a great jacket, very warm for weighing nothing. It's like a cloud of warm air on you. Good as a light outer layer or mid layer. It's not stretchy so not good for climbing etc. Also its pretty darn shiney, which I dont like so much, but not a big deal. The fabric is a extremely low denier, 10 I think, so its easy to tear and get some down leakage, but gear tape will fix that. Overall worth buying. You can always stuff this into bag as a backup without noticing the extra weight.
Hesitated for awhile, but...
Familiarity:

I've used it several times

Fit:

Runs small
I'm glad I finally made the purchase. I went back and forth because lets be honest, the jacket isn't cheap but I found a great deal that I couldn't pass up for last years model. I've worn it a handful of times backpacking already and a lot just out and about. It has definitely done its job of keeping me warm even in the low teens at night. Like most down items, I wasn't happy to find a few stray feathers after I slept in it in the single digits but there was only 1-2.

On a side note, I did ball it up as small as possible in my pack and it was pretty wrinkled and flat looking but throwing it in the dryer with no heat for a few minutes made it look brand new again. I also do this trick with my sleeping bags after a trip and before I hang them up.

I picked up a large and the sleeves are slightly longer than I would have liked, but not enough to be an issue. As you can see I said it ran small in the fit which I found true except for the length of the sleeves which are maybe 1-1.5" too long for me.
I like it :)
Familiarity:

I've used it several times

Fit:

True to size
Just what I expected, light compact and warm :)