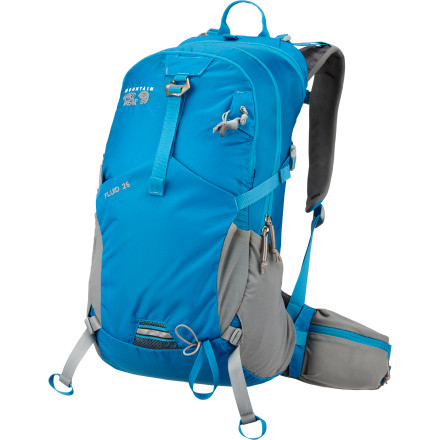 Detail Images

Community Images
Description
Like it's a part of you.
When you're moving quickly, you can't afford to have your pack bouncing around on your back. It's annoying at best; dangerous at worst. The Mountain Hardwear Fluid 26 Backpack features a unique on-the-fly compression system that allows you to secure your load without removing the pack for a perfect fit.
Large top zip for east access to main compartment
On-The-Fly compression system reduces bulk for more stable carrying
Padded shoulder straps make heavy loads more comfortable to carry
Ventilated waistbelt with convenient pockets for added stability and comfort
CoolWave back panel promotes airflow and maintains fit to keep you dry and comfortable, even under heavy loads
Dedicated dual-zip hydration sleeve allows the drinking tube to come from the right or left
Share your thoughts
What do you think of the
Mountain Hardwear
Fluid 26 Backpack - 1585cu in
? Share a...
I would return this pack if I could.

I purchased this pack as a daypack for my 12-year-old son to use this summer at camp. He was required to have both a daypack and a larger backpack for overnights.

After the first day of using the Mountain Hardware Fluid 26, my son complained of a sore spot in the middle of his back. Upon examination, he had a rubbed and bruised area on his back.

The problem was the internal frame of the pack was collapsing and pushing firmly and inwardly against my son's back and no amount of adjustment or repacking could alleviate the problem.

The truth is the internal frame on this pack is incredibly flimsy. I can easily bend it with virtually no effort. The pack seems to be designed well other than the internal frame, but as it is, the pack is useless unless you only intend on carrying a rain jacket and a few snacks.

The Osprey backpack that my son is using for overnights is extremely well made, has a very rigid internal frame and rides really well. No problems, even with much, much heavier weight.
Love it so far
Familiarity:

I've used it several times
Grabbed this pack to serve as a more "feature heavy" day pack over my ArcT lightweight daypack (Cierzo 25). It's not really designed as a school bookbag so some of the negative reviews here don't apply for what I plan to use this for.

Initial impressions here as I haven't put it through the wringer (if it lasts through that I'll give it a full 5 stars).

Pros:
-external access to water prevents sorting through your pack to get to your water and lets you add water last without rearranging
-hipbelt pockets - not so common in small packs - and these are roomy
-lots of little smaller pockets for stuff
-adequate pocket on front (huge - no - but big enough for things you'd carry hiking such as a lightweight shell)
-removable framesheet to make lighter
-supportive and good suspension
-high quality lightweight material
-comfortable hipbelt
-trekking pole loops

not sure about
-it feels very "tall" for the size - not sure how I feel about that
-the top pocket on the newer model is nice - but the extra internal pockets and extra internal separator on the old model trump this for me
-new model might be easier to get to your water - but i fear that this might make the suspension/back panel feel funny from checking it out in stores - but that could just be me

cons
-I wish it had 2 ice axe loops or that the trekking pole loops were on the opposite side so you could have an ice axe and your trekking poles attached at once
- Attachment for trekking poles/ice axe on the top of the pack is AWFULLY small - too small to attach two BD trail pro poles! Seems like something they thought about!
Flimsy feeling... and Poor Design
Familiarity:

I've put it through the wringer
When I first got this bag I was extremely excited, I had researched it for a while, and it seems like the perfect "do-all" everyday grab bag that could work for school, a day or two of travel, or some day hiking.

I was quickly rather disappointed.

The bag is rather flimsy, the craftsmanship/quality was dubious, as I found loose threads in a few places, and the attachment for the front pouch hook started to form a hole in the bag after a few weeks because thread came loose. The CoolWave framesheet was also disappointing. It is very strong and restive to bending side to side, but it easily bends the bag in half like a taco. This is an issue when you have heavy items like books towards the bottom, as the pack will fold in half, and the compression system does noting to help balance this out. Even when hiking with the bag without heavy items at the bottom the way the compression system is set up it only compresses the bottom of the bag, and just pushes everything upwards.

The marsupial pouch on the front was also very disappointing. On the model I had MHW for some reason decided to use only a small amount of stretchy material on the sides of the pouch, so you could only really fit thin flat objects in the pouch (in the picture below you can see that my climbing shoes barely fit in. completely stretchy material would have made way more sense here.

Overall I really wanted to like this bag, but there were just so many small issues and annoyances that made it unenjoyable to use that I ended up returning the bag. Make sure to try this on in person if you think you want it, it's not as good as it sounds in description.


How is this pack for carrying books?

How is this pack for carrying books?

This pack is decent for it, but I would not suggest it, as there are many packs on backcountry that would do a much better job of carrying books.

I used it for a year as my general day bag around campus, which included carrying my laptop, lunch, extra layer, and some notebooks and textbooks. The tallness of the bag makes this slightly awkward, but workable.
I love this thing!! Feature rich and well constructed, this MH pack is just what the doctor ordered. I'm 6'1" with broad shoulders and chest and this pack still fits me well. Daypacks are used in so many different situations ... from a day on the beach to a hike in the mountains and everything in between. With this in mind, a good daypack needs to have plenty of organizational features built into it and this one does. Plenty of pockets, including two small ones on the hip belt. I especially like that the H2O sleeve is on the outside of the pack, providing easy access to your water without having to rummage through your gear. Awesome feature!! Also, this has a great suspension for such a small pack, allowing you to load it up with some weight. Bottom line ... while the Fluid cannot be considered a technical pack, it does everything else really well, which makes it the perfect daypack in my book.