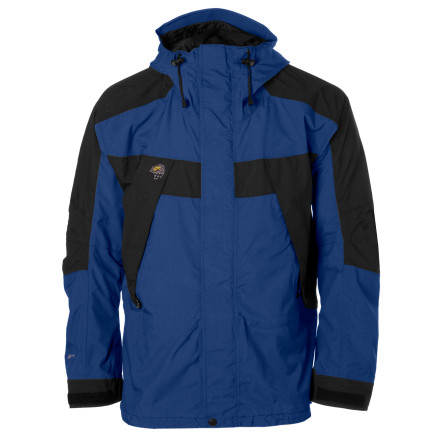 Community Images
Good shell, especially like the number of pockets and roll-up hood. There is a pocket above the main zipper that gives you easy access to a wallet or phone without having to unzip your coat.

Only bad thing is that the fit seems to be a bit bigger than expected for the size. I typically wear a Medium in every other outerwear/clothing and could have probably gotten away with a small here.
what size would be good for someone who...
what size would be good for someone who is 5'8" and about 135 with a skinny build?
Got a new one after 7 years from the 1st one...
I bought one of these in 2002-2003 (i forget exactly which year) and I wore it everywhere. Before I had a North Face Mountain Light Parka (Do they even make that anymore?), and I just thought it was too bulky and heavy. Someone suggested the Exposure Parka, and I never looked back.

After years of service, the other was looking rough, so I bought a new one. I've had pretty much the same response from this jacket, but I've noticed it's not nearly as "waterproof" as the original. I used from Nik Wash, but it's not really helping. Still, I think this is a minor issue compared to the craftsmanship that goes into this jacket. I've used it for backpacking and hiking, plus cold weather activities.
I'm 5' 10" and 180 lbs, with a 41 inch...
I'm 5' 10" and 180 lbs, with a 41 inch chest. What size should I purchase if I want to layer with fleece? Thanks.
Craig, I would suggest starting with a Large.
This is an awesome shell. Plenty of storage, ventilation, and a built in powder skirt. It is roomy and the sleeves are long. I'm 6'02" tall 200 lbs, and wear 36" long sleeves. Purchased an XL and it is perfect for layering. This was my first order from Backcountry.com but won't be my last. My order shipped in record time, and they were very helpful when I asked questions. Great company, great parka.
XL was WAY too big for me -- and I'm 6'3" 200 lbs. I'd consider myself an "athletic build," but the XL was intended for someone with: a) longer arms; and b) a bigger mid-section. Exchanged for L. Hopefully will fit better. Outside of sizing issue, jacket looks great (there's a reason I'm exchanging).
I am 5'6, 140.....Small or Medium fit...
I am 5'6, 140.....Small or Medium fit best?
I'm 5'8, 165 and got a small. it is ample through the sleeves and the length is perfect...not too short, not too long. it is a funny fit, though, on me. i could have gone either way as the hood on the medium fit my ample sized head much better. for you, though, its small all the way. good luck, and if you buy it, you will be buying the best jacket made for the price. :)
This jacket is tough as nails. I have had it for a couple of seasons and have been through some pretty thick woods with it and it still looks great. Just recently had to give it another coat of ReviveX because it was starting to get a little damp but this jacket is almost 3 years old so that is to be expected. It now sheds water like a duck again.

I really like the pitzip feature. Typical MH quality.
I'm 6'2" tall weigh 200 lbs and have long...
I'm 6'2" tall weigh 200 lbs and have long arms (36" sleeve) Large or XL?
Dave, I would suggest XL which will give you a little room for layers underneath and will help with your needed sleeve length.
I selected this parka for back-country XC skiing, snowshoeing and camping. I tend to go out in bad weather and I sweat a lot, so moisture control is a big issue. A week or so ago I went on an XC ski trip in a storm, and this parka was bombproof. I did get wet inside, despite the pit zips, but I probably should have removed one of my inner layers, or slowed down, since the trip out was uphill. Even so, I was warm and comfortable while being blasted by wind and snow, and I did not fasten the snow skirt or tighten any drawstrings. So, as a storm shelter this parka is great.

Bonus points for extra long sleeves; this can be a problem with many jackets but not this one. One snap went missing from the snow skirt but I attribute that to in-store damage; my wife bought it at a local store. I know I could return it to MH but I don't see the point; this parka already does exactly what I want it to do and the snaps are not the only closure system for the skirt.

The jacket does not compress much but it does fit into a daypack along with an emergency fleece blanket and all the usual stuff.
I got this jacket for a family ski trip to Winterplace WV and it did not let me down. I liked the fabric, the feel and the protection it gave me. I layered up w/ 2 shirts, ski bibs and a fleece liner underneath and it was enough even while tubing at 19 degrees. I just wish the zipper pulls were longer for use w/ gloves on and the interior pocket could be velcro since this is opened w/ gloves also. As for the pit zips, I didn't even know they were there, so no issues for me. I am 6 ft, 185 lbs and got a large. Great coat.
A decent ski jacket, but need improvements
Overall, I am pretty happy with this shell. I have a hard time getting a good fit for my short/stocky and broad shoulders frame and this was OK. I used it for the first time on a cold and windy day with occasional light snow. I was happy with the wind protection and overall functionality. It has plenty of pocket space and the water bottle pocket is a great addition. I would prefer to have a couple lower pockets, but knew what I was buying beforehand so I cannot complain too much. I read reviews about the fixed hood and did not think it would be an issue, but I was wrong. It really is bulky and heavy when rolled up. Maybe the day I really need a hood, I might be happy it is attached. My last issue is with the arm vents. Once unzipped they are literally open - I like to have something that helps deter the snow from going in during a crash or while riding in powder. It can let too much snow in.

If the vents had a mesh to block things other than air and the hood could be removed, it would be 5 stars.
Im 6'1" and around 175 lbs. what would be...
Im 6'1" and around 175 lbs. what would be the best size to go with? And would the size you prefer be able to fit layers underneath the jacket?
Best Answer
I think the large would work perfectly for you and allow you to get some layers underneath.
I am looking into getting a new jacket....
I am looking into getting a new jacket. Considering this one. I am 5'9" 165Lbs. I want a waterproof shell that can be worn on its own and as an outer layer with a fleece under for those extremely cold days. Doeas this jacket fit that usage? If so, what size would be best? I want something that fits comfortably with a fleece but at the same time isn't huge as a wear alone shell.
romad. This shell fits the bill you are looking for. I would consider a medium if you want the jacket to fit well when using it on it's own. A large would be big in the chest and long in the arms. I hope this info helps!
a large would be much too big.
Hello would I be an XL or XXL size? I?m,...
Hello would I be an XL or XXL size? I'm, 6'1" at 220 lbs. With a poly long-sleeved shirt and a fleece, I'm coming in just at 46" chest and 36" sleeve, and waste is 38-40" depending on type of boardshorts. I read one review on the Mountain Hardwear site from a guy 6'1" 206 pounds and he said the XXL fit him just right, but didn't say how it fit, etc. But the post here said a 6' 210 pound person can use a large with layers under. Size is just confusing me a bit. Thanks for any input.
Best Answer
Ed. Based on below comments and experience I would say that you'll be an XL. I think an XXL would be too big. I think the confusion comes in the fact that people like different fits on their jackets... different strokes for different folks I suppose. I hope this info helps!
This is great shell for a nice price. Will have to see how it stands the test of time but so far so good (had it for two years). Highly recommended.
Great for a winter storm, but...
I found the Exposure 11 parka to be like it says, great coverage for a big storm day. While it may be a great choice for when you need the hood in a storm, it does not roll up or store in a way that for non hooded days would be acceptable. The hood is quite bulky and does not look attractive unless it is in use. The pit zips took a little getting use to, as they weren't easy at first. I think that for the price it is a good value, but it definetely should not to be taken for a 3 season jacket!
Mountain Hardwear Expo II, not just for men
After 6 months of shopping for a women"s waterproof jacket that is over the hips and has a waist cord without success. I decided to try a men's style. This coat is perfect for oregon back country skiing by just adding a fleece or removing the under layer and unzipping the under arms for warmer weather hiking. The hood is large enough for me to wear a biking helmet with the hood over. I am extremely happy thus far and would highly recommend women giving it a try. bravo to mountain hardwear for making such a versatile jacket.