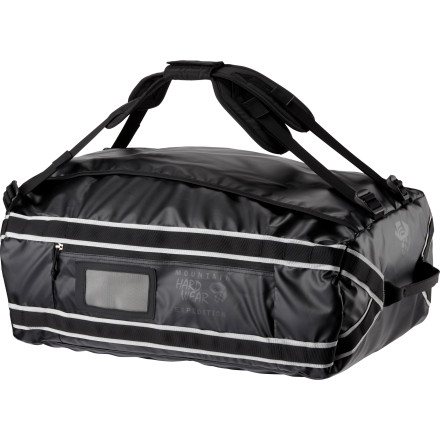 Colors

Videos
From high Himalayan base camps to the wind-swept plains of Patagonia, adventurers turn to the Mountain Hardwear Expedition Duffel Bag for massive storage space and unrivaled durability. The versatile straps allow you to carry the duffel over a shoulder or backpack style while the internal compression straps make the bag easy to open and close even when fully loaded. Plus, burly external daisy chains allow the bag to be strapped to the top of buses, carts, and even livestock.

Burly TPU material throughout with a reinforced bottom panel provides tough durability and weather protection
Versatile straps allow you to carry the bag by hand, single shoulder, or backpack style
Eternal zippered pocket provides quick access to travel items
Two internal mesh pockets help to keep gear organized
Internal compression straps keep gear in place and make the duffel easy to close when fully loaded
Daisy chains allow you to securely strap the bag to buses, yaks, and carts
Hopefully Better new Material & Design
Familiarity:

I returned this product before using it
I have several duffles and have used them for climbs in the US and abroad including Nepal. I always preferred the NF duffel so this one never was used. This MH duffle has now been updated and replaced by a newer version. I had a L new one of the original model and several of the L North Face duffels. The MH one shown in the Outdoor GL test that I had was unused and you can see by my photo how the coating on the entire bag was simply delaminating and peeling off. I returned it to MH 10/2015 and they just replaced it with the new model. This new model is much lighter weight #3-10oz as it is made with a much thiner and lighter material than either the old MH or the current NF duffels. It also has exterior and interior color changes, no outside obvious logos, no aluminum tubes on the end handles, a new outside daisy chain, 1 outside side pocket, 1 business card holder on the side, a bright orange interior color, 2 interior end zippered end pockets, and the same type of interior compression straps. It also has a U shaped top zipper opening backed by velcro and a new design for the shoulder straps.
I'm hoping that the new design will be an improvement over the old one. I have had no issues with the NF duffles.
As only as good as its weakest point
I took this bag on an expedition climb in the Himalaya. It is very well built with the exception of the critical shoulder strap attachments. It appeared to be nothing more than single stitched with no bar tacking. The strap broke the first time I moved the bag and grabbed it by the strap. Horrible design and quality control, it doesn't matter how good the fabric and balance of design is if you fail to pay attention to critical structure such as this, it is a failure. If I could rate this zero stars I would. Buy the North Face bag, ten times better.
High quality duffel bag
Familiarity:

I've used it once or twice and have initial impressions
I bought this bag recently and planned on using it for snowboard season, so I stored it in my closet until the season starts. Upon packing for a conference I realized I had packed two medium-sized luggage bags and a few small bags, and it occurred to me to use my new Expedition Large Mountain Hardwear bag. It literally swallowed all the bags with room to spare. This bag is HUGE!
I agree with others that the straps are a little small for a bag so big, and the "return if lost" tag holder needs a velcro end to keep your card from falling out, but overall, this duffel is awesome. I am a gear junky, so I will probably buy the medium and small too.
Fantastic Duffel Bag
Familiarity:

I've used it several times
Have had this bag for about a month and so far, have just used it for airport travel and some car camping, but my first impressions are that it is one tough bag. Will see how it holds up over time and update my review if my opinion changes, doubt that will be the case though.

Pros
1. Burly TPU material. My testing hasn't been rigorous but I'm confident this duffel will last for years and years to come, it just feels like it will stand up to anything I will throw at it.
2. Burly zippers. Big, strong, yank them hard on a full pack with no worries about the zipper breaking. Critical component for a quality duffel bag.
3. Versatile. The backpack option works reasonable well, and the straps adjust easily to switch from a single hand carry to over the shoulder.
4. Well organized but simple. Two interior mesh pockets help keep smaller items separated in the pack, external pocket has enough space for anything you'll need to access quickly while traveling, and the internal compression strap helps keep everything tight when the bag is fully loaded making it easy to zip shut.

Cons.
1. The handles could be a smidge bigger and have a bit more padding for the backpack and shoulder strap function. It's not terrible, but an area that could be improved upon.
2. Small complaint, but while there is a slip for an ID card, mine didn't come with an actual card to write on. I just cut a note card to the right size, but I'd prefer a card that was waterproof as the rest of the pack is. Also a velcro tab at the opening of the ID slot would ensure that it couldn't possibly fall out of the slot.

I got the medium size. It's perfect as an airport check in size, you'd need to be lugging some heavy equipment in it to go over 50 lbs. I believe a small would make a great carry on. If you fully packed a large I assume it'd end up being oversized.

I haven't tested a lot of other duffels out, but I assume there are probably more comfortable ones out there and it's not super pleasant carrying this bag at 45 pounds for over an hour. I give it 5 stars because I am confident that this bag is going to put up with hard abuse for a damn long time.

Pack Sizing
Familiarity:

I've used it once or twice and have initial impressions
Pack Dimensions Large: 32 x 16 x 14 inches / 81 x 41 x 36 cm

Pack Dim Medium: 26 x 15 x 13 inches / 66 x 38 x 33 cm

Pack Dim Small: 22 x 13 x 9 inches / 56 x 33 x 23 cm
Mountain Hardwear Expedition Duffel Bag
What are the dimensions of the small bag?...
What are the dimensions of the small bag? (And is there a reason that Backcountry.com didn't automatically include all of the dimensions in the product description?) And does anyone know just how waterproof/water-resistent these bags are? Anyone have a comparison to the North Face Base Camp Duffel? Thanks.
The bag is 22 x 13 x 9 and very water resistant.It'll handle any rain shower you throw at it, just don't toss it in the water and you'll be okay.

It's almost a full pound heavier than TNF Base Camp Duffel if you get the same volume bag and is a bit more awkward to carry due to its flat rectangular shape. If water resistance is you primary factor in deciding which to go with, I'd go with this one, otherwise I'd go with TNF's duffel.
What are the dimensions of the large bag?...
What are the dimensions of the large bag? Thanks.
Hi Pete. The dimensions of the Large are 32 x 16 x 14. I hope this info helps!
what are the demensions of the med. bag?
what are the demensions of the med. bag?
Hey,



Dimensions (HxWxD): 14" x 26"x 14"