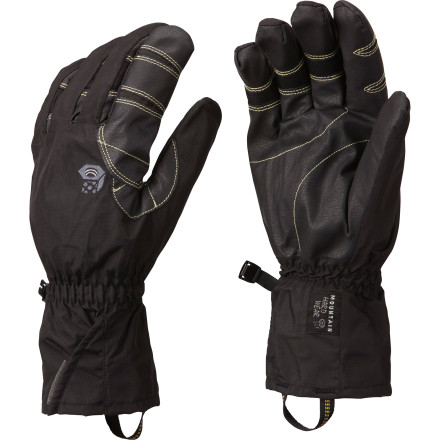 Videos
Warm, low-bulk, three-season outdoor gloves don't come along often, and the Mountain Hardwear Epic Glove proves itself one such rarity. Dexterity, warmth, and protection from the elements—this glove delivers it all whether you're on a rain-soaked backpacking trip or a slog through waist-deep snow during a late-season spring snowstorm.

Waterproof and windproof Outdry technology protects your hand from the elements
Durable synthetic palm fabric ensures a rock-solid, secure grip
Brushed polyester lining provides warmth and manages moisture
The seamless fingers and pre-curved, articulated fit provide your fingers with optimal dexterity
Short gauntlet has a secure hook-and-loop wrist closure
all the stitching broke and wore out
Familiarity:

I've put it through the wringer

Fit:

Runs small
I guide on glaciers along with ice climbing. These gloves began to show significant wear after a week. They were of no use after a month. I was very dissapointed with mt hardwear customer service(outsourced now)...... maybe if you plan on using these for hiking in the rain they might work for anything else plan on them going to shreds quickly. very dissapointed. I will not buy mt hardwear gloves ever again nor there other products unless there free. It is a real bummer because they use to put out a nice product.


Mountain Hardwear OutDry Technology
Terrible Fit
Familiarity:

I've used it several times
Unless you have 9 -inch palms and the fingers of a 4th grader, don't count on a good fit. Further, the fabric pulls so tightly across my knuckles when I grip a trekking pole, the blood flow is diminished and my hands get colder. Finally, the gauntlet ensures water running down my raincoat sleeve will go straight into the glove.

I've never had trouble fitting into a medium glove before. Even a size large isn't large enough.
Inconsistent sizing and poor quality
Familiarity:

I've used it once or twice and have initial impressions

Fit:

Runs small
I was excited to come across these at the Mountain Hardwear store in Seattle, was just the waterproof shell I was looking for. Tried on an XL and it was too small, which was strange. My girlfriend tried on the same glove in women's and they didn't fit, but she tried on another of the same size and they did fit. So I tried on another of the XL's and it was a perfect fit. Got the glove despite the sketchy quality control and my girlfriend bought a pair only to find out later that each hand was a different size, despite both being labeled smalls. My pair ended up lasting one trip before the seams started coming apart. Naturally this happened just after 30 days so I had to deal with their warranty dept, who sent me back a Torsion glove, which is $10 cheaper and not waterproof. I called back and was told that even though the Epic glove shows on their website, doesn't mean they have them, so too bad so sad. Kind of a crappy experience with Mountain Hardwear, used to love their stuff.

All that being said, the glove is pretty cool and worked great in the snow for the short amount of time I had it. So if you happen to get the right size and it doesn't fall apart after one trip, you'll probably love this glove. I just can't recommend taking the risk.
Careful on sizing.
Gender:

Male

Familiarity:

I've used it once or twice and have initial impressions

Fit:

Runs small
I am a huge fan of Mountain Hardwear's Epic gloves, as I've had an earlier version of the glove for years, and it is my "go to" glove for skiing, winter mountain biking, backcountry snowshoeing & skiing, and cold weather hiking! As long as you're active they provide good warmth & water proofing. When I saw these new ones I had to order a pair. I am very impressed with the construction of these gloves. They are tough as nails, have a sticky grip in the wet and snow, are super light weight, and the finger articulation is comfy and natural. I just have one gripe; I wear a size medium in all gloves (even the older Epics), however men's medium in these new Epics runs very small. So, I gave them to my wife and ordered a pair of larges. Hope they fit better! I'll let you know!
perfect Ice lead gloves
Familiarity:

I've put it through the wringer
Like other reviewers have stated, these gloves are great for ice climbing. I, however, have used these at very low temperatures as they provide pretty good insulation during high exertion. If you are quick to pop on some mittens when you are belaying, these gloves work wonders on ice routes even on the lower temperature spectrum. The dexterity and water proofing are spectacular. The first time I used these gloves on lead was like the first time I tried monopoints--instant love. Do yourself a favor--buy these and go climb some ice.
Awesome tool gripper
Familiarity:

I've put it through the wringer

Fit:

True to size
To me, these are the perfect ice climbing gloves. The grip is bomber, the dexterity is only beatable with professional dry-tooling gloves (think Rab M14). But the kicker is that these are waterproof, which is amazing for the level of comfort/dexterity. No, this is not meant to keep your hands warm when walking around town or going on a hike in the winter (although it could in mild temps, or could if exerting high-level of output). This glove is meant to give mountain climbers confidence while gripping tools and clipping rope...and they do that. Recommended use, in order of highest to lowest:

-Ice climb in temps between 10-35 f (esp on wet routes)

-Dry tooling in 10-45 f

-Alpine climbing in 25-40 f

-Set-up/break-down bivouac on alpine routes

-Open zippers, close flaps, cook/ operate stove in temps down to -5 f

-Through-hike the AT (or similar) early spring to late fall



Recommended improvement: add VERY thin fleece on top of hand & make wrist closure more comfy
I wanted to use these for spring touring, but the wrist was too narrow (even though the fingers were the right size. They are very thin and don't have insulation, so I think they would have worked well for skinning and skiing if the wrist weren't too tight. Maybe I have big wrists? That said, the tighter wrist probably would keep snow out.
Short fingers/bulky construction
I tried L first: fingers too short. Then I tried XL and it was too bulky. I suppose I'll never find a glove that fits perfectly, but if you have slim hands and long fingers, probably not the best fit for you. Also, synthetic palm doesn't breath at all and is relatively slippery when wet. For biking I settled on the pearl izumi gloves with outdry.
Looking at the picture for these, you might think they are ski or snowboard gloves. You could certainly use them for that if you wore a separate liner glove underneath, but these have no insulation built into them whatsoever. They're basically like a rain shell glove...the glove counterpart to MHW's rain jacket of the same name in fact.
Great for cycling
Gender:

Female

Familiarity:

I've used it several times
These are the only lightweight, non-insulated, waterproof but breathable, non-bulky gloves I have been able to find for cycling. I live in Colorado where it doesn't rain much but rare fall rains and mountain thunderstorms in the summer left my hands so cold I could barely shift gears. Now I can put these in my back pocket when riding over a pass and know my hands will stay warm and dry. It seems all the other waterproof gloves on the market and all the cycling-specific waterproof gloves are insulated for winter use and too hot, heavy and bulky to carry them with you when you are cycling. Or they aren't breathable. I even tried sticking a pair of medical exam gloves in my pocket but my hands would get clammy from sweat and then cold so it was no better than going bare-handed. Now I can actually have dry hands! They also have other advantages: the curved fit works well holding the handlebars, they have excellent dexterity and the fingers aren't too stiff so you can shift and brake easily. I also like the long cuffs although I can see other people might like the gloves to be shorter to save weight and bulkiness. One word of advice though: if you want to get these for cycling buy a size smaller than you normally would. I would normally be a size medium or large in a man's glove but went with a small for a closer fit with more dexterity. Luckily the fingers were still long enough but the palm fits better than when I tried my regular size. My husband also has a pair and he also had to go down a size.
Awesome gloves!
Gender:

Male

Familiarity:

I've put it through the wringer
I love these gloves.They're not your typical ski gloves, far from it in fact. First off they are completely waterproof, which is surprisingly hard to find in gloves. Secondly they provide excellent warmth without heavy bulk. And finally they allow you to have great feel and dexterity, which was a must for me. Slightly more than I wanted to pay for gloves but it was money well spent. Only small drawback is the extended wrist cuff can cause some bulk under multiple layers, but once they're on I hardly notice it.