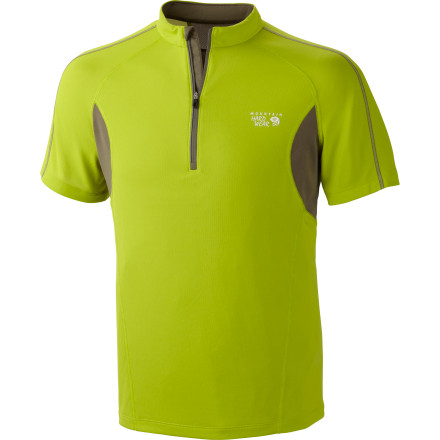 Detail Images
Take the rest of your running shirts to the donation center, because the Mountain Hardwear Men's Estero Zip T-Shirt will forever change the way you look at running layers. Mountain Hardwear went the extra mile to design a fabric that not only feels cool and light but also moves moisture away from your skin faster than other synthetics. Less sweaty moisture means less stifling discomfort to take your mind off the task at hand: hammering the trail.
MicroClimate Zoning uses engineered mesh throughout this tank in order to provide ventilation at hot spots
Flatlock seam construction helps to eliminate uncomfortable chafing
A combination of polyester and polypro materials move sweat away from your skin faster than similar fabrics
Antimicrobial finish helps knock down funky odors
Nice techy shirt for staying cool while moving a lot. Keeps you cool and keeps the sun off. I find it great for biking and running in the mountains.
I bought this shirt to ride MTB's in....I can't complain about anything (it's Mountain Hardware afterall) but the medium was just a bit too long and I never tried the small....I ended up returning this item to no fault of anyone/thing.
I think thing this shirt looks great. It is ver cool and light weight. My only negative is that the neck seems to ride a little high and rubs. I found that I have to keep it unzipped a little to keep this from happening. For the price I would find something else.
Mountain Hardwear doesn't need any back up from me but.... This shirt is really nice even though I returned it. The sizing issue is a none issue really, just personal preference.... I intended to use it riding my MTB and just wasn't convinced it was going to fit me correctly over time. The size, in medium, is pretty good. Generous in length for a shorter person and has a relaxed, but trim, fit.

I'd recommend this piece of clothing for all kinds of use.