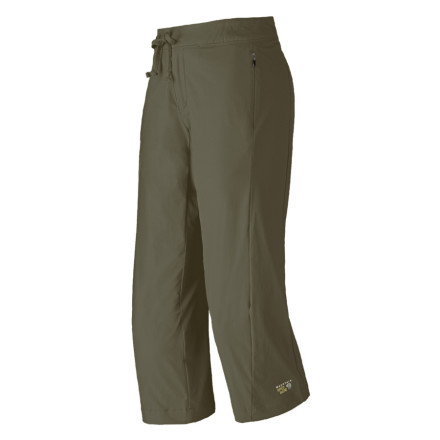 Community Images
Stem easily up that rock wall chimney, move nimbly along the scree field, or bushwhack swiftly through the scrub brush in your Mountain Hardwear Women's Ellinor Capri Pant. These nylon capris feature stretchy fabric and have a full-length inseam gusset, so you could do the splits in these pants if you were so inclined. The lightweight Mountain Hardwear Ellinor Capris dry quickly in case you have to wade a river on your approach, and a zippered stash pocket holds your car key. An adjustable waist tie lets you get a comfortable fit.
, ☃bcs_badge_alumni_label☃
Nice Pants
Bought these for my wife and she loves them. Says they are very comfortable and work great for hiking and climbing in. Also the material dries really fast after trekking through water.
Water just rolls right off the fabric. And it has a little stretch to it, which gives a comfy fit. The pants are very light-weight.
I've been wearing these pants for hiking for about 1 1/2 months and have been very pleased with them. They provide good lightweight protection, dry quickly when they get wet, are flattering and true to size. Update: I've been stopped by a number of people asking me where I got these pants and have given several pairs as gifts. I also had to go back for a second pair for myself!
Fabulous, Wonderful, Terrific, Great Fit, Comfortable
These capris are so wonderful that I now own 3 different colors. They are versatile enough to go from work, to the crag, and out to dinner. The most flattering fit ever, and so comfortable! I bought them for climbing but have found they are my favorite pants for every occasion. Sleek fit, true to size, stretchy, comfortable--everything you want in a pant. Mountain Hardwear sizing maintains true in these capris. LOVE THEM!!!!
Nice, comfortable, not a fashion statement.
I like these but the waist is a little big. I usually wear a 4 but needed a 6. I'm very thin so may not be a problem for others. But they are very comfortable if not terrible fashionable.
These pants run very small, particularly in the waist. I generally wear a size 2 - 4 which translates into a XS or S. I tried both the size 2 and size 4 and neither fit. After finding that the size 2 didn't fit I referred to the Mountain Hardware sizing chart and ordered the size 4. According to this chart I would wear a size 2 or 4. The size chart may be accurate for other MH items but it's not accurate for determining your size in the Ellinor Capri Pant. I gave up on trying to get a fit in these pants so my rating doesn't reflect how I feel about the pants themselves but rather the poor measurement to size concordance.
How does the fit in the Ellinor compare...
How does the fit in the Ellinor compare to other Mountain Hardwear bottoms? I wear a 6 in the Winter Wander Pant, an 8 in the Futuna short, but am in between a 4 and a 6 in the Petra short. What size should I get in the Ellinor? I absolutely LOVE MH gear, but the sizing is tricky, at least for me. Thank you!
I would try a 6 if I were you. They are made with stretchy and quick drying softshell material and with the tie on the waist they should fit just right. 4 would be to small I would imagine and 8 you'd probably be swimming in! Hope this helps.

I disagree with Jon. I actually tried on the Futura shorts and the Ellinor Capris -- both are sized exactly the same. Size 8 in both fit me perfectly. I have a small waist compared to my hips and usually wear a 6. These are both sized small.
I have found that Mountain Hardwear is pretty consistent. If you found something that fits in Mountain Hardwear, I would use that size again. The Ellinor Capris seem to be pretty consistent in sizing.
What's the return policy if I get the wrong...
What's the return policy if I get the wrong size?
That's easy: You can send it back for either a full refund or an exchange anytime.....No questions asked!
fit great,comfortable, dry fast and easy to hike in, love the little pocket at bottom for my lip gloss or key.Made excellently, all in all a great buy. Even at full price!
How would these work sitting in a whitewater...
How would these work sitting in a whitewater kayak with an occasional swim. How might they compare to the Kokatat Capri pants for ladies made of a light micro fiber? I wore those out way too quickly. If not these, can you recommend something else? Thank you. Arleen Raymond
Arleen~ These are made of really lightweight and stretchy softshell material (not microfiber) that has a good DWR (durable water repellent finish) and will dry fast. They are designed with climbing in mind, are very durable and would probably work well for your particular application. One thing however... they have a medium rise which may be a little low for kayaking? Not sure... you'll have to experiment! Hope this helps.
Mountain Hardwear does it again
Got this pant for climbing and hiking/trekking, and it has done the job very well. Shorter, capri length excellent for climbing or for hotter hiking days, has a very flattering fit, and moves with your body. Highly recommended to any active woman who wants comfort with the added plus of a flattering fit.