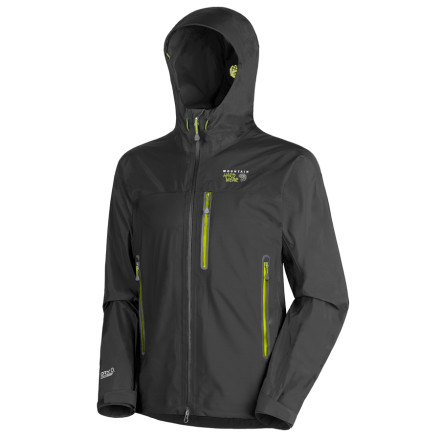 Community Images
The Mountain Hardwear Drystein Jacket uses Dry.Q Elite, a unique waterproof and breathable membrane designed with season-long output in mind for all aerobic cold-weather activities. The water-resistant side panels move moisture and provide the stretch needed for reaching overhead with an ice tool or claiming with your hands up after a glorious pow run-even if you're by yourself.
Water resistant and highly breathable stretch side panels reduce the need for underarm vents and bulk from zippers
Helmet-compatible hood easily pulls over your brain bucket and the pronounced brim rolls water off to the side
Single-pull adjustment system on hood cinches down easily (even with a glove on) to provide unrestricted vision
Chest-high hand pockets are accessible even when wearing a climbing harness or backpack
Welded water-tight construction on pockets blocks out moisture at an otherwise vulnerable area
Micro-Chamois interior chin guard keeps the zipper out of your grill and won't rub your mug raw
Alpine fit for unrestricted movement and less weight
First off, I have to say that Dry.Q Elite is the best. It breathes well, keeps -all- the moisture out, and is comfortable to boot. I have used this in conditions ranging from driving snowstorms to summer rains. I works well for any outdoor endeavor I undertake.
Pros: Breathes. Keeps you dry. Comfortable enough to wear year round,
Cons: None.
HI, I'am 182 cms (5'11"?), and 65 kg...
HI, I'am 182 cms (5'11"?), and 65 kg (140lbs?), I've checked different size charts, one says LG an other one MD.
I'd go for a tighter one, but I'm not sure MD would fit my height.
pls help me out :)
Medium should fit you fine. I am 5'11 150, and I actually comfortably wear Small MHW jackets. I'd try to find a MHW jacket to try on locally, if possible. Many of the jacket sizings are similar enough to pick up and idea of sizing.
I bought the Drystein based on reviews I read about MH's new Dry.Q membrane and it has not let me down. I skied in it all winter, (including touring) and the fabric is super breathable and completely waterproof. If anything. It's even breathable enough to use as a summertime rain shell without overheating.
First off - very athletic fit. This is great for me as I'm tired of jackets with extra material hanging all out of the harness and in my way when climbing. The fit is also a little tight across the chest - especially with layers. However, I can get several layers on and be fine in the cold temps. As for the "is it a hardshell or softshell" questions I see - this is a hardshell jacket. The "softshell" panels are not softshell fleece. They are softer hardshell. Very similar in feel to First Ascent's WeatherEdge Pro fabric except that it has a grid construction. The performance of this jacket is exceptional. Dumping buckets of PNW rain roll right off. I have yet to have it "wet out" in heavy rain. My climbing helmet fits well under the hood, and my harness is out of the way of the pockets. I've had this jacket for about 6 months now and after several alpine climbs it is wearing well. No rubs from the pack or harness and rock doesn't seem to catch and scratch the fabric. Drink the coolaid - you'll like it.
The Drystein keeping my high and dry last winter during some deep days.
I see that this jacket is advertised as a...
I see that this jacket is advertised as a soft shell. Is the soft shell front portion of the jacket waterproof to the 40,000mm rating or is it simply water resistant
I believe the jacket is waterproof except for the side panels under the arms. These are a softshell stretch panel that dumps heat. These act like pit zips because the jacket doesn't have side zips. Also, this is actually a hardshell. Dry Q Core is the softshell material Dry Q Elite is the hardshell material. If you want softshell look at the Trinity jacket from Mountain Hardwear. Hope this helps.
jon tays. The jacket is actually a 'Hybrid' jacket which utilizes hardshell/softshell/ and air permeable softshell knit under the arms where the pit zips normally would be. As for the jacket body itself, it is a combo of DryQ Elite Softshell (light blue fabric) and Hardshell (dark blue fabric) both which have a waterproof rating of 40Kmm, breathability of 38Kgm2, and is air permeable to .05cfm.

Bryan. We make hardshell fabrics and softshell fabrics in both DryQ Elite and in DryQ Core to be clear.

I hope this info helps!
I bought the Drystein to use as a winter shell, for cold wet weather, thus far it has performed above expectations.
I have worn the jacket for 3 days backpacking in Pisgah Nat. Forest, 40's and raining, and I was as snug as a bug in a rug. Sweat was wicked out so when we stopped I didn't get cold, dry and warm the whole time. I also wore it doing a 2hr jaunt in about 60 degree dry weather to see how it would handle sweat and it was great.
Pros:
Athletic fit, no extra fabric.
As waterproof as you would expect given the price tag (read: completely)
Zippers are nice and tight, no leakage there.
Chest area on the inside has an additional layer of soft material so it feels nice, plus a soft inner pocket for phone/mp3/ect
Hood tightens via two bands, so it almost holds on to your head, does not simply pull back and let in cold air/rain
Control for sides of hood can be operated with jacket fully zipped up.
Long enough back that it doesn't expose your lower back when arms are lifted.
Hand pockets are soft on the inside.

Cons:
Material does not feel like it would hold up forever against a lot of abrasions, or snags too well.

I am 5'11 170lbs and got the medium. I tend to wear a fleece shirt and Stoic Luft Insulated Sweater underneath comfortably. If you want thicker layers go a size up, as it would be a bit snug beyond that.
I had the Snowtastic jacket and loved...
I had the Snowtastic jacket and loved everything except for the fit in the shoulders. Would the Drystein provide me more mobility or is it the same cut?
Best Answer
The Drystein is an alpine/mountaineering jacket. So the fit is likely to actually be smaller. However I own a Victorio which is also an alpine jacket and I find the XL to fit perfect. I'm 5'11" 215lbs for reference.
You might want to check out the Snowpocalypse jacket as well it is in the same line as the snowtastic and could be the ticket for you fit wise.
I am 5'11" and 180lbs. Which size for...
I am 5'11" and 180lbs. Which size for layering?
Most of the Mountain Hardwear jackets fit about the same. I would try the Large and that should give you enough room to layer.
With the features of the Dry Q elite, i...
With the features of the Dry Q elite, i assume this jacket could be used as a summer rain jacket...but it is marketed everywhere as a winter shell which raises some doubt in my mind. Can anyone attest to the performance of this jacket in hot/humid climates?

Edit* Well i am more or less between this jacket, the Jovian and the Stretch Cohesion...and I'm battling with a few questions......My Primary use for this jacket will be backcountry/mostly summer time trekking..shelter from the rain and occasional cold. However it will see some alpine use as well. While i understand the Drystein is a combination of various materials and therefore does not include pit-zips..i am a bit skeptical at its effectiveness when so many other Dry.Q models have pit zips...furthermore a jacket like the Cohesion is under a pound with saves weight..but is a Dry.Q core model...how inferior is the Dry.Q core to the elite? aside from the obvious price difference..how better off would one be with an Elite model?
Best Answer
Hey Stan, yeah for sure... they just market this jacket for alpine use due to the pocket placement, double zipper, fit, etc... from a technology standpoint, this material will out perform most/all others in hot/humid climates...
I've had mine for about a week now, and have already decided to sell off my rain shell to a buddy of mine. There's no doubt in my mind the Drystein will out perform my rain shell in hot weather. It might behoove you to check out the Jovian, though, as well. It is a tad lighter and has pit zips. 32 bucks (on sale too!) now might be worth it in the long run.
I used this as my go to shell in Utah all summer. Granted, it didn't rain a whole lot but when it did I had no problems in the hot weather. It is now the only shell I use.
I'm paid to drink the cool aid at MHW, but this Dry-Q works as well as they say. Having used it for a season and a half and it's a substantial step in a good direction. This jacket covers a wider range of temps than anything I've ever used. I am able to wear it much longer without sweating it out. I thought I wouldn't be able to use a jacket without pit zips, but it 'breathes' so well It's not an issue. In fact, the jacket seems a little cooler than other shell jackets because it doesn't hold the moisture and humidity. Lightweight and durable as well make this my new favorite backcountry ski/climbing tool.
what's the deal with the zipper pulls? ...
what's the deal with the zipper pulls? on mhw's website and in all the photos of the jacket, the zipper pulls are little bubbly molecule looking things. but, if you watch certain videos or go to certain gear review websites, the zipper pulls are completely different... less quirky tear drop shaped pulls. jon webb, help a brother out!
Best Answer
mik. Very observant! So, the deal is that the original samples and early tester models came with a zipper pull that looked like a bushel of grapes or something (molecules). The reps and powers that be basically vetoed that version as soon as we saw it and the current zipper pull was adopted. Let me know if you have any other questions!
bummer. I was really into those weird little zipper pulls. not a deal breaker or anything like that. in fact, I just bought mine today but any chance there's a few of them lying around the Mountain Hardwear offices? you're the best, Jon.
I'm considering purchasing the snowpocalypse,...
I'm considering purchasing the snowpocalypse, and have reading some varying reviews about the size. I tried on a DryStein in an XL and it seem to fit accordingly to my needs. However, I am wondering if the Snowpocalypse fits the same as I have seen people say otherwise. I am 5'10" 200lbs and plan on using the jacket for skiing and other alpine activities.
Best Answer
The Drystein seems to have a trimmer fit. Snowpocalypse is more roomy and baggy, but as far as arm length and jacket length they are pretty similar. Hope that helps.
Needs a little reworking.
I would like to start off by saying I heard about this jacket around 6 months before it came out, and was stoked to get one! I almost ordered one sight unseen, in whatever color I could find first. However being a fairly thorough guy I decided to try it on first.

I will preface this by saying I am not the largest guy out there, at 5'9 and 140lbs. However I have always found good fit with Mountain Hardwear products. From the moment i tried on this shell I liked quite a bit about it. True Alpine fit, held close to the body and snug but not tight. Very comfortable face and backing materials, soft supple waterproof zips, and good flex across the body.

The only real challenge I came into was the length. Generally Mountain Hardwear lists their center back length off of the large size option, and you add or subtract an inch for each size you go down and up. This gives the Drystein a center back length of 27 inches for the size small. This becomes a challenge because my mountain hardwear insulating layers (Nitrous, Compressor, Zonal...) all exceed the length of the jacket. I am generally not overly picky about length, however I do believe that a companies product line should work together cohesively.

All of that being said I still decided to pick one up. Their new Dry.Q Elite technology is truly, and very noticeably, breathable. In addition to this purchasing a bib pant solved the mid layer problem, and the fit overall was awesome.
How does the DryQ Elite compare to Pro...
How does the DryQ Elite compare to Pro Shell or Gore's new Active Shell? I'm looking for a very breathable hardshell for ski touring.
Best Answer
DryQ is hardwears new spinoff of event. It's gaining a lot of popularity because of it's instant breathability claims. It's said to be more durable and breathable,and not requiring your body heat to fill the space before it begins performing. I'm a gear store manager and I own this jacket. I would put it up against, and favor it over, any gore piece available. I have yet to sweat in this thing, and am definitely buying into dryQ. I only own the elite in the dryQ, so I can't tell you how well the other 2 categories in the series perform, but the elite is too good
This jacket offers the widest range of operating temps from any jacket I've ever owned.
It has the same number ratings as Pro Shell, but is air permeable and will be noticeably more comfortable as you start to sweat.
The Active Shell is going to be much closer to the Dry-Q Elite in performance as it is Gore's most breathable fabric. Also Gore mandates all Active Shell jackets to be 400gm's or less so an Active Shell jacket will be light. But the only breathability rating for Active Shell I've seen is that the RET is less than 3.
i am 6.2 210 lbs what size?
i am 6.2 210 lbs what size?
probably a Large or XL, depending on how you like the fit. There is a sizing chart just below the price for more help.
i would say large your as tall as my dad but dont sound like your as big. But this jacket has a more athletic cut but dont worry order both sizes and return the one you dont like. They make returning super easy.

You will also really like the jacket wind and water proof plus it breaths. so nice
Bill,

You're my size and my experience with MH would say an XL for sure, that way you still have the option to put a sweater or fleece under it on colder days!

Chip
is this a hard shell or soft shell.
is this a hard shell or soft shell.
Best Answer
It is considered a technical alpine shell. It is built from Mountain Hardwear's proprietary Dry.Q Elite material. It is a hybrid type jacket that is breathable like a softshell but provides much more of a water barrier than a softshell.
It has zoned construction. Hard shell on the top half and the back, soft shell on the front from the chest down. It has non-waterproof stretch panels on the armpits.
I am 5'11 and weigh 170lbs. Would a medium...
I am 5'11 and weigh 170lbs. Would a medium be able to fit other layers easily or would a large be necessary? thanks.
Best Answer
My guess is that a large will accommodate layers best. There is a sizing chart under the price that may help you find the proper size.
I am the same size/weight and I just wore the medium at REI and with a fleece underneath it was snug. Not too tight but I wouldn't try to put any other layers under it. I would head toward the large if you want to have the versatility in layering.