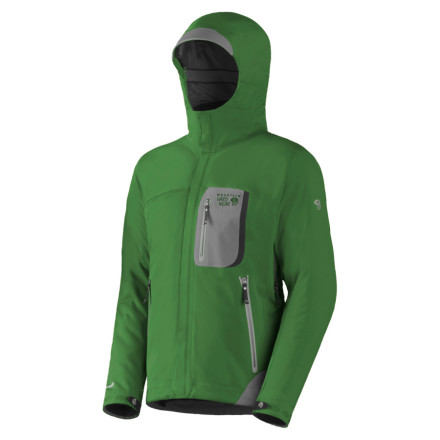 Detail Images

Community Images
Dry, cold conditions out on the ice or the ski hill require the full stretch and windblocking capabilities of the Mountain Hardwear Men's Dragon Softshell Jacket. Mountain Hardwear used Gore WindStopper Softshell fabric for complete protection from frigid gusts, and the jacket's welded seams will stop anything short of a total deluge. Welded pocket with watertight zips increase the weather seal and lighten the weight, while an internal MP3 player lets you get psyched on the approach hike. Elastic thumbhole cuffs ensure the sleeves won't ride up when you reach for that next tool placement.
Anyone help with a size? I'm 6' 220 .......
Anyone help with a size? I'm 6' 220 .... Xl or XXL
You can probably get away with an XL. Check out the size chart below the price for more information about sizing.
this jacket took a good 15 maybe 20 minute down pour. i was dry when i took it off! softshell can do that??? how long it would take for rain to seep thru i dont know, but thats pretty impresive for only paying 146 bones. what can i do to lengthen the life of the dwr on this?
Hi, Does anyone no what the MH Transition...
Hi,
Does anyone no what the MH Transition jacket has been replaced with? Gore windstopper featherlite, is there anything else made with this material?
Cheers Adrian...........
Adrian. The Transition Jacket was updated and changed to the Effusion Jacket. The Effusion Jacket utilizes a new fabric created by Mountain Hardwear called DryQ Active. It is stretchy, waterproof, and super breathable. The Transition was neither stretchy or waterproof and thus the Effusion is a serious upgrade in the right direction! I hope this info helps!
Super comfortable, and breathable. The hood fits perfectly over a climbing helmet; but if you don't have one the hood is absolutely huge. The material can be a bit itchy if you have a T shirt on underneath. It is still pretty waterproof, but I still prefer a hardshell for wet conditions. Build quality of this jacket is superb, and also has really nice big pit zips for dumping heat.
I enjoy the `1 piece does everything' mentality but in outdoor recreation this is very hard to find. The dragon though is one of these pieces. It has great functionality for climbing and alpine activities but it's also a great piece for hiking and trekking. On a recent trip to the Smoky Mountains i used this piece exclusively. Fit great carrying 50lbs on the back, its abrasion resistant, definitely windproof, perfectly laid out accessory pockets, and a great fit.. Never even had to bust out my Arc' hardshell. A few weeks later i used it skiing. It was 15F, i had a Pat4 base and a midweight fleece with this jacket on top. Plenty of mobility with the stretchy fabric and the windproofness was great. Most recently i got caught in a rainstorm while on a run here in the city (chicago). Complete downpour. i popped the hood, slowed to a walk, and the Dragon bead the water right off, didn't get a drop through the fabric. And the rain was hard for 10 minutes then spent another 30 minutes with a lighter rain/misting before making it home. I took the coat off and looked on the inside, no water. Like i said, it does everthing and with the pitzips can be used for high aerobic activity as well.
This is by far the most used jacket in my collection. I've used it for mountaineering, hiking, backpacking, snowshoeing, around town, and goiong out. It's a great looking jacket with some great pockets. The look is very nice, and it performs above all. The pit zips are perfect for warmer days, and it's keeps the snow/light rain off you. This is a must have for any avid outdoor rockstar.
Hi, Im 5'8 and 140lbs pounds. Should I...
Hi,

Im 5'8 and 140lbs pounds. Should I go with a S or M? I would like to wear a base layer and something like the Patagonia R2 underneath. Would a small fit?
If you plan on wearing a baselayer and a R2 underneath I would go with a Medium.
I'm almost exactly your size and I have a medium that fits perfectly.
Soft, light but big in MHWsize
I have a MHWtransition Hoody from before in large and loves the WS fabric and moistmanagement of the fabric. The transition though is not very sturdy and has a tight fit runners-hood. I wanted a super WS softshell thats more like a shell, but soft and light and breathable as a fast-forwardjacket. The Dragon in Jungle is supernice in color and fabric, but its quite big in size L for me (170cm 75kg muscular built) even though the transition hoody is good fit in Large. I tried the Mediun in transition and its very tight. Had to give the Dragon Large to my father as a gift and has ordered a new in M to me.
I use this jacket as an outer layer in MN every season except summer. For fall (<50F), a sweater underneath and you're set, as this jacket does not have much for insulation. Completely kills wind and light sprinkles of rain. It will get wet in down pours, however, so a light rain jacket is the only better layer for rainy days. In winter (<32) I stop worrying about rain, and start worrying about windchill, but not anymore. A sweater and tee underneath for mild winter, or the MH Zonal jacket or other micro-synthetic down jacket is all you need. This softshell is perfect for all winter sports. I ice climb, ski, snowshoe, backcountry camping, and rock climb; this jacket is durable enough for everything. But watch out for campfire sparks, as I've melted a tiny hole in the outer layer of the fabric. Luckily, the synthetic material simply melts together and won't rip.

For sizing, I am a slim 5'10" 150#, and I bought a large to be long enough in the torso to keep my back covered while skiing in the winter. It's a little baggy on me, especially in the fall when I only wear a tee underneath. But in winter, it's perfect for layering a synthetic down jacket or sweater/sweatshirt underneath. I tried the medium, it was a perfect fit if I wasn't putting thick fabrics underneath, but it was a little short and tight with a sweatshirt on.

I recommend buying this jacket for 3 season layering when heavy rain isn't an issue. Couple this jacket with an insulating midlayer, and you can go anywhere and do anything down to 0 degrees.
The Jacket I Wear the Most
i spend most of my time each day skinning uphill. when the temps are cold i love this mountain hardwear dragon jacket. it's a warm winter softshell. it has thumb holes for that extra warmth. the hood fits around a helmet and has a great design and brim for when it's windy or nuking. today i wore a tshirt under it. i noticed the itchy material issue others have mentioned.. it's just material that doesn't feel good against bare skin, but honestly i've worn this jacket for a year and only felt it today because someone mentioned it.with this jacket on the uphills and a puffy in the pack for the downhills i'm set. not a deal breaker for me. the softshell material is some of the best i've ever seen. water droplets pill up and roll away still today and i've had it for a year.
What to put underneath: MH Nitrous or MH...
What to put underneath: MH Nitrous or MH Phantom... Seems that the Phantom is warmer, but perhaps too warm? I do backcountry in northern VT- Temps usually 0 to 25F. Any thoughts?
Ethan. As a mid-layer I would get a Nitrous Jacket due to it's lower bulk, thinner nature and overall pack-ability. It would work perfect under a Dragon Jacket. The only other Jacket I would consider would be the Mountain Hardwear Zonal Jacket which is very similar to the Nitrous Jacket just insulated with Thermic Micro (Synthetic) instead of down. I hope this helps!
I bought this jacket for my boyfriend for Christmas and he absolutely loves it. He is very slender (5'9" 140 lbs) and wears a medium in this jacket. He wore it all winter for skiing and ice climbing with different types of base and midlayers under it and he was warm and comfortable all the time. The jacket is water RESISTANT, not waterproof. The hood fits over a ski helmet and a climbing helmet. The only worry my boyfriend has with this jacket is with tree skiing - he's afraid that a branch might reach out and tear a hole in his favorite jacket. Since it's a softshell, he doesn't think it would hold up well to abrasion.
Great Jacket - not as waterproof as I'd hoped
Bought in the summer I've been using it on the bike commute each morning: perfectly suited.
However in its first real soaking (normally I've foreseen them and taken a specific waterproof) water did come through on the arms in about 15mins (body stayed dry tho).
The windstopping ability however totally makes up for that. So far I've found found a dozen uses that it's perfect for (anywhere with wind!) and I've still not used it for my intended purpose - ski/snowbaord touring.
It's a tight fitting garment - so I'm mainly using a Patagonia R1 under it, and it seems fine down to freezing at least. In the winter I'll probably layer above it if really cold.
Overall - love it
Over a year and still going strong!!
I have had this jacket for over a year now (older style but pretty much the same thing). For those of you worried about the z-weld,... I have had NO problems whatsoever with it! No seams comming apart or anything! I just recently hit the pavement after a nasty bike crash and only got a small quarter sized hole in the elbow (i slided on asphalt for what seemed like a block and a half) and I am very IMPRESSED with the material duraibility. I patched it up with a Gore-Tex patch and im off and going strong again. Water proofness ran out after 8 months of heavy use (and washing), but was resolved with a soft-shell waterproofer. This is an amazing jacket and I WILL buy another if this one ever goes out on me, but I know that will be a long time from now.
First of all, I have only tested the Dragon in three seasons Spring/Summer/Fall. However these three seasons were in Alaska so conditions will differ up here compared to the states. Overall the jacket does great. In the beginning of spring it sheds wet snowfall effortlessly and with the welded zippers keeps items in my pockets dry. Summer conditions are a bit trickier with this softshell. I wouldn't necessarily recommend it for tremendous downpours, it just can't handle the load. For light to moderate rainfall it handles it well shedding most of the water. Over time some water will start to absorb due to quantity. In the fall months many of the same principles apply, except for the cold factor. Temps can definitely drop in Alaska in late September to the end of October when many great trips are available. I bought my jacket in a Medium and being 5'10 and 185 pounds I do have some room for a t-shirt and a medium weight base layer. The dragon itself provides a fair amount of warmth, but I wouldn't rely on it solely.

A little looked at feature that I'm very pleased with is the hood. It has a draw string on the back to truly adjust to any size noggin out there, making it that much more comfortable for long use. Additionally, the brim is very rigged and keeps rain out of your eyes.

Overall I gave this jacket a 5/5. My only real complaint with it is the inseams in the sleeves. When your first try this jacket on, I bought online obviously, the inseams protrude and can be very irritating to uncovered fleshy parts of your arm. I've found after a few minutes, 5 at most, this feeling dissipates and is as comfortable as the next jacket.
I got this jack at the end of the winter and first used it snowboarding first. While snowboarding in rain (Pac NW) i was suprised at how well this jacket repeled water. Then earlier this spring I put it to the test while rock climbing and found that the jacket breathes very well. My favorite part of the jacket however is the thumbholes that keep snow out in a hard powder landing and keep the arms moving with my body. I guess the only downside is that because of how light it is it seems as though it would wear out quickly. However mine currently shows no signs of exsesive wear after 5 days snowboarding and 7 days on the rock.