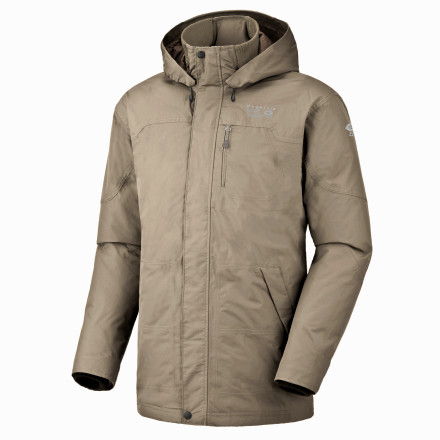 Detail Images
The waterproof breathable Mountain Hardwear Men's Downtown Coat defeats cold weather with 650-fill down insulation. The insulated hood holds warmth around your head, from where most of your body's heat would otherwise escape. Draw the Downtown Coat's hem cords and bomb that hill on your toboggan, or stuff this down jacket into your winter pack and bring it on your subzero ski tour. The sleek design prevents you from looking like a stuffed holiday goose, and the extended length lends you urban style.
warm, fit ok
Familiarity:

I've used it several times

Fit:

Runs small
i first bought a large--too small in the chest/shoulders. Now I have XL--good fit there but arms way too long. Because I like the design and warmth, it's to the tailor I go. Maybe he can also put in a mesh inside pocket--good for a winter hat. Otherwise pockets are too scarce and small.
Very Warm Very Black Coat!
Familiarity:

I've used it once or twice and have initial impressions

Fit:

True to size
I was looking for a black coat that would keep me warm while tailgating...but I didn't want bulky - this is it! High quality, warm and looks nice.
Hey guys, just had a few questions for...
Hey guys, just had a few questions for anyone familiar with this jacket:

1. Is the shell the same as the "Dry.Q" shell on the newer MH Downtown II?

2. Is it fully taped?

I'm 6 foot, 190, 40 inch chest, would a large be ok? I typically wear a Medium in Patagonia, but I haven't had any MH stuff. I tried on a MH vest in medium and it was too tight, way tighter than medium Patagonia stuff. Any help greatly appreciated!
Best Answer
1. No it is not the same as the Downtown II, Dry Q. I believe it's Conduit, which is still a great waterproof/breathable material.

2. Not sure. I have never had my coat in a torrential down-poor, but it sheds water well.

3. Definitely a Large.
I am 5'10, 42"chest and 34" sleeve, which...
I am 5'10, 42"chest and 34" sleeve, which looks like it puts me between a M and an L. Any input would be appreciated.
I would go with the Large in this coat. I think the Medium will just be too snug with your chest and the arm length in the Large should be just fine.
So glad I bought this coat.
Familiarity:

I've used it several times

Fit:

True to size
The price point made me think hard about this vs just wearing more layers and a nicer hat. Based on other reviews, I took the plunge. Probably the most I've tested this was two days ago. I was waiting at a bus stop, the temp was around 20deg F, with snow and a pretty stiff wind. Due to the snowstorm, the bus was late and I ended up waiting for about 30 minutes longer than I'd anticipated. I stayed totally warm with the hood up and my hands in the pockets. Also have tested it in falling snow, and the coat is waterproof. The snow/water just beaded up and shook off as I came into the building.
Does this coat have a two way zipper?
Does this coat have a two way zipper?
Great Coat Mountain Hardware
Gender:

Male

Familiarity:

I've used it several times
I like the quality of this coat. Outer shell is tough. Pockets are very warm. Not the best for above 20 degrees unless you're stationary. A little tight at the waist when you sit down. Some have said the sleeves are cold but I have not noticed since I don't normally wear short sleeves in cold weather. Looks great for casual wear without looking like the Michelin Man. Plenty of pockets for storage. I'm 6'1" and 215lbs and the XL fits perfectly.
Perfect Casual Winter Coat
Gender:

Male

Familiarity:

I've used it several times
When I splurged on this coat as my big indulgence of the winter, I was looking for something that a) looked great with either jeans or business casual, b) fit well on my 6'1" 195lb frame (I got the large), and c) was warm enough that I could wear it with just a tshirt underneath in 20 degree weather. This coat surpassed all my expectations on all of my criteria. I was somewhat concerned by earlier reviews that said the arms were missing down, but so far I've worn my coat in 25 degree weather with moderate winds and my arms have yet to feel cold. Thanks mountain hardware!
Nice coat
Gender:

Male

Familiarity:

I've used it several times
---Edit (2012.12.26)---

I ended up returning this coat because it was a bit too small. Also, once the jacket settled down, I started to feel the coldness on the top part of both arms. The hood didn't provide enough face protection too.



---Original review---

I'm 5' 7" and about 150lbs. Bought a small. Fit is on the snug side,but I don't intend to layer much with it, since I have a warmer coat for subzero days. It still fits fine with a light fleece jacket or sweater as a mid layer.



Pros:

Water proof.

Warm (with only a tshirt at 25F), just enough down in arms.

Classic and simple looks.

Besides the 2 handwarmers, there is an outside and inside pocket.

Handwarmers are insulated.

Sleeves are longer than the chillwave parka (which are very short).

Shell seems to be a tough material, will prob last a long time.



Cons:

Sleeves are a bit tight,circumference wise.

Cuffs can't be tightened.

Bottom part of coat is a tight, need to unzip a few inches from the bottom or it could tear when sitting down.

Hood could be better, doesn't have total face coverage.
i'm 6ft, 195lbs, which size is proper? L...
i'm 6ft, 195lbs, which size is proper? L or XL? thanks!
Best Answer
i'm the same size, go large.
I purchased this for a trip to Russia, Ukraine, and Poland in Feb. I missed the real cold, -30's, but it was still rarely above freezing and snowing quite often. With a few regular layers, and this coat I was in great shape! Would definitely recommend this coat!
Very warm without the puffy marshmallow look of other down filled coats.kept me really warm in temperature of 25F .that would be both comfortable and stylish .

Ordered a Medium to fit my 5'10" 155lbs frame and it leaves me with plenty of room underneath to wear additional layers if it ever gets cold enough to need them, I'd like the 'Rib knit collar and cuffs' but they are very soft and comfortable and my neck and wrists.My only complaint is that there aren't quite enough pockets to satisfy me - just 2 hand pockets and 1 left chest pocket, with no extra pockets on the inside of the coat. But the coat also looks GREAT -Highly recommned.
Excellent jacket, except the hood!
I recently bought the Mountain Hardwear Downtown Down Jacket because it was lightweight and had a classic look. I have been using it in the past few days in outside temperatures around -25C (-13F). Overall, it is doing a great job keeping my body warm (even the arms). The only complaint I have about this jacket is the hood, which is too short and provides little protection against the cold (especially when there is a breeze). You definitely need another form of protection for your face in cold weather! Other than than, it is a great and stylish jacket.
I purchased this coat because I live in the Pacific Northwest and my daughters play soccer. I have lots of ski clothes that I wear to their games but I am always still cold because at a game you are just standing there. I have worn this coat to several games now and I am only slightly cold with just a t-shirt on under it; everone else was in the car because they were too cold. The jacket is very warm and waterproof. The only drawback is, like everyone else has said, it is tight across the front of your shoulders. If you are planning on doing anytype of activity outside I would recommend a better fitting coat. Standing around and watching activities this coat is great!
Looks Good, But Fails to Keep Me Warm
I had high hopes when I unboxed my new Mountain Hardwear Downtown Parka this evening. Nice fabric, looks good. Fits well. So I pulled i on and went for a short walk (it's 25 deg F out). What? My arms were cold! How could this be? It's a winter parka with down fill, for crying out loud! So back to the house. I pulled the sleeved inside out and discovered that the baffles are hugs and they are mostly devoid of down. So back to Backcounry.

I'm sure that Mountain Hardwear is saving a lot on labor by outsourcing manufacturing to China. The problem is that the product is junk. It's likely that the goose down is actually duck feathers. Never again. I will never order another Mountain Hardwear product!
Awesome jacket....survived 1st winter back in MI
highly recommend the jacket - if you're looking for a good overall down jacket this one is it.

I bought this for my 1st winter back in MI after 10+ yrs and it worked wonders. Warm, water proof, wind proof etc. Hoodie can be taken off if you like. Big pockets so you can reach in with gloves.

Someone asked about warm sleeves - this one is it; it's got good warmth in the sleeves. Now of course you have to wear a base layer or something under the jacket for full protection.
I was looking for a warm winter coat with clean lines to handle Chicago winters and this fit the bill. Not too outdoorsy looking so I can wear it to a restaurant or a show. Overall very warm. Agree that the sizing runs true to slightly small. I'm 5'9 and 145 lbs. and the medium is perfect. The small was way too tight under the arms and didn't allow my legs to move when it was zipped up.
Feels&Feedback from a typical S wearing M
Firstly I think I should thank Jon Webb for his kindly help with my final decision,which was seemingly to be more difficult than finding out this jacket. After scrolled through the pages of reviews I gotta be more confused. Mine fits well with S in the MHw sizing chart but from the feedbacks it turned out to be small. Can't wait but give a shot before the winter goes.

I bought an M finally, which I believe till now still between "perfect" and a little "large".It has longer sleeves that exceed more than half of my hands, (looks a little bulky at ends when wearing), and the bottom of coat cover up well over my hip. The neck and chest were OK. Should say for me the slim design defeated the length cons and made it looks a great down jacket.

Just for more information.One inside pocket had been added for wallet in 2010 version, and the two handwarmer pockets were so good to stop coldness and heat up my frozen fingers in minuts. So was the soft hood for ears,really much down enough for the enjoyable feeling..and how I wish the forearms contain the same much! The best chance to test the cold leakage in arms should be when the body catch a cold or extremely starving, bad enough that both happened to be carried out in mine. Like many put it, the results were negative---it began to chill from nowhere but one of my forearms,then the other.

Unlike what is seen on the pics of this jacket, the conduit softshell is not glossy at all but kind of matte and tough,breathable with fine mesh textile,should be durable for a few winters.Till now the hissing static has not occured while slightly, some fine soft white down leakout was seen on my sweater and elsewhere the jacket was put, well not a big issue though.

Briefly, a good design, comfortable, warm enough for commuter and "downtown" travel,with a few cons for those who really care.

Based on these, before a "yes" or "no" for recommendation, I would recommend friends to scroll the pros and cons in this page and decide themselves.
I had tried this coat in the past, circa...
I had tried this coat in the past, circa 2007-08. I found that there was not enough down in the sleeves. Has anything changed since?
My coat from winter 2009/10 has the same flaw. The front part of the arm, from shoulder to wrist, basically no down (5 in. wide baffles, empty!). I think it is outrageous, I have noticed this flaw on other down jackets, but not as exaggerated as on this one. Even in the 30's, your arms can get a chill, which gives you the chills. A real travesty for a parka with this much loft in the body. Otherwise, this is an excellent coat.
thank you so much for your response! i was considering trying it if a change had been made.

any jacket that you have found to replace it?
Your welcome. I like Wiggy's Antarctic Parka much better. Even fill throughout, no cold spots. It is about the same as far as weight, bulk, and size as the downtown, and has a simple, classic look. Perhaps it is 1-2 inches longer and .5 lbs heavier. It is the first coat I have ever worn that I was completely comfortable in single digit temps, I only had a t shirt underneath and had not worked up any body heat besides putting the parka on and walking outside. Not the most stylish in the world, but way warmer. As far as size in the Wiggy parka... I wear a 40R blazer and had to exchange an M for a L. My shoulders were constricted in the M. Good luck in your search.
Also, the Alpine Parka by Apocalypse Design is excellent and much warmer than the downtown. It has 10oz per square yard continuous filament synthetic fiber throughout, including in the arms. My size large weights 3.5 lbs. It is an attractive parka - very good attention to detail and well designed. Probably better for car camping and cold, cold city use - not sure it would compress like down does for backpacking.
I just received a Downtown parka this evening. The latest model does not have nearly enough down in the sleeves, so I'm returning it. That's the first, and last, Mountain Hardwear product that I'll buy.
Great coat. Very warm despite Chicago winters. I'm 5'9 and was stuck between a small and a medium but went with the medium. The small was too tight under the armpits but the medium was too long in the sleeves. Ultimately, the longer sleeves were the lesser of two problems. Otherwise, would give this 5 stars.