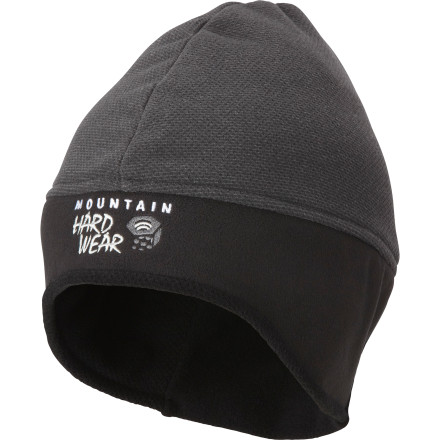 Colors

Community Images
The windproof, breathable Mountain Hardwear Dome Perignon Winter Hat is a superb vintage of Polartec Thermal Pro fleece hat. Soft, comfy, and light: all fine characteristics of a noggin topper.
Almost too warm
Familiarity:

I've put it through the wringer
This is actually my warmest hat, I use it for the extra cold below freezing treks with a high wind chill. I don't wear it all the time as it is so warm, due to the wind stopper
Absolutely love this hat!
Familiarity:

I've put it through the wringer

Fit:

Runs large
If you can only have one winter hat, this is it. It's super warm and I love that it covers your ears. Its kept my head nice and toasty on the cold Michigan winters. I'm actually going to have to buy another one, since my boyfriend has claimed mine as his own. The ear coverings do block some sound -- you won't be deaf, but it is pretty noticeable. I only wish they sold a size small or sold a women's version, since it is a little bit big for my head.
best noodle protector on the market!
i don't leave home without this amazing hat.. a friend of mine recommended this beanie and i couldn't be happier with anyone single piece of gear; it is reliable, durable, warm, and actually works very well as an ear muff to help block out sound (high winds, loud rivers/waterways, noobs screaming in the middle night about how cold they are..i mean people snoring haha) all in all i highly recommend this beanie to anyone who values warmth and understands how much heat is lost from your noodle.
This beanie is awesome!
Familiarity:

I've used it several times
It is warm, breathable, and definitely cuts the wind. It does not absorb dampness in cold/humid weather. I like that you can fold up the band/brim for good temperature management. I have not worn it in the rain but it does bead water off well under the faucet and even when the water does wet through the top it does not so much make it to the inside of the beanie. The material is dense so it does muffle sounds a little bit but I don't believe it muffles sound dangerously so. Your ears may vary... It is thin and packs well. True sizing. It has become my go to beanie!
so nice i bought it twice
Familiarity:

I've put it through the wringer

Fit:

True to size
This bad boy is one of the best beanies on the market! With its wind and weather resistance it is unstoppable. I had originally got one for backpacking and hiking, but I find myself liking it so much that I bought a second one strictly for work (maintenance work) so I can get it dirty and still have a semi-clean one for backcountry. It fits great, even with my huge head and longhair/bun/ponytail. I'll probably end up getting at least one more to give as a gift for the holidays just because I like it so much. It is extremely durable and warm, and has a little bit of stretch on the back side which is just enough to keep it fitting snug on your cranium throughout any activity you can throw at it! I highly recommend this to anyone who has a large or funny shaped head, or is just looking to step up their beanie game.
Super Warm
Familiarity:

I've put it through the wringer

Fit:

True to size
I love everything about this. I only wish it came in blaze orange so I could wear it hunting!


Noggin Warmer
Familiarity:

I've put it through the wringer

Fit:

True to size
I had one of these Dome Perignon beanies last winter. I loved it. Someone else loved it too and stole it. Well I have another now and it is the best winter hat I have ever worn. Used the last one in -50 temps and it worked like a charm. The comfort wearing this is outstanding. Secure, warm and like wearing a hot pillow on your head. Windproof too so those icy blasts do not numb your skull. You might be a numbskull but your skull won't be numb.
Best winter fleece hat I've ever owned.
Familiarity:

I've put it through the wringer

Fit:

True to size
I've been wearing the Dome Perignon for 12 years and absolutley love it! I have five of them and use them for alpine & XC skiing and any other winter activity you can think of. Very well made, durable, warm, and windproof. It keeps my ears and forehead warm very nicely. It's a little bulky to fit under a bicycle helmet, but I use the MH microdome beanie for that in winter. One disappointment however, is that this year or last they stopped using the Gore Windstopper material and went with something called AirShield (I think it's a MH product). I prefer the Windstopper. Glad I bought several of them before they changed it! Can't go wrong with this hat for winter though.
Great ear coverage
Gender:

Male

Familiarity:

I've used it once or twice and have initial impressions

Fit:

True to size
I have a 61cm head -- between sizes L and XL. I ordered the XL, and it doesn't need to stretch to go around my head. That means it's a tiny bit loose, allowing layering if needed. (Winter lows where I am are -20F or lower.)



Ear coverage is excellent, and my ears stayed totally toasty during a 30-minute walk in 28F weather. The hat noticeably impairs your hearing. You're still able to hear traffic, but it's noticeable.



When pulled totally down over the head (just above the eyes), the top of the hat is flush with your head. Worn at 'normal' height, there's a little loose material up there. No big deal.



I found the main body of the hat to be slightly less warm than I was expecting, perhaps because it was breathing well, or perhaps by comparison to the ear band: I noticed that my ears were warmer than the top of my head. The top feels roughly equivalent in warmth to a Smartwool beanie. But I was completely comfortable at the end of my walk.



In short: the ear band makes this hat a winner for winter. For fall I'll probably stick to a more compact beanie; perhaps the Nakaya Dome Beanie.
I have had this hat for about tens years. It doesn't look nearly that old. It is extremely well made and obviously a popular style, because they still make it. My only complaint is that while being totally windproof, my hearing is somewhat obstructed by the thick windproof fleece of the ear band. It isn't that big of a deal, but it is more noticeable than say, a knit hat. However, its warmer than most knit hats, so I guess it just depends what your looking for.
For the outdoors, not so much around tow
Familiarity:

I've put it through the wringer
I've been using this hat for about a year now and am quite satisfied with its quality, construction and comfort.



It blocks wind perfectly and is warm and comfortable. It's not the kind of hat I would wear around town, but in the outdoors it is the go-to cover for my "dome".



If you'd like a hat that's warm, comfortable and windproof then I'd recommend this one.



As a disclaimer, I am affiliated with Gore for product testing of Gore-tex products for the purpose of product review and recommendation. I do receive items from Gore for these purposes, though this item I purchased on my own.
Logo could stand to be bigger...
Hat was nice, but the unbearably large logo made me return it. Companies, stop forcing me to be an advertisement! If you want to brand your stuff, at least do it tastefully or quietly.
Toasty Warm Cap
Gender:

Male

Familiarity:

I've used it several times
This hat is insanely warm. I've found I can only really use it in very cold temperatures or very windy temperatures, maybe around 15 degrees F or below.



I may be weird, but my ears don't like to be covered up unless the weather is really intense. I always end up flipping the earflaps up, making me feel like Robin Hood... Which could really be a pro or a con depending on the situation (it's a pretty big con if you happen to be dealing with the Sheriff of Nottingham).



That being said, this hat is one of the warmest I've ever worn and if you have trouble keeping your head warm then look no further. It's also great if you need a bit of sound muffling in a cold crowded climbing hut. My hearing drops about 25% with the ear flaps down, they kind of make me feel like I'm wearing headphones.



I need to declare that I am a member of the Gore Mountaintechs product testing community, therefore I sometimes have the privilege of testing and reviewing sweet swag from W.L. Gore and Associates. Regardless, my words stand for this hat, I have a pretty deep love/hate relationship with it, love shines through most often though.
Mountain Hardwear Dome Perignon Rocks!
Gender:

Male

Familiarity:

I've put it through the wringer
I used this hat for a couple trips until my son absconded with it (for proof of former ownership, see pic associated with my MH Power Stretch Gloves review). Hat was comfortable and warm. I'll get another someday.



Pic shows girlfriend sporting my Dome!
Unanswered Question
I bought one last year and wasn't very...
I bought one last year and wasn't very happy with it. poor material and really didn't deliver

what it promised. Honestly felt like I got a dud, because I know Mountain Hardware makes good stuff. Is this one different from last years? thanks for your help.
Full disclosure, I test and review some products for GORE-TEX. This beanie has been with me on countless winter climbing trips, several 14ers, and around town on cold days. I have never had cold ears while wearing it! The hat does a great job of blocking the wind which helps keep the warmth next to your head. That also means that it can sometimes be hard to hear your partner, especially if they're soft spoken. The hat fits great under a hood and under a helmet (the picture shows both). It also fits well around my head; some other beanies I have can get a little loose and sloppy, but this one fits snugly all the time. Highly recommended!