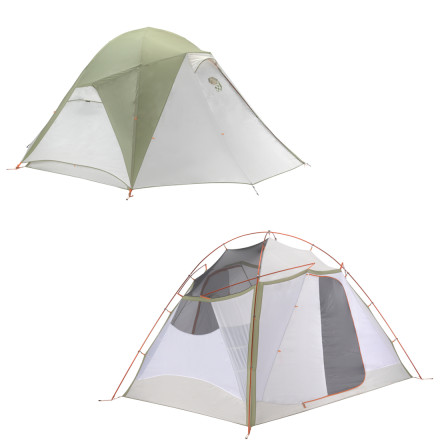 Detail Images

Community Images
Your family's mountain base camp isn't complete until you pitch the six-person Mountain Hardwear Corners 6 Tent and light a campfire. With this much room, everyone gets their own space inside this large, freestanding, three-season tent. And, with its two doors and vestibules covering them, there's even more dry space outside for your muddy boots and wet pack.
Water-repellent fly and floor fabrics protect your bunch of campers from rain showers and dew
The Tension Arch design uses a unique pole configuration to add tension to the canopy and increase the tent's strength
Once erected, the aluminum poles' four-holed hubs maximize interior space and create a tall ceiling (87in)
Mesh panels provide ventilation while you wait for the muggy morning fog to dissipate
Front vestibule provides a huge 34 square feet of dry space, and the rear provides another 16 square feet to store packs, shoes, and other essentials
Pitch Light feature means you can set up the poles, fly, and a footprint (sold separately) to reduce weight in calm weather
The clear, UV-resistant SVX window lets you check the weather without heading out into it
Reflective loops and starting points make pitching quick and easy during storms or late arrivals at camp
Is this tent waterproof at the floor level....
Is this tent waterproof at the floor level. Why didn't they make it with a "bathtub" floor?!!
Have the plastic pieces on the poles broken for anyone else and after how much use?
it has a bathtub floor, i hhave been looking at the samt tent go to mt hardwear.com and u will find more info GOOD LUCK
Are there fabric covers that zip to cover...
Are there fabric covers that zip to cover the mesh on the doors and windows?

I camp in the desert and the beach - wind driven dust easily sifts through the mesh.
No, that's just one of the downsides to mesh tents. I just take a tent that has a rainfly that goes really close to the ground or throw down my pack or something on the wind side of the tent.
Actually, the doors do have zip covers (2 layers- mesh outside, nylon inside). Definitely a nice feature for the option of some extra privacy.
We use this tent for family camping or as a large base camp tent for group excursion trips. Set up is a two person job, but it is very easy. It took less than 2 minutes to get the tent up and another two minutes or so to get the fly on. The tent is nearly 7 feet tall at its apex allowing for ample standing room. The interior is seriously roomy and can easily fit six individuals relatively comfortably. We have plenty of room for an air mattress, crib and area for the three year old to sleep. The vestibule is roomy enough for multiple backpack and/or a dog. I have not yet had it out in heavy winds, but I assume you want to try to avoid really heavy wind given the height and the size of the walls. The only "rain" we have encounter was 20 mins of sprinklers in a backyard campout - not a drop came in given direct buffeting from multiple sprinklers. The inside has a number of nice pockets and amenities for storing goods. Overall, this is a great tent.
We use the Corners 6 for family camping (car camping mostly) and not only do we love it, but others always comment on it as well. It is huge, but also very well made and capable of withstanding some nasty weather. It is fairly simple to erect and the pole pattern is self explanatory. The main problem with getting it up is that it is so high that it can be hard to get the fly over the top, although with two people this isn't an issue.

The connection between the long poles and the shorter sub poles could use some reinforcement as we have already broken two of the plastic parts. That said, it doesn't seem to matter as they stay in place without the connector.

Tents in this category (big family style) aren't really made to take a lot of wind, and this tent is no exception as it has such large sides. It can be tethered down, but finding a sheltered place to set it up in the first place is the best choice.
Though quite large, this tent is easy to assemble (so far it's a 2 man job) and is a joy to use. Nice amenities inside such as the corner pockets for "stuff". It came with a nice carry bag w/shoulder strap. Best of all is the ample headroom inside when standing.