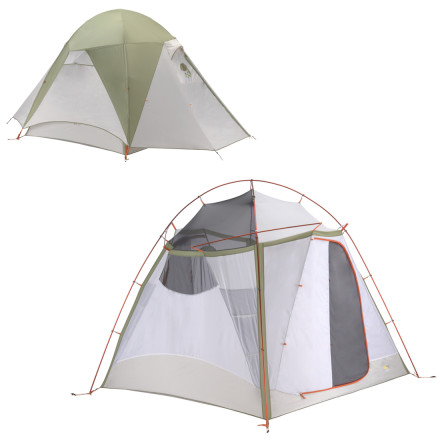 Detail Images

Community Images
The roomy Mountain Hardwear Corners 4 Tent has more than enough space for you and three of your closest friends to spend spring, summer, and fall on a grand expedition. The Corners is designed so you can basecamp in comfort while you tag peak after peak.
Dual vestibules provide storage space so you can keep wet bags and boots outside of your living space
Taped seams and welded corners provide watertight construction
Evolution Tension Arch provides high stability with fewer poles
Vestibule window brightens interior and lets you check weather conditions
Interior mesh pockets organize small items in camp
Four strategically positioned vents in the ceiling manage moisture
Pitch Light allows you to set up the tent with fly, poles, and footprint(footprint sold separately) for ultra-light travel in warm, mild, bug free conditions
Something Tall, Stars in the Night, Quick Set Up
Shopping List -- Something smaller and quicker to setup than the Bugaboo, but which still had height. Ventilation for SE Utah or Eastern WA. Good star viewing for dry nights.

Set up a breeze, if you are tall enough to want the height. I'm 5'5" and could set up the Bugaboo by myself. I could probably set up the Corners by myself, in a pinch and with a lot of vocalizations and exclamations. The tall person finds the set up on the Corners 4 to be easy peasey.

Tested in Coastal Olympics and Eastern WA. Not yet in SE Utah. Not tested in high winds yet. Rain a-ok.

I do have concerns that in a high wind there will be problems, but I'm not going to take this tent up a windy mountain. Unless we go canoe camping on Ross Lake or elsewhere, it will be near jessica jeep's replacement.

So far the tent has performed well in the rainy Olympics coast and sunny eastern WA

Two doors, two doors? We are both vintage enough that we were totally baffled by all the reviews wishing that a tent had two doors. We haven't used the two doors, but the back vestibule is very handy for stowing away gear-that-is-not-interesting-to-bear.

Bottom line: Camp set up is a lot more pleasant.
how does the corners 4 hold up in high...
how does the corners 4 hold up in high winds and storms?
Not well. I've never used this particular one, but I've used tall tents like this before and I can tell you with near-absolute confidence that it is impossible to secure a tent this tall (7 feet? Are you kidding?) in the wind. Poles are going to break and you're going to regret it.