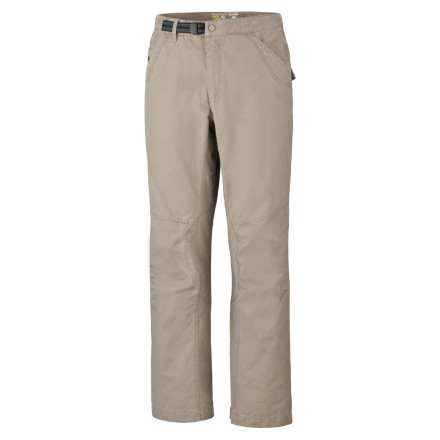 When it's time to pack up your gear and trade the crag for the office, forlornly pull on your Mountain Hardwear Cordoba Pants. A gusseted inseam and articulated knees mean when you see one final boulder problem on the way back out to the freeway, you can throw it in Park for a few minutes and get your climb on without changing clothes. UPF 50-rated fabric comes in handy when you fall asleep in the sun on your buddy's crash pad.
Sizing definitely odd
Familiarity:

I returned this product before using it
After reading the many reviews all over the intranet I picked up a 34x32 as a bit of a gamble and was curious to see how it would turn out. I liked the design of the pant and it was a good price over at SAC. For me, the length was good and the waist was pretty good. It fit just a touch smaller than a normal 34 which was still a bit large on me. However, the pant leg itself was huge. So much so that the pants looked oddly out of proportion with any shirt I could pair it with. This is definitely not a narrow cut work pant. I still think its a cool design, its just that when you actually put it on it looks very sloppy.
My favorite pant
Gender:

Male

Familiarity:

I've put it through the wringer
Great fitting comfortable pants. I have three pair and wear them all the time when I'm not wearing shorts.
Excellent
Gender:

Male

Familiarity:

I've put it through the wringer
Excellent pants, fits well, and extremely

comfortable to move in. I was expecting a little more abrasion resistance. What is the deal with the rear pocket flaps? No velcro,no buttons or zipper.! Why waste the material
I am not one to spend a whole bunch of money on a pair of pants, but I have to say that I am really impressed with these. Although these were purchased for climbing, I really never want to take them off. Once they get broken in, they are unbelievably comfortable. The cut allows for good movement even with the durable-feeling fabric. I think the complaints on here regarding the sizing are a little overblown. My waist size feels true and the pants are maybe a smidge longer than casual pants of the same inseam measurement, but I imagine that is for climbing purposes (and it really isn't that bad). I will say that the built in belt is a little odd, but seems to work alright and it would be nice (although not necessary to add some belt loops.

All in all, good pants.
I ordered these pants the other day and just sent them back. The 34 was way too small and i normally wear a 32-34. Good fabric though, felt sturdy. The only other issue is that it has no belt loops on the left side. Shoult be a problem as it has a built in belt but I like to wear belts sometimes just for fun so I don't think I'll get the same pants.
Design and quality of construction are nice. I wear a waist 36 normally and purchased a 38 of these. When I recieved the pants I couldnt evencome close to fastening the waist. WOW. IDK if these were just a odd pair but "really". backcountry was VERY great with refunding me the money and sent me a prepaid UPS label to send them back. thanks backcountry.com !!!!
Not the best waist design
First, I like the idea of these pants. A heavy duty cotton climbing pant. The cut and fit is pretty good and I like the knee reinforcements. What I find odd is the belt/closure design. A zipper and one snap...that's all that is holding it on. The adjustment belt is on the wrong side, so although it does make the waist tighter, it does not cross the front opening...and can actually pop the snap open. I guess if you are wearing a harness this is not a big issue, but if you are bouldering and had a burrito/beer or 3.....POP....
First, I'll mention that I happened to get two pairs of these for about $20 apeice, which is a steal. I really like them as a mix between an everyday wear item and a rough-and-tough outdoor pant. They're very comfortable, and made of cotton canvas, double layered in spots (Description isnt too accurate), and very articulate. They're almost like wearing jeans, except they're gusseted and articulated, and come in different colors. Now, at least for the pair I have, the description is also off when talking about the pockets. Mine have two rear flap pockets, two front pockets (one with a quarter pocket), and one on the back of the right thigh that is good for a cell phone, pocket knife, leatherman. Be careful with that pocket though, as there is no flap or closure to secure it, but I dont think it would be a big problem.