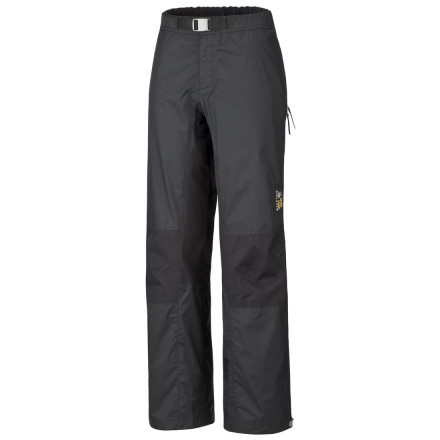 Backcountry squalls, summer snow storms, and steep ascents don't stand a chance against the Mountain Hardwear Women's Cohesion Stretch Pant and its waterproof breathable Conduit membrane. This versatile backcountry bottom also features a durable, stretchy shell fabric that flexes with your body for enhanced freedom of movement and an athletic feel.
Conduit DT membrane allows sweat and water vapor to evaporate away from your skin and prevents external precipitation from passing through
3/4-length side zip vents help shed excess warmth during steep ascents
Reinforced edge guards protect pant legs from sharp crampons or ski edges
I'm looking for a pair of pants that I can...
I'm looking for a pair of pants that I can wear on my bike rides in the rain...is there a way to cinch the hem of the leg so I don't get caught up in the chain?
Most people buy the adjustable leg velcro wrap that is available at almost all bike stores for a couple of bucks. Like this one:

http://www.amazon.com/Reflective-Bands-by-Jog-A-Lite-Pair/dp/B000KG6JB8/ref=sr_1_fkmr1_3?ie=UTF8&qid=1329536731&sr=8-3-fkmr1
I bought a pair of these to try, and have gotten several more! Love the low waist (but not too low), which has soft material lining the waist band for hiking comfort. Flat cargo pockets are functional and don't make you look like you are wearing bulky man-pants. Light rain beads off material. Sizing seems true- I have size 6 which fits my 5 1/2", 133 lb frame. Works well over running tights if extra warmth required for lower temps.
Are these pants 100% waterproof? I am not...
Are these pants 100% waterproof? I am not sure what the waterproof ratings mean. They look like the nicest fitting, non balloony rainpants i've seen. I'd like to buy a pair but need them to be waterproof.
thx
Yes. They are Mtn Hardwear's version of Gore-Tex ("Conduit Membrain"). All seams are taped. You'll stay dry in these.
I have seen these pants on sale on different...
I have seen these pants on sale on different sites but would prefer to purchase through backcountry. Are they going on sale any time soon?
Big name brands usually dont go on much of a sale and they just had a few big sales so probably not soon
But since there are only 7 in stock you never know they might go on clearance sometime
These seem awesome, fit is right on
I am writing these before wearing the pants extensively because in looking around myself I really needed tips on sizing. And, I wear rain pants for such brief spans here in the CO Rockies that it would take long to assess this. I actually have the last year version, The Mountain Cohesion Pant, but I called the manufacturer who said they are identical except for the stretchierc knee etc material on these new Stretch Cohension Pants. (He said the new stretch material also increases breathability, so these new ones are probably even better.) Anyway, I am writing largely to help those needing sizing info, so I wrote this review here despite last years model. They seem excellently made. They just glide on. I tried the zippers and they don't tend to stick. I did a lot of comparison and believe the extra couple ounces over other choices is definately worth having the long zip. I tried on others, and these are sooo much easier to get on. I read they were big but did not find them so at all. Rain pants are made to go over regular pants and still allow good movement, which these do. They also look cute, unlike many.
I am usually a small, can occasionally be an extra small. I am
5'2 3/4", 113#, natural waist 27", hips at widest point 37". The small allows lots of free movement while not looking balloon-y or dorky. They are a perfect length with shoes or boots. They fold up quite small. I am really excited about them.
np. The inseam is 32" for these pants. Cheers!