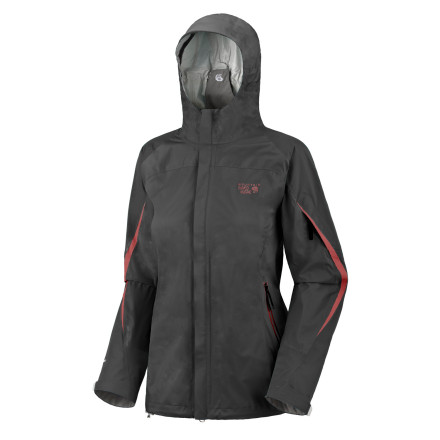 Detail Images
Get ready to explore new terrain with the Mountain Hardwear Women's Cohesion Stretch Jacket. In addition to its waterproof breathable membrane, this jacket also features a stretchy shell fabric for enhanced mobility and an athletic feel.
Conduit DT membrane allows sweat and water vapor to evaporate away from your skin and prevents external precipitation from passing through
Underarm zip vents help shed excess warmth during ascents
Helmet-compatible hood lets you use the jacket for climbing or spring skiing
I'm going to be in tropical Costa Rica in...
I'm going to be in tropical Costa Rica in 70 degree rainy weather. Will I be too hot in this? Thank you!
Hi, when are you planning to go to Costa Rica and what places you plan to visit, beach, mountains, rain forest? Right now its the rainy season, and this jacket would be perfect for the rain forest, and also depends on what area you staying because its little cold at nights
Best Answer
Hey, I work at the Backcountry Costa Rica office, so I think I can give you some hints from our weather.



Costa Rica's weather is sort of unpredictable. It can be a really sunny day and the next time you notice you will get some crazy rain... 30 minutes later a lot of sun again. But, depending on the kind of activities you are planning to do, this may or may not be a good fit:



If you head to the coast and are looking to visit the cool beaches, it will be pretty humid and warm (even when it rains) so you wont need it much.



If you are going more into a rain forest adventure, that may be something you want to carry mostly because you wanna stay dry during your hikes.



So if you provide some more details on your planned activities we can provide some other tips or gear suggestions if you like.



Also, don't forget to post some pics of you and your gear here :)
Aha!



I am volunteering to work on a farm near San Vito. My host suggested I have a rain jacket. I'll be there November, December and January for sure... maybe longer :)! I will be mountain biking to and from the finca.



Suggestions are very helpful. One of my main concerns is-- I hear it can be a little difficult camping- mainly in my mind with mold. I am thinking long term here and know I'll be investing in a tent (I'm going solo) at some point. Seems like now may just be the time.



~But yes, clothing? Can I do with cotton?



~I didn't find mosquito netting on Back Country...



Ah! I am greatful for your help! xo



Cheers!
Ok- what about footwear? I am bringing a pair of vibram five fingers, will be wearing boots on the farm and am hoping maybe to just find some slippers in Costa Rica. But I feel like I'm missing the main shoe. Thanks for your help!
After seeing my boyfriend's new Mountain Hardware jacket and starting to feel the weather coming through the 10-year-old North Face I decided it was time for a new jacket. Saw this pop up on S&C and snagged it. Holy cow, it's amazing!
I never imagined that my old jacket was actually hindering my performance but now I do. Talk about freedom of movement. This thing is so comfy!!!
Skied a full day in some gnarly rain and wind and my upper body was PERFECTLY dry and warm.
Did some bootpacking and very technical skiing last weekend and, even without opening the vents, I was comfy on the way up and down - no sweatyness on the up or chilliness on the down.
I usually keep my hood down, but I do like this over-helmet fit. It definitely helps in the crazy weather. My only complaint is that when going fast it seems to catch air and get tight around the throat. Going fast + can't breath = no good. There is an adjustment so maybe I just need to fix that.
Pockets are good-sized and the waterproof zippers work pretty well. No weird seams rubbing under a big pack. SUPER light and packable. I got my standard top size and it fits perfectly, not baggy but plenty of room for layers. The red/pink on the black is way nicer in person. I'm not a pink person but the vibrant dark-pink pop is nice on a plain black shell.
Very well made and, despite the light weight, it seems durable. Only time will tell of course.
Buy it! This is a great deal on a smokin' jacket.
Good rain jacket. Flattering cut. Keeps me totally dry. It is just a shell and not real roomy for layering though (I've got a small build and ordered a size small). So it hasn't been getting a ton of use during these cold, windy, rainy days here in Seattle. But expect to wear it more as it warms up later in the year.
This is the only jacket I've worn so far that doesn't feel like a trash bag. It really is breathable. I wasn't sure how much the stretchiness of the jacket would make a difference but it is so much more comfortable this way! I couldn't find any info about the zipper when I ordered and was more than stoked when my jacket arrived and I discovered the double zipper! Being able to unzip this jacket from the bottom makes wearing a harness 100x more comfortable. The hood really is totally adjustable and fits over a helmet. I got the red one; it is just a little darker in the Backcountry pic. I'm 5'7" 145 lbs athletic fit and the Large fits perfect. Enough room to layer but not so much room it looks like a big red bag. Haven't worn this jacket in the rain yet. I live in Eugene, OR and am really hoping it pulls through for me during the next wet week...I'll update this then.
What kind of length does this jacket have?...
What kind of length does this jacket have? I am tired of having to buy women's jackets that are too short or sit right at the waistline. I would like to keep at least part of my butt dry as well.
Ruth, on my wife this covers about half her butt.
26in in size small. I am 5'7" and size small gives me good overage. Very nice fit.
I'm 5'7" with a long torso and am wearing a large. Perfect butt length. Don't know how a small fits @somewhere.
5'5" 112 lbs, 32B. Got XS. If I wanted to layer more than a mid weight fleece or something with a hood, a small might be better. I think you would describe this as hitting at the hip. The XS hits me a good bit below the waist. Don't expect "butt coverage", at least not in an XS, unless you are under 5'. It is cut slim but with good room through the shoulders and upper back. Mountain Hardwear women's stuff tends to run a bit smaller than most outdoor brands. Slimmer cuter lines. Compared with similar products, I would not call this jacket short...or long. The Stretch cohesion pants rock too. Very fitted compared with similar pants with an attached clip belt. I got the XS and they are none too big. Rain pants that look good? Yes.
What is the different between the new...
What is the different between the new version with Dry Q Core and the older one with Conduit DT? Is the waterproof and breathability rating the same?
somewhere,
in the Stretch Cohesion, I believe the waterproof/breathability should be very similar between the DryQ Core and Conduit DT. Like the name suggests, the new Cohesion has some built in stretch. I have the Stretch Cohesion and wear it in the winter mostly, trekking and skiing, and like it alot. I find it a bit air permeable on super windy days, which I like for keeping me drier.
Can this be used as a rain jacket?
Can this be used as a rain jacket?
Best Answer
Yes! This can also be used as a rain jacket. It has a waterproof breathable membrane.
Is this jacket warm for winter?
Is this jacket warm for winter?
Best Answer
This is a shell, so on it's own it will not be alll that warm. Like any technical shell, it is designed to be worn with layers - think a fleece, light down parka or other garment. You add layers as things get cold. But, if you want a stand alone winter jacket look for something that has insulation.
Not suitable for cold winter climes. The cold wind will come through this. Mediterranean winters, maybe. Sleek cut with stretch. Not cut well for heavy layers underneath. Fitted mid weight fleece and fitted down sweater vest max. This is primarily a cool weather rain jacket. For cold weather shells, look for 3 layer Goretex or similar. They will likely weigh nearly twice as much as this.
Comfortable and incredibly waterproof. Would recommend this jacket. Love the strechiness of it.