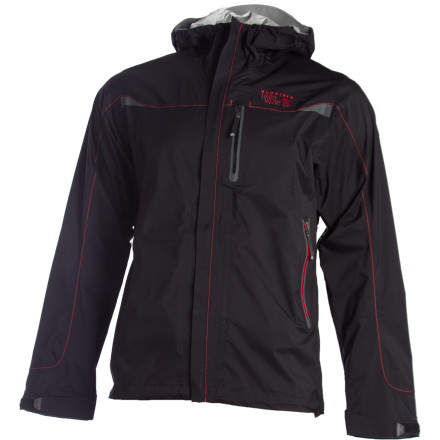 Detail Images

Community Images
The Mountain Hardwear Cohesion Stretch Jacket offers you all-over stretch for climbing, skiing, and other alpine endeavors. The attached Ergo hood fits over a helmet and is single-drawcord adjustable so you don't have to take both hands off the wall to tighten it down. Underarm vents air things out if you heat up on the ascent, and a micro-chamois-lined chin guard is soft against your neck and chin.
I hate to do it, but I can't give this jacket a good review. I must agree with the other reviews about the lack of performance of this jacket. I am an outdoor guide who uses/tests a ton of gear and am a huge fan of M.H. I took this jacket on a trip around the world (the best field test ever). I thought it would be a good compromise for a one jacket do-all, from alpine climbing to rainforest trekking to city dwelling. And, if/when i thrashed it, I'd only be out a hundo. It has some of the alpine features I wanted, and I also thought it would serve well as a general use rain jacket for trekking and in towns. It is very light, and balled up small for stuffing in my pack (another plus for traveling). I bought my girlfriend the same one as well, and we both had the same problems. As an alpine shell (which i realize is a stretch), it did a great job at blocking wind and retaining heat (with a fleece and a M.H. compressor hoody underneath). The fit is great, trim and athletic (5'10'' 180 size large) but enough room for a light puffy. The quality of the jacket is awesome.. it held up to 6 months of travel in some crazy places. The problem, as others have stated, is in the laminate. During rainy hikes, this jacket would become soaked on the inside. Now, I haven't conducted the science experiment to see if it was soaking through from rain, or if it was condensation, but nonetheless, every time we wore these jackets while recreating in rainy environments, we were both soaked underneath. Yes, we used the underarm zips and were wearing merino underneath most times. If we were at altitude, and it was dry, the jackets worked fine, but the one thing it is designed to do (be waterproof/breathable) it failed at, not on one jacket, but two. That's proof enough for me. Don't get it twisted people, M.H. has put out a "Cohesion" jacket and a "Cohesion Stretch" jacket, so make sure you know which one you're reviewing. I believe both have the same laminate though. Good thing M.H. is investing in this Dry Q, because it is far superior.. but i would go with the Dry Q elite.
Hello BC community, I like to ski tour...
Hello BC community,

I like to ski tour in softshell and bring a waterproof layer with me. I'm between the Mountain Hardwear Cohesion jacket and the Marmot Aegis. Does anyone hold an opinion on which might be better for such a purpose? Thanks!
Best Answer
David,
Either of these shells will be a perfect waterproof layer to keep in the pack in the case of inclement weather. They both weight about the same and are super packable. I have the MH Stretch Cohesion in DryQ Core, and absolutely love it. For me the fit is spot on. I'm 6 185 and the Large is perfect. I think the Cohesion is about a half inch to an inch longer in length, and features a nice athletic cut. Maybe it comes down to fit, as they both are very similar for the purpose you need.
Thanks Jeff. That bit about length is important, as I'm a rather "long" guy.
Great jacket. Fit is a bit big, but did allow me to wear over a down jacket for most of the winter season. Breathes well and I have not noticed any failures in the construction or wate
rproofing.
I am 6'3" and weigh about 215. What size...
I am 6'3" and weigh about 215. What size do you think is right for me. I have a XXL in a down coat from Mountain Hardwear and it seems a little lose.
Probably XL, but I would check your measurements against the sizing chart below the price.
I've only had the jacket for a couple months so I can't speak to the jackets extended waterproofing, but so far the jacket has been great. I've been cross country skiing and touring with it, and its a perfect shell. Very functional pockets and zippers, and hood is large enough for any helmet.
what's the difference between the new...
what's the difference between the new version with DRY Q and the older one with Conduit DT?
Not much, really. DryQ Core is basically the same stuff as Conduit DT. Same breathability and waterproofness.
None too waterproof after some use
This is a pretty slick looking rain jacket, and is light with good mobility. I definitely enjoyed it at first (hence the 2 stars)!

Unfortunately, after about 10-12 months of regular use (I live in CO where is doesn't rain that much for most of the year) the thing lost its waterproofness almost entirely. I'd be OK in a very light mist, but in a heavy rain I'd look like I'd been hanging out in a hot tub with a sweater on. I tried waterproofing it but it didn't take. I think that must have been my waterproofing skills.

I checked with their warranty department, and they asked me to send it back. Once they got it, they ran some tests and said it was in perfect condition and as waterproof as it should be. Perhaps their definition of waterproof differs from what I'm used to, but I certainly wouldn't depend on this thing to stay dry. Definitely going to look into other options. Looks like another reviewer below had the same experience.

I will say that the ventilation is pretty good. I've not warn it in conditions where I've sweat a lot, but it seems like by opening the pit zips you get some good airflow, so +1 for that.
Superlight shell that kept 34-degree rain out for a few hours. Paired it with a Zonal synth sweater over a wool lightweight base and was very comfy. Great mobility, easily adjusted the hood with one hand after pulling over my helmet. The hood brim is nice but the stiffener is tricky to stow without puting a kink in it. This and the Zonal run small. 5'7" @ 155 lbs and a typical M, but those were too tight across my chest/lats. The L is a bit more billowy than I'd prefer, but it fits and it moves with me well so it is what it is. The lack of zipper flap closure isn't too big a deal, but dinky hook-and-loop discs heated onto the fabric would be ideal.
Versatile, Light weight, Water proof
The Mountain Hardwear Cohesion Jacket is one of the best versatile, light weight, water proof jackets I have owned, and the first one I've owned that does not have the texture of a plastic trash bag. The jacket is a semi-athletic fit so you can still Keep wind and water out while having room for base layers that keep you warm without looking like the state puff marsh mellow man. Great for climbing without raising your body heat but keeps the chill of the summit out of your bones. There are 3 convenient water tight pockets with plenty of room to stow gloves and/or hand warmers. The jacket has a nice fitted look with both taped and welded seems. Great jacket, I love it, my only complaint is that the front zipper cover does not secure. Its stays closed but a button or a little Velcro wouldn't hurt.
Nice jacket but the black version has red trim, not gray as shown in the photo. Rather ugly, in my opinion. Sending it back for a refund.
Hi, Does this jacket have the same size...
Hi,

Does this jacket have the same size measurement as the Epic Rain Jacket? I currently have a medium epic jacket.
John Salarda. It has similar dimensions to the Epic. If you have a medium Epic you would be a medium in the Cohesion Stretch Jacket. I hope this info helps!
i have used this for fall hiking in dry and wet conditions, and also as a shell on the first day of snowboarding at Brighton. Dry Q performs excellent. nice hood with room for helmet. The stretch properties of the material used are superb. cant say it enough - i love this shell. sizing is a little big. 6 foot 1 225 pounds and could have gotten the large, but xl leaves room for heavy insulation layer which makes it usable all 4 seasons
Good windbreaker, otherwise useless
Pretty much inadequate for a shell. Not waterproof at all. Soaks through after 5 minutes every time. Wonder if the newer version with dry q core is any better...
Size question - I'm a skinny 5'11" 135...
Size question - I'm a skinny 5'11" 135 lbs, 30" waist - but would like to have something I can layer underneath for cold (skiing) and something that isn't too floppy for biking. Should I go Med or Small?

Also, how is this jacket for biking - does the fit allow for lower back coverage and are the arms cut to allow good handlebar reach? Does the hood easily fit over a ski or bike helmet?
Best Answer
On the size: with your height you have to go with a medium.

The one thing I would say is with biking you are going to prefer a softshell jacket over this one.

Here are some ideas for what may help you and can also use while you are skiing:

Mountain Hardwear Brono (Sale item)
Mountain Hardwear Android ($78)

I hope you find what you are looking for, and ski hard!
Rivaled only by Arc'teryx
Love this jacket, it has great ventilation and the material is very soft to the touch, much nicer than most garbage bag textured water proof shells. The fit is much better than most, it's semi form fitting so it's not sticking to tight to your body but also not flailing in the wind with 100 yards of extra material. There are many water resistant pockets, and the left hand pocket is actually 3 pockets in one. However compared to the Marmot Aegis jacket it comes in just a little short. One con is that the main zipper cover has no Velcro or buttons so I am not sure how it will keep a tight seal on the zipper over time. Also the Aegis jacket has light fleece on the cuffs and neck which does leave the cohesion jacket a little bit lacking in comfort, nothing bad just not as nice as Marmot s cuffs. One extremely good note the construction of this jacket is probably some of the best I have seen. The seams are doubled stitched with tape on the inside that is clean a flawless looking, actually I would say the overall construction of this jacket is only rivaled by Arc'teryx if not just a little better. I do not regret this jacket, there were just a few little disappointments, but other than that I love this jacket.