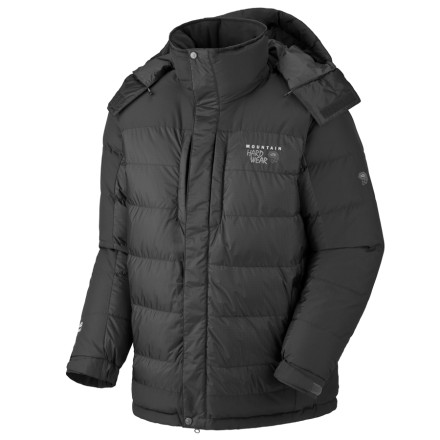 Detail Images

Community Images
Brave even the coldest at-altitude adventures in the Mountain Hardwear Chillwave Down Parka. Built with rough-and-ready ripstop nylon and filled with insulating 650-fill down, this parka laughs off even sub-zero gusts. A removable hood lets you keep it casual back at base camp, while ample pockets store your essentials and survival gear.
Can you help me with the sizes? I'm tall,...
Can you help me with the sizes? I'm tall, 6"4", 176lbs, L (40-41) in chest and M(32) in waist , 36 in sleeve length. My son has Marmot Shadow Jacket in L and that jacket is a bit short for me in sleeves. Should I choose XL or L?
Best Answer
Hey Serge,



Sound like you are one of those tall and narrow guys that probably have a hard time with larger sizes. Honestly, this being a relaxed fit jacket the XL might be a little baggy on you, but I have the same concern with the Large being to short. Personally, I would suggest trying this one on just to see how comfortable you are in that larger size.
Survived the true test
Familiarity:

I've put it through the wringer

Fit:

True to size
Bought this to wear in Siberia. Needless to say, it got a workout in below zero temps. It passed every test with flying colors.....most of all, I stayed warm!
I'm about 140lbs and 5'8'', many of the...
I'm about 140lbs and 5'8'', many of the other jackets I try fit me best when I try on the small but was thinking after reading reviews it seems this jacket might be better for a medium. What would you recommend?
Hey Rob,



I am 5' 9" 145 and would probably get a Medium in this jacket, I personally wouldn't even consider getting a size Small. I can't say for sure though. You might want to get your chest and sleeve measurements and compare them against what we have on the size chart. Height and weight factor in your legs, and your legs have nothing to do with how a jacket will fit.
Hola Roberto,



From what I can tell based off what others have said about this jacket, it runs a bit on the large side. I personally have a 39.5in chest, but my waist is right around 29in, give or take half an inch depending on the brand of pant. Anyhow, I have a MH Stretch Typhoon Rain Jacket in a size Small and it fits me almost perfectly. I don't know how much space you like to have on clothing versus "outdoor gear," but with me, regarding something like this, I would go Small over Medium. However, you may want to consider the Medium purely for layering sizing, or if you like to have things be a little bit loose and long on your body. Personally, I can't stand s**t like that, so I attempt to form fit my clothing as well as I can. Like Wayne said, though, I would take note of your personal physical measurements to get the best idea of which size to go with. Ultimately, you can always send it back if you decide on one and it doesn't suit your taste.
Heavy short sleeves
Gender:

Male

Familiarity:

I've used it once or twice and have initial impressions
I hate being cold. This jacket is massive. The material build seems to be made to last. Just as an initial heads up, the sleeves due run short. I am 6'3" 195' with a 6'4 wingspan. In a normal seated position the sleeves work. But if you are moving around a lot I imagine the sleeves would leave you a little exposed. The rest of the fit is great, hood is huge, and I really appreciate the built up shoulder/sleeve/back material to better withstand abrasion.
Hi, my hubby is about 6.0 and 150 lbs....
Hi, my hubby is about 6.0 and 150 lbs. What size it fits M or L?
I'd probably go with the Medium. I an 5'10 165lb and and the Medium fits well in arm length and torso. Even at 2" taller, I think he will be swimming in that Large.
First impressions are good.
Familiarity:

I've used it once or twice and have initial impressions

Fit:

Runs small
First impressions are good. I just bought this jacket for this winter. I have not had a chance to use the jacket yet and can?t wait to try it out this winter. It is replacing my old Sub Zero.
Hi! I'm about 5'4", 135pounds, will a...
Hi!



I'm about 5'4", 135pounds, will a small suffice or will I suffer from layering issues others describe? (I went into a local store and tried on another down jacket from the same brand and a small seemed cozy, I didn't have heaps on underneath though)
Best Answer
Hey Graeme,



You should be fine in a small. I'm 5'6" and 165 lbs and I have room to layer with a medium. I think you'd be swimming in it. Depending on where you are going and how cold the temps are, I can't see layering much more than a baselayer and a fleece, which you should be fine. If you're still not sure,go to the store with your intended layering system and see if it fits. You might have to sacrifice some ego, but a good fit without the hassle of returns will be worth the effort. Hope this helps.
Yo bud; I'm 5'4" and just over 220 lbs with muscular torso. I bought a large and it fit spot on except I do look like Michelin man. But I would rather be warm as I live in Interior Alaska. The Chillwave has done me right. At -15 to -20 I wear only a long sleeved UnderArmor t shirt underneath. When it does get really cold, I wear a medium weight wool shirt along with UA shirt. I add a DomePerignon hat and I am good to go at -40 or lower. The fit again is superb for my body.
Hi,there seem to be some different views...
Hi,there seem to be some different views on sizing. I'm 6'2" 200 pounds, 38 inch chest and 32 inch sleeve. Just wondering if I should go for L or XL, thanks in advance for any advice
Best Answer
I always say it really depends on the purposes you are going to use this for. If you are going to use it as a parka and layer a lot with it go XL but if you plan on not really doing any crazy layering than go L, it will look better and feel better to wear around. If its tight and you try to layer it will cut your range of motion. Hope you can find any advice and find it helpful!
Thanks, appreciate your advice.
Size UP.
Familiarity:

I've used it several times
The jacket is great. I am writing this review to tell anyone who is thinking of buying this jacket to seriously consider sizing up. I am 5'8" 158lbs, athletic build. I fit comfortably in a large, and have just enough room for other layers underneath.



650 fill, box baffle construction (extremely important), and a hood with gobs of down in it.



Only downfalls I can think of is bulk and weight, but you won't get a parka like this without at least one of those two cons, and even then it won't cost you $150 like the chillwave parka.



Double zipper feature on hood prevents the removable hood from removing itself in high wind conditions.



Picture shows stuff size relative to an 8.5"x11" piece of paper. This is with the included stuff sack, I suspect you could cut this dimension in half with a good compression sack.



Velcro appears weak, have not tested it, will update.



EDIT: Velcro on face closure is pure crap. Easily fixed by sewing on some industrial strength weather resistant velcro bought at your local hardware store.



13oz of 650 fill down in this parka, for reference an avg 40F sleeping bag with 650 fill down will have 16oz, yet this packs 13oz into a coat.



Wore this over a mid weight baselayer and wore a wool beanie, was toasty sitting at the shelter cooking and chilling at -5F. Great parka. Just make sure you put it on before you lose all the heat you generated from the hike.
Light, Warm and compact storage
I was surprised to receive a small stuff sack for this big jacket but sure enough it squeezed right in. The real surprise is that this jacket, which is extremely light in weight, does a great job keeping you warm. I work in the film business and used it while filming on a cold 34 degree night over a sweater and it kept me comfortable.
I'm comparing this and the Millet Expert....
I'm comparing this and the Millet Expert. I need something that can handle Rainier this July. I'm also considering either Mt Washington NH or the Mountaineer's Route on Mt Whitney Next Feb.



How does the Chillwave and Expert compare in those conditions? Also, is either parka even adequate for the two winter objectives?



My last option is the MH Nilas, but I'd prefer a less expensive option, as I'd be getting a heavier expedition parka when it's finally time for the really big mountains
Best Answer
I think that for Rainier in July, this jacket could be awfully warm, but that is more my opinion, and it sounds like you got your eye on some winter ascents anyways. Both jackets are pretty comparable in most categories although I think the Millet may take the cake. The expert is 700 fill down (compared to 650), Pertex with a DWR coating and it is almost a pound lighter than the Chillwave (not sure how concerned about weight you are though). PLUS its on sale right now if you are going for the XL. The Nilas is a great jacket much more suited to light alpine ascents than the Chillwave, but the price reflects that. I think that the Millet Expert is a good choice considering what you are looking for but I would suggest trying it on somewhere and making sure the fit is dialed in. Good luck!
Thanks Carter!



I noticed there was only one Expert left in stock and grabbed it before it was gone.

My jackets and shells from various makers are all Large and they give me a comfortably snug fit when layered-up, so the XL parka won't be too loose over it all. (I'm 6'0, 210lbs, wide in shoulders.)



Thanks again! I would have missed out if you didn't inspire me to take a second look before it sold out
Toasty!
Gender:

Male

Familiarity:

I've put it through the wringer
I've been using this pretty heavily this winter, and will be using this parka on Rainier this summer, and I'm extremely happy with it. This jacket is super warm, and fits well over other layers. The hood is really roomy, and fits well over a helmet, and cinches down very nicely, to trap heat. Water bottle pocket allows you to thaw your nalgene, and theres a lot of pockets, which is great for keeping necessities, or for drying liner gloves. The fit for me is excellent, I'm 6'6" and wear an XL in this. The sleeves do run a bit short, but other than that, it is a great fit. The sleeves are no issue to me. Jacket comes with a stuff sack, but it is a squeeze to get it in.
Warm Winter Coat
Gender:

Female

Familiarity:

I've used it several times
I live in Chicago. I am a 5'9" 155 lb female. I ordered a size medium and it fits perfectly even with my long 32 inch arms. If your arms are more than 32" then the medium may run small on you. I have only had my coat for a month. The blue and black color combination I chose looks great and the coat is very warm but is just right for Chicago weather so far. I am very happy with my coat and would buy another one. It keeps me much warmer than my Columbia.
Truly warm
Familiarity:

I've put it through the wringer
If you spend serious time outside in winter and simply never want to be cold again, this is the parka for you. Tested at temperatures down to -50 and I have never been cold. At least, when I have been cold it was because of problems with my pants, gloves, boots, etc... not the parka. It is silly to buy anything without a hood or with a "jacket" cut in this category. I strongly recommend this product.
Great jacket, but had to return it
Gender:

Male

Familiarity:

I've used it several times
I decided to give them a second chance and got a Medium instead. It is a much better fit. The arm length is longer, and the cuffs don't hurt on this one. I'm not sure if I got a newer version or older version, but this one didn't have the Mt Hardwear logo on the back like my first purchase.

------------------------------------

I purchased a small size jacket. I am about 5'7 and 150lbs, and the fit was perfect, but I returned it due to the cons below.



As other reviewers have mentioned, I too found the sleeve to be a bit too short. When my arms were down, it was perfect length, but as soon as I brought my arms up (eg, when driving), the cuffs would ride a few inches up my arm.



Also, I had a difficult time zipping all the way up. I think my neck size is something like 15 3/4.



Finally, a negative I have not seen mentioned. There is a hard corner in each cuff, so when I velcroed them tighter, the corners were rubbing into my wrists, which hurt after some time.



It's a great jacket, but I couldn't live with these cons.
Very comfortable, warm, wind proof
Gender:

Male

Familiarity:

I've used it several times
Excellet parka, I prefured a large over a medium as i needed the longer arms, more shoulder room and looser collar. (am 5.10 175 lbs) It has a great collar! micro fleece lined and tall. This jacket is a little heavier than some , with reinforced shoulders and outside of the arms, and is full featured, with lots of pockets and is not a minamalist wispy down sweater, its a full on parka for windy cold weather. I use this in 20 degree weather and below mostly for casual walking and sitting around outside. Just great for this as i can throw on over a heavier sweater and brave almost anything. This jst is very comfortable wind proof and warm , feels like i am wearing my sleeping bag. ck trailspace for a full review.
MT. HARDWEAR CHILLWAVE - CERTAIN WARMTH!
Gender:

Male

Familiarity:

I've put it through the wringer
I OWN TWO (2) MT. HARDWEAR CHILLWAVE PARKAS! I CAN VERIFY THAT IT PERFORMS IN ZERO DEGREE TEMPERATURES AND 20-30 MPH WIND CHILLS.



REASONS WHY IT WORKS SO WELL:



1) 650 DOWN FILL - KEEPS YOU WARM

2) BAFFLED CONSTRUCTION - NO SEWN THROUGH SEEMS SO COLD AIR DOESN'T PENETRATE THIS PARKA

3) GREAT DOWN FILLED HOOD

4) AIR SHIELD TECHNOLOGY - ALSO FIGHTS THE COLD BITING WINDS.

5) IS WATER RESISTANT.

6) IS LIGHT AND COMFORTABLE



I RECOMMEND THE CHILLWAVE AS THE BEST DOWN PARKA AVAILABLE FOR 2012.



IF YOU MUST CLIMB A MOUNTAIN, CONSIDER THE MOUNTAIN HARDWEAR ABSOLUTE ZERO PARKA!



BUT FOR ANYTHING ELSE - THE MT. HARDWEAR CHILLWAVE IS THE BEST PARKA ON THE MARKET.
Hi, my hubby is about 5'8 or 5'9 and 220...
Hi, my hubby is about 5'8 or 5'9 and 220 lbs. I want to buy him a coat but not sure if large or xtra would work best. I could use the size chart but not sure if that accommodates a sweater underneath. Advice please.
I own the Mt. Hardwear Chillwave and am 151 pounds and 5 ft. 10 inches. I am comfortable in Size Large. That said, I am quite certain that size Extra Large would be the correct size for your husband.

While his height would indicate a size Large, I think that at 220 pounds he would find the size Large a bit too tight. So I recommend the size XL. I hope this helps!
I'm 6'3 and 220 pounds and I have an XL and it fits perfectly. I think that the XL might be a bit longer in the arms than required but it has velcro cuffs to deal with that. The L would be too small most likely!
Hi I'm 5'8 229 lbs. due to my chest and waist ,and that many reviews have suggested it runs a little small. I ordered the XXL.
MOUNTAIN HARDWEAR CHILLWAVE STILL RULES!
MOUNTAIN HARDWEAR CHILLWAVE STILL RULES!
For Winter cold weather with biting wind chills, I find the Mt. Hardwear Chillwave Parka is the best parka available. No, I don't work for Mountain Hardwear. I simply hate cold weather and icy wind chills.
1) I bought two Mt. Hardwear Chillwave Down Parkas in 2011 and 2012!
2) With 12 ounces of 650 down fill, this parka keeps me very warm in freezing weather - wind chills below zero.
3) The "Chillwave" is light, comfortable and durable and is highly water resistant.
4) If you value your warmth, in freezing temperatures, this is the down parka to buy!