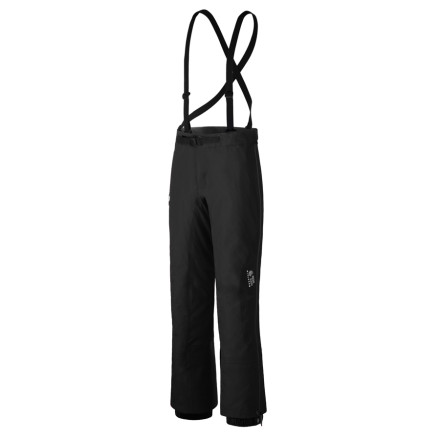 Mountain Hardwear engineered the Men's Botka Pant for aggressive alpine pursuits. First and foremost, the Dry.Q Elite shell gives you waterproof protection along with exceptional breathability. The 'always on' air permeability means that you don't need to work up a good sweat before it will start moving air along, so under-the-shell clamminess is a thing of the past. Pair this tech with a host of adventure-friendly features, and you can be sure the Botka won't be spending much time hanging around your gear closet.
Removable suspenders and a drop seat make pit stops quick and easy
Full-length water-resistant side zippers let you take the pant on and off over boots
Four sliders give you multiple venting options
Abrasion-resistant scuff guards protect the pant from boot buckles, ski edges, and crampons
Will survive everything you can think of
These pants are bomber! I've skied on them for about 20 days tress, hitting branches all over the place and there is no sign of damage! Today I had a pretty bad crash after one of my skis got stuck on a branch and I though I`d teared apart the pants and to my surprise no damage, I can't say the same for my leg though! You are gonna have to size up since it's a pretty slim fit and the suspenders are kinda awkward but it doesn't bother me at all! I only wish it had a way to use the side sippers for venting without open the pants from the waist! Also I don;t care for the pocket on the right leg, never use it and wish there were no pockets at all!
Greatest Pants Ever!!
Gender:

Male

Familiarity:

I've put it through the wringer
So Last Year I decided that I was sick of just having insulated snow pants and enter the world of hard shell fabrics!! After going to my camp in Alaska where I backpacked and participated in many other outdoor activities, I needed something that could withstand the elements such as cold, wind, rain, and more while still being able to be breathable especially in warmer temperatures. The elements and things I put these pants through cannot be put into words, and has been through the wringer!! So basically this DryQ Elite Technology is the best, Gore-tex is great in terms of waterproofness, but I would've been drenched in sweat if I were to buy something of the Arc'teryx, North Face, Marmot sort, which usually have Gore-tex...Another great thing about this is the full side zip, which makes it easy to take them off or change layers.. My one gripe about these pants is the suspenders which make me sweat more and are fairly annoying, so I just decided to take them off. No snow gets in while they are off, while snowboarding, so it is not really a real problem!! They are also very comfortable and look great, which means they can be worn almost anywhere except at a 5***** steakhouse :P Basically, they are...Perfect :)
Does the gaiter have a zipper or velcro...
Does the gaiter have a zipper or velcro to allow taking off / putting on the pants wearing ski boots? I`ve seen different reviews about the gaiters so I`m not sure. MH website doesn`t really say you can take off the pants with boots or crampons which I would expect if that was possible...
marcel. The gaiters in the Bokta Pant have a velcro and a snap that allows easy on and off while wearing boots. There are also two little webbing loops on the sides of the gaiters that allow a small cord to be attached to help better secure the gaiter underneath boots. I hope this info helps!
MHW has a great pant here. and the Dry q fabric breaths really well. The dog took me for a run through the snow and i stayed dry and not clamie. The FIT is athletic but still wide enough to fit a snowboard boot with out looking weird or anything. I do with it had one more pocket in the rear to hold some cash when im in the resorts but really no big deal. Bottom line great pants.

P.S. do wish they had some better colors like lime green or ocean blue
I just received these pants today. So far, the construction looks/seems flawless. The cut on these pants is a little different than expected and not reflective of previous MHW pants (some will be happy to hear this). These pants are made to be worn at a higher waist level than expected. Its almost best to think of these as "short bibs". I am 6ft 3in and 200 lbs. I carry a MHW Typhoon XL (GTEX Paclite) pant for my rain shell when backpacking and the length works. The Bokta pant, on the other hand, is way too short. All the seams are very clean and the zippers work well. Unfortunately, these pants will be sent back in search of a longer pair. BC doesn't carry too many long options but I'll see what I can find. If you are no taller than 6 ft, give these a shot
I'm 6'0" 185 lbs with a 33-34 waist and...
I'm 6'0" 185 lbs with a 33-34 waist and 32-33 inseam. MH sizing chart indicates I should wear a medium regular. When it's cold and I'm layering with fleece pants underneath, will M give me enough room to move? The L says it's for waist 36-38, which sounds way too big, but the waist is adjustable. Any advice? Experience with the pants?
I'm 6'-2" 195 and I've got the XL. They fit fine and I can snug them up around the wait with the velcro tabs and belt. I would go large. The suspenders let you yard them up if need be.
Everything you want in your pants!
I want four things in my pants, well five I guess. But, let's keep this clean like the design of the Bokta pant.

Lightweight
Durability
Full Zips
Pockets

Thank you Mountain Hardwear!