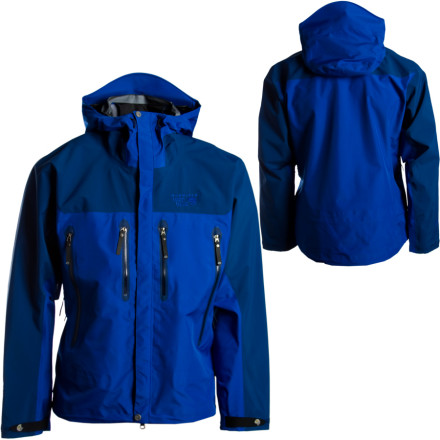 Detail Images

Community Images
Does the blue color on backcountry reflect...
Does the blue color on backcountry reflect the true color of the jacket? I've seen it pictured as a much different color, darker. I'm 5'8" - 5'9", 150lbs slim, would the small disallow me from layering say a monkey-man fleece? I'm looking into a new shell, this or the MH Carnic for snowboarding/skiing and around town. Thanks.
her4002942. It's close. For some reason the photo makes it seem a bit brighter than it is. Keep in mind you will probably need a medium (based on your measurements) and the only jacket they have left here is an XXL. The Carnic Jacket would be a great and very breathable jacket as well. If you are looking for a more current Gore piece from Mountain Hardwear. Check out the Optimo Jacket! I hope this info helps! Cheers!
Can I get a make and model of Mountain...
Can I get a make and model of Mountain Hardware Goretex with powder skirt?
This is a great jacket, but what you described is the MHW Vertical Jacket (item# MHW0950).
Is this jacket a fuller cut, than most of...
Is this jacket a fuller cut, than most of Mountain Hardwear's other shells? Will it fit my 53 chest, and extremely large shoulders?
This jacket isn't too slim fitting, it's meant to accommodate layers. You seem to have a similar build to my dad and he wears xxl in most mountain hardwear stuff so I would go for that.
This is an incredible jacket. There is absolutely nothing about it I would change. The fit is great. I'm 5'10'' with a 38'' chest, and I got a medium. The fit is roomy, but not baggy, so I can comfortably fit lots of layers under it - even a thick down sweater without feeling constricted. It doesn't billow out in the stomach like so many jackets seem to, which I love. The sleeves and body are reasonably long, which provides great coverage. The goretex pro shell breathes incredibly well and is very tough, not to mention ridiculously light weight. This thing packs small and I barely notice it in my pack. Instead of a waterproof main zipper, it has a velcro closed double flap on the outside (and a single flap on the inside for comfort), which I've gotten to like quite a lot. Snow doesn't gum up on it like it does to waterproof zippers, and it's easier to slide since it doesn't have that plasticy coating. The hood is great. It can fit a helmet, or can be cinched down to just fit your head with great visibility. The brim is very protective. The pitzips are huge, and it has a nice internal water bottle pocket. There is nothing not good about this jacket. It is a protective turtle shell that you can look out from to see what the weather's like. Get it
Is the collar on the Beryllium huge like...
Is the collar on the Beryllium huge like on the MH Vertical? I like everything about the MH Vertical except for the really large collar. It makes me feel like a flower when it is unzipped. Does the Beryllium have the same collar?
Best Answer
The collar isn't huge, but it does have the non removable hood. This makes it open up a little more when not fully zipped. When fully zipped it comes to about the chin, but if the wind is blowing you can retreat below the collar a bit. I have never had a problem with the size of the collar.
Which jacket is closest to the old Mountain...
Which jacket is closest to the old Mountain Hardwear Tenacity Jacket?
Eric. Either the Argon Jacket or the Beryllium would be the closest to the old Tenacity Jacket. Hope this info helps!
I tried ALL jackets (EU,CH,US,CND) before opting for this one, and it is the best.
Perfect cut, ample around arms and tighter at waist. Robust, light and very supple (not cardboardy like other brands).
Very practical: large accessible pockets, perfect hood tightening, strap to fasten hood when not using (very useful when skiing, etc), excellent zips, easy front zip with flap instead of less resistant water-proof (or so-called) zips.
Looks and feels great!
I previously owned a MH Ethereal FTX (?) that was ~10+ years old (left it at a villa in Tuscany :( ). By comparison, the Beryllium is weightless. Admittedly I haven't tested it in severe elements yet, but in the local downpours we've had, it's held up great. One noticeable difference is the length. This jacket really does come to your waist whereas the FTX was slightly longer (upper thigh). Can't beat the weight, quality and pocket selection. The hood (which is oversized to fit helmets) is easily adjustable and articulates well.

No regrets (yet). Would buy it again.
My favorite jacket that i have owned to date. its a great shell that is completely waterproof with plenty of pockets. i have it in red and i love the color. its my second mhw shell and i got this one because i knew it would be durable and last forever. i haven't gotten out skiing with it yet but i'm sure it will perform excellent. the only slight downside is the enormous hood. i know its meant to go over a helmet but it looks a bit big if i put it up if its raining or snowing. i've got the mhw windstopper tech jacket that i layer with this and i haven't been cold in it yet. great quality.

EDIT: I've been out skiing in this jacket in single digits with wind and it was perfect. I was never cold with just a fleece and a t-shirt underneath. Completely water and windproof.
Looking for a Gore-tex shell, with enough...
Looking for a Gore-tex shell, with enough room for many layers. I'll be on a winter expedition, with NOLS, in the Tetons in January.

The Beryllium or an Arc'teryx? Usually wear medium. Want enough room for the layers and mobility/flexibility. My dad has the Sidewinder and it is plenty roomy. The Beryllium looks like a less expensive alternative.
you will definitely have room for layering, the arms are also a little longer for added room. i have this jacket and it fits the windstopper tech jacket underneath with room.
Hi folks! Has this jacket any kind of...
Hi folks!

Has this jacket any kind of isolation?
Can I wear the jacket also without doing sports with it?

Thanks in advance. Cheers.
Nope, this is just a shell so there is no insulation. You could wear the jacket without doing sports, but there are less expensive options that would probably be just as good. You'd also have to layer under it as this won't keep you too warm standing still. Hope this helps!
I am looking at several jackets and I am...
I am looking at several jackets and I am hoping to get some guidance.
I am currently in the market for a nice Hardshell, Mid-weight combo. So far. as Hardshells go, I have been looking at The Beryllium, the Vertical and a few others from MH, as well as the Theta AR and Stingray from Arc'teryx. As to the Midweights I have been looking at the Compressor PL (hooded), the Vinson, the Alcove (not on BC) from MH, and the Atom LT from Arc'Teryx.

The way I would like it to work is, buy a mid-weight that I can use when it's cold and maybe light rain and wind, then if it's starts raining harder have my hardshell so I can keep dry. I am not entirely sure on which two would work best as they all seem like great jackets on their own. Any suggestions?

Additionally, the idea behind the hardshell and not a standard 3-in-1 is so I can use the hardshell during the summer.
Best Answer
Victor. As you say, all the jackets you are considering are great jackets. The Beryllium, Vertical Jacket, and Theta AR are all made with ProShell from GoreTex and will keep you dry in just about any conditions you could throw at them. The Vertical Jacket is festooned with ski features such as a zip out and removable snow skirt, pass holder, and a zip out and removable hood which is nice for skiing and makes it a very versatile jacket due to the removability of the features. The Stingray is a Gore Softshell and may be a little warmer than the other Proshell Jackets due to the light fleece lining. As for the midweight, or middle layers you are considering, the Compressor PL or the Atom LT will work the best under your shell. The Compressor is made with a 15D Nylon and insulated with 120grams of Primaloft PL 1. The outer fabric will slide nicely under a shell. The Atom LT is made with a combo of 20D nylon and Polaretec Powersheild which is more of a softshell fabric. Not sure how much 'coreloft' is in the Atom. The Vinson is an insulated softshell jacket that would work the best as an outer layer... maybe a little to heavy as a mid-layer. The Alcove Jacket is made utilizing over 200grams of Primaloft PL1 insulation making it a phenomenal outer layer perfectly ideal for cold belays under long ice climbs. Maybe to warm as a mid-layer. Hope this info helps!
John, your answers were very detailed and helpful. I was keenly interested in a response to the Beryllium. Thought I may have missed your response as you did mentioned it in your second sentence, but not again.
A jacket that's in the same league as Arc'Teryx (sort of)
As a replacement to my Arc'Teryx Theta AR jacket, the Beryllium seems capable to holding its own. What I cannot understand is why the main zipper is not water tight like all the others found on the jacket? If it was I definitely would have given it a 5 star rating. The flap with it's velcro tabs does protect the zipper, but, you would think that a water tight zipper would have been a better option. On a positive note, the Gore Tex Pro shell fabric seems less restrictive than the Theta. And after a good old fashion downpour, I was definitely warm and dry. Plenty of room of layering and the 2 front chest pockets are big enough for a Garmin 60CSX and the zipper tabs are really nice compared to the "string loops" found on the Theta.
Why are there no pit zipper in the Beryllium...
Why are there no pit zipper in the Beryllium Design? Do the main pockets vent?
Best Answer
This jacket does have underarm "pit" zippers for core venting.
Andy. There are pit zips in the Beryllium Jacket. It even states this in the Tech Specs. Also, the pockets can act as vents as well...
What is the cut on this jacket like? Is...
What is the cut on this jacket like? Is it as athletic as a compressor? Trying to figure out if I should size up to compensate for layers. Mediums are a bit baggy on me, but my chest is too broad for smalls.
Best Answer
The Beryllium Jacket is cut more generally than its cousin the Argon Jacket in our line as it is intended for a variety of uses and not just climbing. Based on your description I would say stick with the medium as it should accommodate layers with out a problem! Hope this info helps!