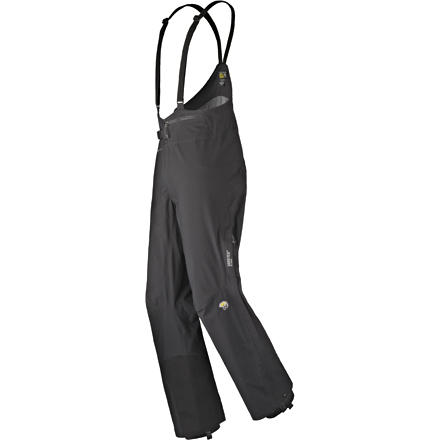 Community Images
The Mountain Hardwear Men's Beryllium Bib provides a lightweight shell for alpine summit pushes and technical ice climbs. Gore-Tex Pro Shell laminates the super durable FTX nylon fabric, guaranteeing total waterproof breathable protection. Mountain Hardwear gave these pants articulated knees so you can enjoy natural movement while you climb. The Beryllium Bibs high-cut back increases protection against icy winds and moisture, and powder cuffs block out snow from the bottom. Adjust the webbed belt and the bib straps' six-inch sliders for a comfortable fit.
Not quite the best of the best, but pretty good.
These are top-shelf bibs, made of the best Gore-Tex Pro Shell fabric, and absolutely anything you find made of that material will be expensive and high quality. However, in comparison to the other Pro Shell bibs out there, these are on the lower end of the class. Most of the others come from Arc'Teryx, and are more feature-packed (also, Arc'Teryx is made in Canada, as opposed to China, so it's easier to justify paying the $400+ dollars when you know the clothes aren't coming from a sweat shop).

All in all, the Arc'Teryx bibs are probably a little better, both in terms of quality and features, but if you're reading this review right now you may have noticed that the Arc'Teryx bibs are SOLD OUT everywhere right now, while these bibs are still around. I went ahead and got the Berylium bibs because "very good" is good enough for me, and they are available at around 30% off right now on the internet. I'm happy with them.

These bibs are absolutely bare-bones, with only one single pocket. Literally, all you can carry in it is a cell phone (if you have a small cell phone). Still, these are great material, and they are well-designed. They have a nice low front, high back design, that minimizes looking stupid and maximizes protection from snow going up your back when you fall. Perfect.

The fit is slim, I'm 6' and wear 34" pants and I got a large. I wear medium in other brands, but in this case Large was better.

Bottom line, if you find the Arc'Teryx Theta SV bibs for the same price, get them instead. If not, these will be 97% as good, so don't feel bad getting these.
After 13 seasons, I replaced my old Mt. Hardwear XCR bibs, which I loved. So far, I like these just as well.
PROS: crazy light; fit is streamlined, but still has room for a heavier base layer; drop seat; gaiters seem burlier than the gaiters on my old pant.
CONS: shoulder straps slip off my shoulders, which never happened with my old ones (criss-crossing the straps solves this, though); almost no pocket room (a pocket knife and a car key is about all that fits); when it's arctic cold and very windy, you can really feel how thin they are.
Bottom line: I'd be happy to ski in these for 13 seasons.
These bibs are great! I just used them several days last week on a ski trip on Mt Rainier. They have full leg zippers that help vent your legs, a built in belt at the waist and a high back that prevents my pack hip belt from pushing the rear waistband down. The combination of the front to rear suspenders and the intregral waist belt also solved problems I've had with other ski pants. These are more a pant than bib but they are exactely what I needed for backcountry skiing and alpine ascents.
I'm 6'2" with 28 inch thighs. I went for the XL and I'm lucky I did, as they're quite close fitting.
I got these to match my beryllium shell and they are exactly what I was expecting. Super lightweight and tough material is good for skiing. I love that they have suspenders but only come up to the navel, which is a great height. I'm 5'9 and about 145 and the medium fits great. They were plenty warm with a thermal layer underneath. The watertight front zipper is a nice edition and the zippers down the leg. They also are loose enough to accommodate my acl knee brace and the articulated knees are nice. Powder cuffs fit well around my ski boots and let no snow in. Reinforcement around the ankles are a good edition to prevent cuts from skis. I haven't had them out in any real wet stuff yet, but if they're anything like the jacket, I'm sure they'll be grade A waterproof.

The only thing that would make these better would be more pockets. There is only one small one high up on the bib, which is good for a cell phone or something small.
I've got a 36 inch waist and like the fit of the XL's. The quality feels really good and I like the venting that the full sides zips allow. They are a nice compromise between pants and full-on cover-the-nipples bibs.
ok, purchased these for working in northern Canada to be used in dense forest conditions on snow shoes...no trails. The first two times out they performed great! The material is well put together and no rips. The size is snug and should have gone for the large instead of medium...usually a medium. At any rate, the third time out, I noticed water(melting snow) starting to seep through the fabric on the knees and upper leg after only two hours of use...not impressed as I have to spend 5 to 8 hours walking in the forest and, it is getting worse. This is my first Gore Tex purchase and am not impressed. Figured they should be waterproof as stated in the specs for at least one winter. Plan on cleaning and applying the recommended water repellents to the exterior and try again. If you are planning heavy use with these pants I do not recommend them. For light use, they may perform well. I'll be contacting mountain hardware to inquire about the lack of waterproofing.
I am likely a medium of a large in these...
I am likely a medium of a large in these but it's hard to say without knowing the actual measurements. Does anyone have the actual garment measurements? I tried emailing Mountain Hardwear for the measurements but they never replied. fwiw, I am 5'10" 170 lbs. with a 39-40 chest and 31-32 inch inseam in most. Would the mediums be enough for layering over a medium to heavy weight softshell pant and a athletic cut softshell jacket, or should I size up to a large? Thanks!
Best Answer
Based on the sizing chart found on our website - mountianhardwear.com... I would say that you fall directly into a medium. However, depending on how you want to layer you might just might be more comfortable in a large. For reference, I'm and inch shorter than you and 20lbs. lighter and wear a medium. I fall right in-between a medium and a small but sized up because of how I use them. Hope this helps with your decision.
I wear medium and ordered these in a large - with a layer of fleece, poly pros, and under armor, there is not enough room to move. Returned for a larger size.
I feel like I've been living in these pants since I got them last november. The bibs are a great height. Nothing seems to get in.
I've worn them skinning uphill on super warm days and had no problem overheating.

Only complaints would be that I've gotten quite a few little cuts from skis on the outside of the pant leg. I wish the beefier cordura went 360 around the bottom cuff, not just on the inside.
Thankfully no crampon shots yet.

Also the velcro on the built in gaiter comes undone often and isn't that tight around ski boots and on regular boots is super loose.

I do wish it had 1 good size pocket on it. It does have a very small pocket that is the size of a single cell phone and thats it.
Meh, poor fit and questionable construction! I am 5'11", 165 lbs. I wear a 32-32 pant. I bought the medium. I wore these for a couple hours with a soft shell and a heavy baselayer underneath. Two things happened 1) the seam tape ripped at the bottom of the zipper. 2) The crotch is cut really high and made for quite the uncomfortable situation. I was not abusing these pants. I was hunting and wore them to keep dry. All I did was walk around for 4-5 hours. They were also a little short. I don't feel like these bibs can accommodate layering. I am sending them back.
These bibs are awesome! I feel totally bomb proof bushwacking in the wettest of weather. Super comfortable and a great ventilation system....and fairly lightweight too.
whats the inseam on these?? I'm 6'4" with...
whats the inseam on these?? I'm 6'4" with a 34" inseam, any tall guys tried these out? Any other recommendations?
Best Answer
These are great shells! I am only 6'1" but I have a 34" inseam as well. I tried these but ended up going with the Outdoor Research Mentor shells and jacket. I did have to size up a bit but they had a little nicer waist belt. I went with an XL. They're working great for layering especially.Hope that helps.
Are there 4 sipper pulls on the rainbow...
Are there 4 sipper pulls on the rainbow drop seat os that you can keep the upper part closed but vent down the leg or is the 3/4 vent a different zipper?
Best Answer
I'm not sure what you're trying to say. The drop seat and legs are separate zippers. You can unzip the seat of the pants (drop seat). Also, you can unzip the sides (3/4 zip).
They are all the same zipper but there are multiple zipper pulls so you can either vent or open the drop seat.
great buy these pants are the real deal.
, ☃bcs_badge_alumni_label☃
These pants have a drop seat, correct?
These pants have a drop seat, correct?
Best Answer
Yes, the Beryllium pant features a fully waterproof, rainbow-zipper drop seat. Hope that answers your question Amy3Dog!
Specs say that there's no vents. It may...
Specs say that there's no vents. It may be dumb to ask if that's right but I feel its also a bit dumb to make backcountry pants without vents.
Best Answer
They've got 3/4 zips. That's a pretty big vent.
The low-profile Bib is good for backcountry where we constantly shed and put on layers of clothing. The biggest benefit of this bib is the buttock opening, when nature calls, it delivers ... =)
I love these pants for alpine and backcountry skiing. I wish they made them for women. They don't so I bought the mens small (I am a 6-8 size chick). They are stylish and comfortable - and the best feature is the drop seat so when nature calls it's no problem to drop trough. I have been skiing in lots of conditions and they keep me dry. The zips up and down the sides are great for ventilation. These are awesome!