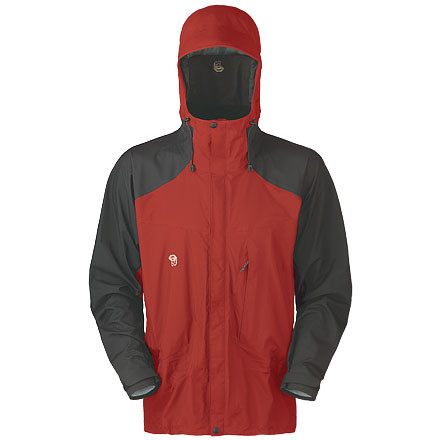 Detail Images
Unanswered Question
My father found a jacket, model # OM1231-693....
My father found a jacket, model # OM1231-693. I think this has been discontinued. What is the closest jack to his made by Mountain Hardware now?
Lightweight, quiet, waterproof.
Hiked for 3 hours in the pouring rain. Kept me absolutely dry! Nice lightweight and semi-fitted cut.
Unanswered Question
Will the hood fit a helmet?
Will the hood fit a helmet?
i have a mnt hardwear conduit softshell...
i have a mnt hardwear conduit softshell that is last years line of rain jackets it is red and black with grey and poka dot black tape seams. can you tell me the closest jacket line to this jacket or where i might be able to find another one?
It is called the Manticore Jacket and the closest thing in the line to it now is the Hooded Synchro Jacket. Hope this helps!``````````````````````I was re-reading my answer and realized that the closest thing to a Manticore Jacket in the line this year is the "Kramer" Jacket! Check that one out for sure!
Does the Recon have any fleece or anything...
Does the Recon have any fleece or anything to protect your chin and face when things get icy? cant tell from the photos. thanks
At the top of the main zipper, there is a flap on the inside of the jacket right where your chin would contact the zipper that has a very light -sorta like synthetic chamois- patch to protect your chin from the zipper in cold weather. Hope this answers your question.
Sweet shell at a great price
Really light for a 3-layer membrane jacket, and has a great fit. Its a bit taller for its size than a lot of other shells, which is a major plus for those of us with tall torsos. I've used it throughout the four seasons backpacking and skiing and it has yet to disappoint. Not quite the most breathable jacket I've used, but for the price it's hard to beat.
MOUNTAIN HARDWARE RECON PARKA
Got to wear this last weekend on a snowshoe/climb up on Mt. Hood to about 9100 foot level. This jacket did well in an ever-changing environment. Stayed cool due to pit zips and construction and yet warm when as needed from wind and cold. One complaint/concern is the zipper can be difficult to operate. You really need to have things lined up well to operate easily. This seems to be a common complaint with Mountain Hardwear products. Over all happy with product.
I love the brand. My disappointment came from realizing the jacket wasn't constructed with higher priced GOR-TEX fabric. Of course, it's half the price. It is also fully comparable, extremely light-weight, and finally, well designed.
I've stayed dry is several downpours, and look forward to the jacket becoming my main winter jacket. The light-weight makes it extremely good for layering.

The jacket is long, 2 interior pockets, 3 exterior pockets, good venting, roll-up hood, and soft material around the chin-zip. A nice addition would be a sleeve pocket.

If you can get this jacket, do it. You will not be sorry. If you want to spend twice the price for GORTEX, you can do that as well. But, I do not think you'll get a better jacket.
The jacket was great! Took on a summit attempt on Mt. Rainier and it was perfect for cold, windy and wet conditions. Super light, plenty of storage, good breathability.
3 seasons down - 1 to go (A+ so far)
The recon has dealt with everything the Adirondacks have thrown at it in spring, summer and fall, including -15F and snow. I compare it favorably to other 3-ply Gore-Tex parkas I've owned from TNF and MH. It's light enough to carry in your backpack all year long. The two side pockets are a nuisance sometimes, but it's a weight/cost tradeoff I guess.