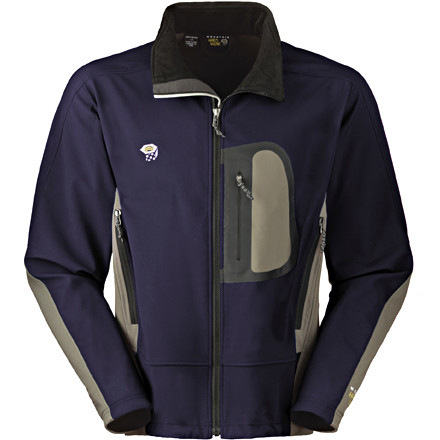 Detail Images

Community Images
Sadly, Mountain Hardwear is no longer...
Sadly, Mountain Hardwear is no longer making Alchemy Softshell. Can somebody tell me what is the replacement in MH line for this jacket, or simular one from different brand? Thanks
Agreed. Possibly the best jacket I have ever owned. You ever find something?
I have had the Alchemy for a few years, and this has been a great jacket. It looks great out on the town, and also is good as a layer for skiing or ice climbing.

Disclaimer: I test this gear for Gore.
Still in my wardrobe after 3 years
Gender:

Male

Familiarity:

I've put it through the wringer
This is a great jacket, and has a very long life. Eventually some of the stitching has blown, but it has last 3 years of heavy abuse, and with a little sowing will go another 3 years. It is waterproof, breathes realatively well for a softshell, and insulates just enough for light and fast.

Dislaimer: I got this jacket as a product test.
Best softshell
Gender:

Male

Familiarity:

I've put it through the wringer
this is so much nicer to wear than cheap softshells, and has essentially been waterproof for me. Is amazingly warm - the only problem is I lost it. (note - I regularly review stuff for Gore)
Great Softshell, but Tiny Cuffs!
This is, by far, one of my favorite jackets. I take it on nearly every trip, all four seasons in Oregon. It's decently water resistant, warm for the weight and loft, close-cut enough that I can climb without it being in the way, and takes a beating without damage. It's almost completely windproof as well, the only draft being along the hem where the elastic cord has worn out.

My only real gripe is the tiny internal wrist cuffs. I get that they're supposed to be tight-ish for keeping ice and snow out for climbing, but they're so small that I can hardly get my hands through - and forget about pulling your sleeve up to check your watch! I wish they were a little bit softer on the elastic or maybe adjustable.

My review of this product is in no way influenced by the fact that I'm in the Gore MountainTechs product testing program. I'd say the same if I weren't...
good jacket, different fit
The materials really are nice. Fit is good and not so good. First off, you really can raise your arms or stretch to any position and the sleeves move independent of the jacket - very nice. The jacket is trim through the torso; room if you're big in the chest, not if you are big in the gut. Also cut short which is good for some activities, but poor coverage for skiing. Hand pockets are placed high, and the cuffs seal up tight and weren't a problem for me.
does this jacket fit the same as the Android...
does this jacket fit the same as the Android jacket? I'm just looking for sizing purpoces.
BT. The fit will be similar between the two jackets but the Alchemy has a little more of what we like to call an 'athletic' fit. I hope this info helps!
Thanks for the reply jon!
I tried on the Android and it fit perfectly in the Medium... I'm worried if I get the medium in the alchemy it will be too small....
what would you recommend? Medium or large?
I'm 6'1 175 lbs. 32" waist.
Thanks in advance!
I'm 6'1 175 LBS. 32" waist... should I go...
I'm 6'1 175 LBS. 32" waist... should I go with the Medium? Large ? or XL? Any feedback would be appreciated.
I wear a windstopper fleece in large but its pretty baggy on me ( i know its more of a box fit versus athletic fit)
Best Answer
I am 6 ft 175lbs and have a 32 waist, I wear a medium
Thanks for the feedback!!
Was this snugg? or did you have any room for layers underneath? Also how was the length of the torso as I heard this is pretty short.
If you can let me know that would be great!
I find MH products to be all over the map with sizing and I am concerned about this one... no retailer sells this product where i live.
i'm 6'1" ... 188 lbs ... 34 waist ... broad shoulders ... wear a 42 reg in suit ... bought an XL and it was perfect
Have not had it on the mountain yet but initial impression is that it is better quality than I had expected. I have a small gripe that the cuffs are not adjustible because the wind guard in the inside fits so tightly that I am afraid that it will cut of circulation when my light gloves are layered under it. Godd buy for the money and the DWR sheds rain purty well. I will give a more extensive review when I get back from the Snow Dome of Mt. Olympus WA with it.
A question for Jon Webb: Do those Schoeller...
A question for Jon Webb: Do those Schoeller fabric side panels have the WindStopper membrane in them? Since WindStopper membrane did not have very good breathability, it would great not to have it in the side and arm panels. Thanks!
vml. The Schoeller side panels do not incorporate the windstopper membrane. The panels are 4-way stretch and air permeable adding, breathability, mobility and versatility to the jacket for whatever you want to throw its way! I hope this info helps! Cheers.
Great! Here we go breathhhhhh! Don't need no stinking pit zips! Thanks Jon!
This is one awesome soft-shell jacket. I have a small frame weighing in at 135 lb and standing around 5'6" with a 29" waist line and 30" inseam, and this 2010 size small jacket fits me like it was tailored to my body. This jacket has a slim fit with a taper effect from shoulder to the waist line, making me feel like a true athletic to wear it. I believe that this jacket is best for a skinny dude like me, as I would imagine a muscular person might have a problem with the slim fit of it. The sleeves are just perfect for being not too long nor too short. There are so many similar jackets (Gamma MX, etc.) out there that have excessive long sleeves, making them fit uncomfortably around the arms but not this one. The wrists are a little snug with gaiters to seal out the elements but I think they will loosen up a little with some use. The length of the jacket has a "waist line" cut (about 3" below my waist line) with a drop back hem. I usually hate drop back hems but the drop back hem on this jacket is not pronounced at all for some reason so it is cool with me. I have owned a lot of MH jackets but this one is kind of unique, as it does not have the big MH written on the chest area, just a Nut logo, which is great, as I prefer the big letters to be written on the forearm or somewhere not easily seen. Speaking of logos, MH logos are threaded and embroidered with a touch of class, not etched on like some other big name makers that I have seen. The neck even has a cinch cord for neck diameter adjustments. The only thing I would like to have on this jacket are pit zips, as the Gore Windstopper membrane is not very breathable for some high aerobic activities. As for workmanship, it is good but I have seen some end threads sticking out a little in certain areas on the arms, which is not quite acceptable for a $200 jacket. Regardless, it is a 5-star rating for fit and function but I will give it a 4-star rating for workmanship. All in all, this is one of my favorite soft-shell jackets. I have 2 of them in my closet.
Hi ive read the reviews and im worried...
Hi ive read the reviews and im worried about getting the size right im 6'2'' and 155 pounds and was trying to decide between the large and extra large i just doint want to order it and for it to be too short in the torso....thank you for your time
I don't have a recommendation about L of XL, but I can tell you that I am 6' 140 and the Medium fits me pretty well. It might be a little on the short side, but not too short. I will say that it is a little tight through the armpit area with a thick layer underneath (like a sweatshirt). It depends on whether you want it to be an 'athletic' fit or a loose fit. Depends on personal preference. If it doesn't fit, send it back to BC. They will exchange it, no questions asked. Hope that helps.
My husband always says he doesn't need anything....but he has yet to take this jacket off. He loves it! He wears it to work, to soccer practice, to the playground, out to dinner, skiing, hiking, dog walks, you name it! He can layer if it is really cold, he stays dry if it is raining. He is 5'11", 185lbs. and the XL fit him really well with room for layering. We bought it on sale and what a steal for a Gortex jacket. I know he will have this well-made jacket for a while and it has a classic look so it will not go out of style. I am pleased with my purchase and so is he, although he would never admit it :-).
I just got this jacket and really like it!...
I just got this jacket and really like it! But I was curious what the point and reasoning for the 'double' cuffs. Can someone help me in understanding them and why they are a good thing? Thank you!
Best Answer
Hey Eric,

Sort of MHW's version of an elasticized cuff. Keeps out snow, moisture and drafts. You have to keep in mind that this was designed as an alpine climbing piece, and that overhead reaches are something to consider in that regard. They do take a little getting used to, but they do work as intended. Hope that helps.
I returned this jacket, mostly because the fit was too boxy for me (6'3", 170 lbs), other MH products have a slimmer fit, e.g. the Nitrous.
Write your question here...Rocky Mt....
Write your question here...Rocky Mt. weather, guide, 6ft 1inch, 215ibs, athletic build..size I assume for the fit to allow one thin fleece under is XL??? Thanx guys..unreal price!
Best Answer
Hey Art,

Yeah, the XL sounds like where you should start. Double check your chest measurements first, and give yourself a couple extra inches for your build. I agree...great price for a great jacket.
Hey all Have a sizing question for you. I...
Hey all Have a sizing question for you. I ordered this in a Med. I'm 5'8, 160 lbs, 40' chest, athletic build. I like the length of the jacket, length of the sleeves, and pretty much how it fits. However, the jacket gets very tight under my arms and into my armpits. Trying to decide if I should exchange the medium for a Large, or if this jacket will not fit me. Any thoughts? How much longer will the sleeves and jacket be in the large vs. the medium. Any and all help is appreciated. Thanks!
Best Answer
It absolutely sounds like a matter of your build, and on such a closely fitted piece, the armpits, shoulders and triceps are definitely where you're going to feel it first. You're right in the middle of the ranges for chest measurements in the Med (39-41" vs 42-45" in the large). A couple/few extra inches should make a huge difference in the fit, but without giving you too much extra material. Basically add 1" to the length of the sleeve and center back on the large. Give it a shot. If you can get the fit tuned in, you'll be happy you explored your other option.
I'm 6'5" and weigh about 180lbs. Is there...
I'm 6'5" and weigh about 180lbs. Is there any chance this jacket will fit me in a large or an XL? I don't want it to be very baggy.

If not any suggestions of another softshell in this price range with about the same performance?
Best Answer
Craig, because of your height I think you will need the XL and it will be a little baggy on you.
Im trying to decide between this Softshell...
Im trying to decide between this Softshell and the Marmot Moran... Anybody have an opinion?
Best Answer
No doubt in my mind...the Alchemy. Let the reviews and comments speak for themselves. You won't be disappointed. The Alchemy is the real thing.