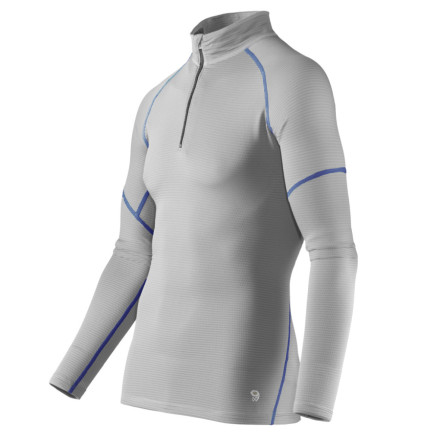 It's totally true that the ladies appreciate freshness. You know that (hopefully). But so do your roommates and the folks stuck in the car with you on the ride home from a long ski day or backpacking expedition. Wear the Mountain Hardwear Men's Advance Lightweight Zip T for some serious wicking, quick-drying action. Treated with a natural substance called Chitosan, the Advance Zip T resists odors, fungus, and bacteria. So you feel comfortably dry and you don't smell like a ski patrol locker room.
I'm 6'1", 31 waist, 38 suit, 15.5/34 shirt, 160lbs: Medium was too small. Large is perfect.
i got this recently and was startled, im almost always a small in every baselayer, ever... but this is rather tight (mainly in the chest-pit-lat area) although it has stretched out (barely but still slightly more comfortable). Im 6' tall 135-140 lb, i also wish the arms were just a tad longer (i have loooooong arms +5 ape index). over all though its amazingly warm and the material feels great, gotta love the zip neck
I bought "medium" size and it was too tight, especially in the back. I felt a bit restricted from moving my shoulders forward. "Large" size is good for me.
I'm slim built: 6'1'', 159lb, 15.5 shirt, 38 jacket.
Own 3 , very durable.

Well worth the price. They run tight. This will look horrible on you if you have any gut. I'm 6 ft, 180 with large upper body. 30 waist.

I wear XXL in this product.
Decent shirt, but don't think this is anything other than a really thin T-shirt replacement. I have a few other performance shirts like this from Mountain Hardware and NorthFace, and they are much better than this. They are thicker, fit much better, and have long enough sleeves and body, and are about the same price. This thing is short in the body and the arms, not a good thing for outdoor activities. ALL of my outdoor gear is usually perfect or long in the arms and body, which is a must for activity gear like this. Plus it's super thin, no warmth what so ever. But if it fits you, and you don't mind that it's super thin, than it seems like a nice product, but not for most people, and at 50 bucks, there are much better options in this price range.
I really wanted to like this shirt. Everything about it is great except the zip collar. The collar is not stiff, and there is a garage for the zipper, but it still chafes my neck. If I was wearing this birdwatching or something it probably wouldn't bother me, but every time I look down in the slightest I'm reminded of the sadness.
mtn hardware advance ltwt
We chose the raglan sleeve syle to fit under the arms, but this one was too tight , so it got sent back without use. My son wears a men's medium, and is muscular, but not what I'd call oversized in the chest and arms. The medium fit everywhere else, so I'd have to say that the underarm is skimpy unless you are very thin.
this top definitely wicks and after even several days of wear it does not stink as long as it's aired out... but read carefully... it is LIGHTWEIGHT!!! really light... like I wear another base layer, then a fleece then a shell or jacket.
Fits great. Feels good. Snug, but not confining, and very comfortable.
For backcountry or resort skiing, the Zip T is my upper base-layer of choice. I've used them since they first came out (2000?) and have yet to wear one out. They are a nice blend of close fitting comfort and warmth, without being too clingy or hot.

The long neck zipper is a nice feature as it allows you to vent on the uphills, then zip the neck up tight once you get to a windy ridge. The fabric breathes well, disapates moisture and dries quickly. I have worn a Zip T for weeks on end during expeditions and they are still warm & comfy - even if they reek.

The only downside is that they don't have a small zipped pocket, which would be nice for a key, chapstick, etc.