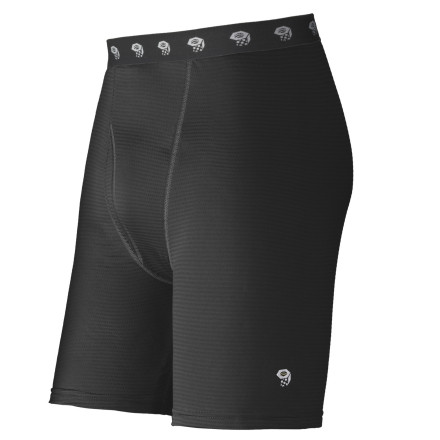 Those boxers are great. They fit well; they are breathable and dry realty fast.
Yup! Like 'em just fine, skied in them again today...I'd give 5 stars, but really, how exciting can boxers be?
Well made boxer used for long hikes/walks. Not sure about running; may need to size down if possible.
The first generation of antimicrobial...
The first generation of antimicrobial Mountain Hardwear briefs were way too loose and not form fitting.... are these tighter and hold our "packages" in place better to avoid chafing and to prolong trail distances without having to recover from such mundande discomort?
Best Answer
They are still fairly loose compared to others out there. These are high quality, but could be a little more form fitting for what you pay.
These are the best underwear I have ever worn while hiking. I bought several pairs. Just got back from a 7 day hiking trip in the Smokie mtns and they were flawless. The only thing is that the waist band rides rather high above the hips.
the best boxers i ever bought cotton is dead it feels like im free balling
Not satisfied with these. Definitely need to size down. Also, the cut does not flow well for more aerobic activities like running, speedskating, and team sports. But, suppose it would work well with hiking. In addition, the fly tends to open up when sitting or whenever one would bend that way, so watch out in locker rooms.