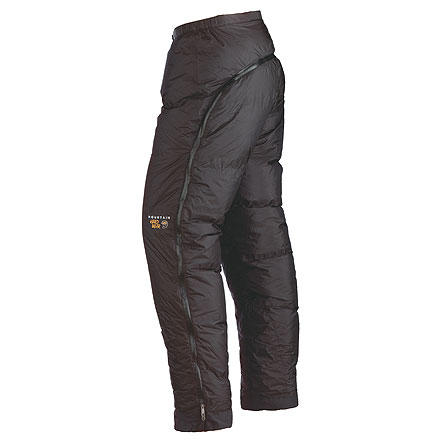 The Mountain Hardwear Absolute Zero Pant is for the most extreme ascents in the most extreme conditions nature has to offer. The Absolute Zero keeps you warm with 800-fill down held in place by welded baffles. Wind, rain, and snow aren't an issue thanks to Conduit SL Laminate that makes the pants totally water and windproof so you and the down can have yourself a pleasant little toasty warm party inside. Speaking of parties, when you reach the summit and crack the champagne, you'll be able to open the 4-slider watertight rainbow rear zip to moon the camera, or just to take care of nature's call on the way up. Reinforced knees won't get torn to shreds if you bash them against ice and rocks on the way up.
Share your thoughts
What do you think of the
Mountain Hardwear
Absolute Zero Down Pant - Men's
? Share a...
I'm 6'0" 200lbs, large quads and thighs, and buy 32inch inseam pants. I bought a large and it fit great. It covered my butt enough that snow did not go down my pants. It was super warm. I used it in yellowstone while doing photography. I sat for hours in knee to waist snow. No problems with the cold. I wore a base layer, Icebreaker leggings 260, and was very comfortable. The temps were rather warm 15-30f but like I said, I was sitting in snow for hours. I read a review about the suspenders not being great and I could see how they would go bad after several uses. Thats the only bad thing but they worked fine for me. Easy to get in and out of. I would buy it again with no hesitations.
I live in the Dakotas and take photos at night. This has been a harsh winter with temps colder than 30 below, high winds, and many blizzards. I was out in all of that, at night. Pants work great by themselves down to about 15 below, and with midweight tech base layer they were plenty warm at 32 below. Would likely have been warm at temps even colder. They shed wind and snow very well. Easy to put on; the zippers are great. I can stand around for hours out in these and easily withstand the cold. The only thing I might add would be a pocket or two. Then again, my parka covers them way down on the legs anyway. If I lost these, I'd buy another pair. I have no trouble driving a car wearing these. Size ran true for me. If you live further south of where the lakes freeze solid enough to drive cars on, you likely don't need these.


Kent in SD
These are replacing a more than 10-year old pair of North Face Nuptse Pants. So far they are GREAT. Very warm, the half-moon zip mirrors my climbing bibs, and Mountain Hardwear makes really dourable stuff. My only complaint is the lack of pockets. It would be stellar if there was a pocket on the thigh or on the interior for small items.

I'm using these in conjunction with the Absolute Zero Parka for belays and stops while climbing in the winter here in Colorado. So far, no complaints.
Love these pants, finally something to keep my legs warm when out all day in well-below-zero and windy weather. Also keeping me dry when its warmer and wet. The front fly zipper is a bit fragile and does jam on fabric, like Roy said. Only wish they came in a version cut more for a woman, i.e. higher in waist at back. Otherwise very happy and would purchase these again.
Compared to the Marmot 8000M Down pants,...
Compared to the Marmot 8000M Down pants, which one is warmer? Would one ever need to put either insulating layers under a hard shell if the both use a waterproof laminate?
They are probably about the same warmth, both being 800 fill down. Both pants are made for serious cold so it would have to be extremely cold to need a lot of layering. Also if it is that cold you won't have to worry too much about water getting in, but they do both use laminates so you should be good without a hardshell.
I'm a wheelchair curler and as my circulation is not the best I wanted something to keep my legs warm and not be too heavy when on the curling ice.THE ABSOLUTE ZERO PANTS are great in both respects. With them, plus my down filled slippers I also purchased from you, my legs and feet remain nice and warm during a game. The zippers on the pant legs make it very easy to get the pants on and off.
The only problem I'v encountered
is with the front zipper, the teeth are too fine and jam easily on the material. A larger heavy-duty zipper would fix that problem
i returned these for some north face himalayan pants which have a soft bib, a napolean pocket on the bib and snap cuffs. the mtn hardwear pants have essentially no cuff...no elastic, no cinch, no snap, no nothing. there is also no waist adjustment save for a single snap and the suspenders seem pretty skimpy.
I'm interested in the "mountain hardware...
I'm interested in the "mountain hardware absolute zero pant" is the 20% off apply to all sizes, do you ship to Canada?
Best Answer
I live in Calgary and received both the absolute zero pants and absolute zero jacket. Unfortunately at the boarder I think they ripped the pant when opening the box so I contacted back country - they sent replacement pants before I returned the other pants and picked up the other pants at their expense - all happened very quickly - So in answer to your question yes they ship to Canada and they are worth it
We live in N.E. Ohio, my husband is outside...
We live in N.E. Ohio, my husband is outside in winter, in lumberyard. He is at end of tattered downfilled hunting jumpsuit, would these pants work?
Best Answer
These are crazy warm but not exactly made for industrial use. I'm concerned that if he will be working in these at the lumberyard he will tear them open. They may work just fine as they are high-end and high quality. I'd just hate to see you spend so much and have them tear open.----------------They'll be way too warm if he's moving around or lifting or anything. Go for a solid pair of Carhartts with long underwear underneath.
I need an inseam of 34". Does the ab-zero...
I need an inseam of 34". Does the ab-zero down pant come in a large long size?
Best Answer
It does not. The size is essentially a "regular" so the medium comes in at right around a 32" inseam. The Large would be a tad longer. Hope this helps...
Mountain Hardware Absolute Zero Down Pants
I bought these pants for a recent trip to Denali, and they didn't disappoint. They are incredibly warm, and are great for hanging around camp and making your partners jealous. I don't use them much while climbing because I stay warm from all the heat generated from movement. When I have worn them though, they're easy to take on and off with the side zips. The suspenders make them bib-like, and combined with a jacket with a draw string waist it makes a pretty good seal from the elements.
Warm, light weight - great for going light and fast
I like to bivy on top of mountains (makes for a great view in the morning!). I always take these mountain hardware down pants with me. They compress down quite small and they're obviously very light (hey that's the nature of down). For winter mountaineering I actually just bring a light weight Marmot Hydrogen (30 degree) bag. When I combine that with these mhw pants and a TNF nuptse and a 1 lb 6 oz Black Diamond bivy, I'm plenty warm. The bonus is when you get up in the morning you can roll out of bed and make some jo and you're a lot warmer than you'd be with your gore-tex ski bibs.
a bomb shell !!! you look like a clown but up there who cares finish is great, fits in a very small bag. Be aware if its not freezing out there you might loose a few pounds sweating
I ordered these pants after coming back from a winter camping trip in Wyoming in January that left me wishing for more insulation. They are extremely warm! The waterproof fabric is also a huge bonus seeing as they are insulated with down instead of synthetic. I was concerned about the zipper as it didn't unzip the pants for easy on/off, but I found I could undo the zippers most of the way, making the leg tunnels huge, and easily step in even wearing ski boots and booties. I used them in the Adirondacks for a ski trip and was almost too warm. I also spilt a bit of water on them while cleaning out my bowl and was delighted to see the water just roll down the fabric. I am a smaller woman (125lbs, 5'2'') and ordered a men's small. They fit nicely over my long underwear layers and are a great length (not too long like most men's ski apparel.) A medium would have fit over all my lower body layers including my ski pants, but I think they would have been way too long. All in all, a great product.
these pants are very warm, fit well and very light, don't even have to layer with them here in Tennessee.
Needs a waist adjustment, wider suspenders and an inch or so more inseam. Otherwise these are very warm. Only marmot has competition and those are too extreme for most things. These can work when absolute warmth is wanted.