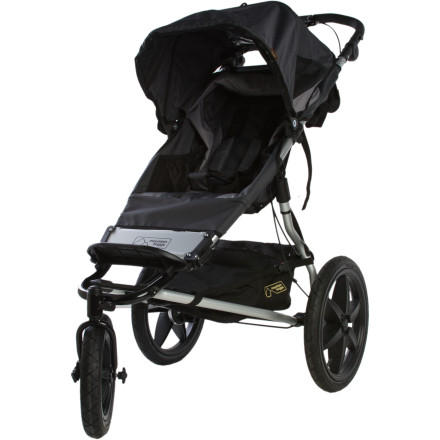 Detail Images
If you're an avid jogger who needs a daily fix or a hiker that likes to get off-road, you need a heavy-duty jogger like the Mountain Buggy Terrain Stroller. This burly folding jogger features a shock-absorbing suspension that offers a smooth ride no matter what you're rolling over, so junior can enjoy the scenery in comfort while you get your sanity-saving exercise.
Front wheel can be allowed to swivel freely or can be locked back or forward
Handle adjusts so joggers and hikers of different heights can comfortably handle the stroller
Five-point safety harness with padded chest holds your little one securely in place
Adjustable sun canopy offers shelter from the hot sun
Hand brake controls your speed on downhill treks
Foot brake keeps the stroller locked down when parked
Seat position goes from full upright to reclining when it's naptime
Covered gear tray below the seat zips closed for safekeeping
My son is 44 inches tall, is he too tall...
My son is 44 inches tall, is he too tall for this stroller? Or would I have to remove the canopy?

He only weighs 40lbs, so it will be a while before he reaches the weight limit, but the seat height is not specified.
Maximum seat-loading for the Terrain is 35kg/77lb,This seat is for a child of 100cm/39.4?maximum height.
What year is this stroller? And what color...
What year is this stroller? And what color is it?
The stroller is the 2013 model and should be the dark color pictured which I believe is the Flint/Marble option.
I have not had time to buy this stroller....
I have not had time to buy this stroller. it will no longer be on sale, or makes sense to wait?
Hey Anna,

We offer 30 day price protection. Should this stroller go on sale within 30 days of your purchase, we can adjust that price for you.
Best Answer
Just unpacked my buggy and it's serial number is mb2-t121, dated March 2013. MB2 appears to be the latest model (now is May 2013).
Great Ride and Great Features
I have used many jogging strollers, all the big names but Mountain Buggy is my favorite. Here is why- easy to collapse, like 5 seconds or less; front wheel spins free and locks, but has 5 degrees of "play" so you can still steer it while running; love the bottle holders; window in canopy to peak at my kiddo while running; Canopy moves around so you can position to block wind or sun; easily stores vertically by itself not hanging; and lastly it is a jogging stroller not a trailer trying to be a stroller BIG difference.