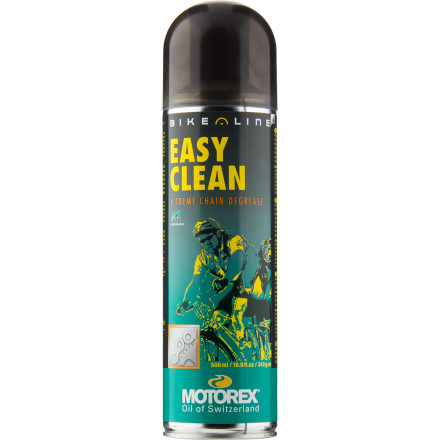 In the old days, professional mechanics used kerosene to degrease chains and drivetrain components. While you're still welcome to use the old school ways, modern technology offers safer and more effective methods. Motorex Easy Clean is an aggressive, highly active solvent that works quickly to rid your drivetrain of grease and dirt.
Simply spray Motorex Easy Clean degreaser on your chain and other drivetrain components, and wait a few minutes for the cleaner to penetrate. Then use a rag, brush, or sponge to scrub away dirt, grime, and old lube. Once clean, you're ready to re-apply a new layer of Motorex Dry or Wet lubricant to match your riding conditions. And here's a pro tip: use separate brushes or sponges for your drivetrain and frame. By doing so, you'll avoid getting dirty lube and grease all over the rest of your bike.
And the best part? While most degreasers and solvents need to dry completely before you can reapply lubrication (which can be a pain if you're pressed for time), Motorex has engineered its Easy Clean solvent base to be compatible with Motorex lubes. As a result, you can re-lube your chain right after degreasing, a time saving feature for busy home mechanics.

Motorex Easy Clean comes in a 500ml bottle -- enough for 10-15 applications.