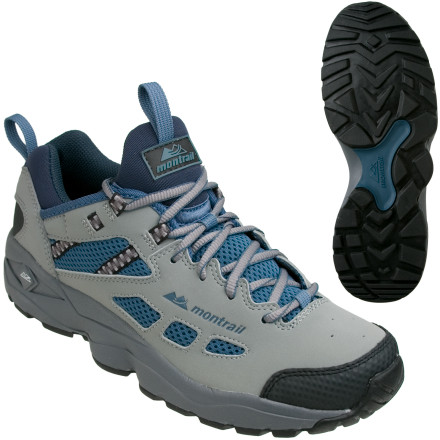 Detail Images
Unanswered Question
Former Vitesse wearers, what shoe do you...
Former Vitesse wearers, what shoe do you use now?
I need a size 10 - men's - Montrail Vitesse...
I need a size 10 - men's - Montrail Vitesse Trail Running Shoe in Gullgray-blue. Where might I find a pair or two? Thank you!
Mariah. I would do a Google search and see what comes up. This shoe is not in the current line and they are going fast! Good luck.
Long Haul Industry Standard
Montrail Vitesse are excellent, award-winning shoes. I've been through about six-or-seven pairs of these shoes over the past decade and used them for trail running, hiking, kayaking, and as daily street shoes. They are some of the most comfortable trail shoes one can find and they fit like a glove. They are roomy in the toe area and have a soft feel that is nice both on and off the trail. I moved on to other Montrail models, including the Excelerace and Stratos over the past few years. Both of those sported a Gore-tex lining and I went through a phase in which everything had to have the Gore-tex lining. The Vitesse is a great long-distance running shoe, not shoe/boot combination as those other models. Instead of the Vitesee I am now using the Montrail Namche for day-hiking because it provides more ankle support. For true trail running, I recommend the Inov-8 line of trail running shoes, particularly the Roc-lite 315.
2nd pair, with over 1k and 3 continents on the 1st. montrail is a cult... yada yada yada. run fast, run far, have fun.
I have heard a lot about the sizes running...
I have heard a lot about the sizes running small on the Vitesse. I wear an 8.5 US. Should I get a 9 or 9.5?
The Vitesse runs true to size for me. The only Montrail shoe I size up is the Hard Rock. If you plan to put in long days, I'd give myself some swelling room in any shoe. ---------------------------Try 1/2 size larger... but know also that it is a relatively roomy shoe... built to accommodate LONG runs (swelling)!
Good trail shoe with excellent quality construction. However, after purchasing multiple pairs, I have noticed the sizing of the shoes are not consistent. This is my only issue. I have noticed the sizing on other Montrail shoes as well.
Does this shoe, Montrail Vitesse, come in...
Does this shoe, Montrail Vitesse, come in "wide"?? I fractured my toes, so need a wide toe box. Thankyou! Jo Annjdfallis12@msn.com
They have a pretty wide toe box... not sure how wide you need? I have a wide foot and they accommodate. If you are looking for a 'wide' check out the Hardrocks from Montrail. Hope this helps!
Vitesse Trail Running Shoe-Men's
I have been purchasing Montrail Shoes for over 8 years. This product is superior in quality to almost any other sport, hiking or casual running shoe in the same category. The Vitesse Shoe has a very solid last and has performed up to my expectations. This Montrail is similar to another shoe I bought 2 years ago. If you desire a snug-firm fit, this inner sock will grasp your foot securely. Wear thinner socks and the shoes fit even better. Montrail is the best quality in their price range.
I stumbled upon this shoe on sale about a year ago and loved it right out of the box. At first, I was a little concerned that they would get too hot and tried 3 other shoes in preparation for my first 100. I am back. The sock liner and protection are great. I found the protection to be very good but not hard like the Hardrock's. For the price, I don't think you can beat it.
I am using these to run my first ultra. Great shoes...support and comfort, and a great value as well. Highly recommended.
This shoe seems lighter and more nimble than advertised or reviewed. Make no mistake, it is a true trail runner, but it has none of the bootish clunk I expected. Very protective and confidence inspiring on rocky terrain, but still feels like a running shoe on dirt/fire roads.
This is the second pair I've bought of these. The first pair I initially got well over a year ago for the gym but they were so comfortable I started wearing them around a lot more. I recently spent 10 days doing day trail hiking with them and they are still holding up great. I decided to get another pair just to have them around.
I reviewed before but was asked to review again. The shoes are the best. Putting some mileage now on them and they are better each time I take em' out.
The Vitesse by Montrail are by far the best trail runners I've ever used. Excellent for anyone having the tendency to roll their ankle on stones and roots. Also, the sock-like lining is comfortable, and the bomb-proof soles are a must on rugged terrain. Only down side is that they aren't the lightest shoes out there, but then again the tradeoff is well worth the protection and comfort you get.
I was very skeptical before purchasing this shoe. I pretty much went off of a lot of other reviews of it. All I can say is after trying several other brands out there this shoe is by far the best I have had. I didnt want the Gortex; it breaks down and doesn't breath all that well. This shoe is just fantastic. I've put several miles already on it. Trail, pavement, hiking, etc, it does it all. No issues with the size, they're pretty much true accross the board. This seriously could be the best trail runner I have owned in a very long time. Customer service support was excellent as well here. Very happy with my purchase. I highly recommend it.
Owned a pair of these several years ago and was impressed. So when I was looking for a new pair of trail runners I bought these again. Very light weight and super comfortable. They are sized a little small; I bought a half size bigger and feel I could still go even larger.