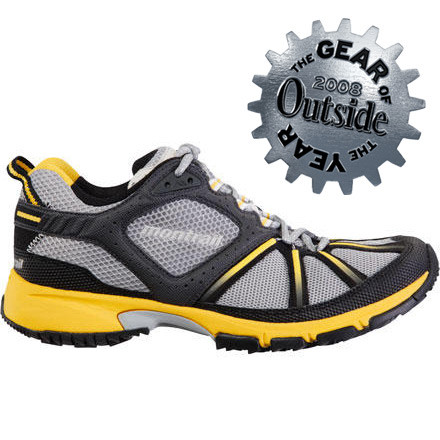 Community Images
What's sad about the shoe industry by Warner Springs Monty
I have hiked/backpacked almost 14,000 lifetime miles, 10,000 of that Long Distance hiking on the Pacific Crest Trail. A thru hikers most important piece of gear is his shoes. It makes or breaks him.
Every couple of years a shoe company comes out with that very rare pair of shoes that works for me. I mean really works well. One that greatly reduces the causes of blisters, heat, friction, moisture and pressure.........then they change it right away. Never fails. Every shoe that has ever worked for me is no longer made. This WAS the best shoe I have ever used. WAS! Again, there may not be another shoe on the market that will work for me. I am preparing to hike the Pacific Crest Trail again. On a sell out I have purchased 7 pairs of these shoes from 4 sources, 5 or 6 I will need for this year's hike. After these are gone I will have to go through the same process of trying out 25 pair of shoes again with no guarantee I will find one that will work for my 2011 hike. Great Shoe. Bummer industry. Check out what I have to say about these and other shoes on www.trailjournals.com ."Warner Springs Monty" Tam
Light, stable, comfortable and well crafted!
I've never written an online review but these are the best all around shoes I've ever tried. They are well thought out in every detail and meticulously crafted.
Stability, lightness, durability and comfort are a tough combo to find, and the "Streak" has em all.
These shoes are light, sturdy and look pretty sick. The picture makes em look pretty ham, I was worried but don't fret, the ladies won't diss. The tread is great, aggressive without being uncomfortable. Support is solid.
Probably the best running shoes yet. Every time I run in them , it reminds me to let you all know how fantastic they are. Really, get a pair. I'm ordering my second pair now.
I love these shoes! They are my favorite ones! I'll confess: I don't use these for running... yet (still healing from surgery), but from mere walking around in them, they make my feet feel grrrrrrrreat! It almost feels like they give my whole leg a workout. They air out well, feel snugly and cushiony. Want to purchase another pair for later!
First run was 27 miles and no blisters and no problem! 2nd run was a 26 with no probblems. I actually went with a size 11.5 because they do run a bit big. Felt great. They are light and responsive, and have some great grippy soles. I tend to run street to trail and they feel great on the street also. I recommend and I will be buying more.
Saw a couple reviews raise durability questions so I figured I'd just show my shoes. I'm 6'1" 175# and this is the very shoe I ran the MAS 50 and a R2R2R in last fall. I probably also had 50-100 training miles on this pair. I don't see any signs of the mesh falling apart or knobbies coming off. If others are having problems with the shoe, would be helpful to see pictures of the damage. I train on a fair amount of jagged rocky terrain in the Wasatch so I think I give a good test to a shoe, have certainly seen a few pairs explode!
nice wide toe box! but they don't last well
i bought three pairs of these shoes over a few years. i was pretty happy with them, as they support my narrow heel/wide toe box combo; they have a incredibly spacious toe box, it's great!! they look pretty good, at least until the webbing starts to deteriorate. on the trail, they are fine shoes, but i found that their comfort does not last very long. so i've switched to other shoes that might not be quite as initially comfortable and fun (so light!), but that hold up better, both in terms of looks and in terms of comfort.
These shoes cradle my somewhat narrow feet like a dream. They have good arch support and a lot of room in the toe box (felt weird at first, but you learn to appreciate).

Great on the trail and street... I'm considering another pair for a back up.
I got these shoes from SAC and was pumped to get a great deal on them. I have the mountian masochist and really liked them so I figured I would give these a try. They are no where near as good. I can't run in these at all. I thought they might be better once I broke them in but they tear my feet up. The side of the shoe rubbed a cut right into my foot. They have good tread and feel ok to walk around in but hitting the trails is a different story.
Great heel cushioning and roomy toe box for me, which I don't have a wide foot. The Lacing system is different then most shoes as it focuses anchoring to the middle of the foot so they feel different but good.
Just picked up three pair as these are the best lightweight trail runners I have found. Use them for ultralight packin' shoe. Unbeatable for summer hikes, well made, order 1/2 size up though!
I was a bit suspicious at first. When I think of running shoes I think of Adidas, Asics, etc. not hiking shoe companies with their heavy bulky stiff shoes (even if I am going going off road). These are some of the best trail shoes I have had. Light, comfy stable, I can't think of a serious complaint. I am just dropping a note while I am here picking up my second pair.
The weight of these shoes was appealing enough to purchase them. Unfortunately, they have a seam in the instep that completely mutilated my feet after only 4 miles. I have very high arches and have tried these shoes with both custom orthotics as well as Montrail moldable inserts and had the same problems. After only 4 miles the instep seam had caused a large enought blister to soak blood through the shoe. I have given these shoes 6 tries with the same result each time (while fully healing between each try).
This is a great trail shoe. I had moved away from Montrail to try some other options that were lighter and less bulky (after running the Vitesse for about 2 years). This shoe brought me back to the Montrail fold with it's nimble performance in the technical downhills and classic Montrail bomber construction. Looking forward to taking them out for their first 50m this weekend. I bought a half size smaller than I have previously with Montrail, don't know if this is a new trend for Montrail or just a little glitch with this shoe. Would be curious if others have noticed anything in their fit? More Miles!
++ Ran a 50m in them this past weekend, they were terrific! Best shoe I have used for ultra races. Great foot protection in rocky terrain in such a light shoe. My feet felt fine, better than after any other race I've done. I have been happy with shoes only to toss them after going big distances before, these are even higher in my book with a good distance trial.
comfortable and light. not a real tight fit but I have narrow feet. I ordered the size 10 that i usually wear and they were perfect. If you are doing a lot of running they may not last for more then a year but most don't.
These shoes do not hold up to the normal punishment of trail running. The lace loop closest to the toe broke after about 150 miles, I think the material of the laces is stronger than the lace loop; material to material lacing is a failure point in a lot of trail running shoes. Taking into consideration I run a lot of hard based Utah rock/gravel, I still feel the tread wore out way too quick.
Easily the best running shoe I have ever owned. These things rip. I have always had some on and off shin splints and have developed a some what flat footed stride as a result. These things pretty much cleared that all up in about a week or two. The heel cup is awesome and totally gives way more support then you might think was possible for such a light shoe. I will definitely buy more of these guys.