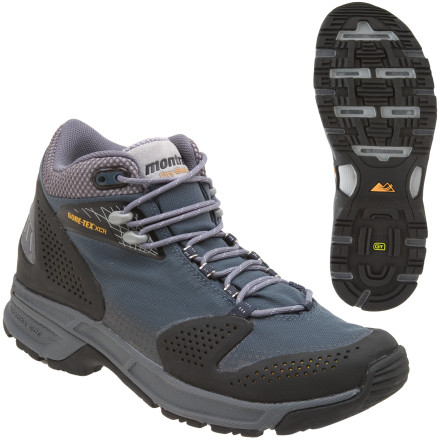 Detail Images
Great Do Everything Hiking Shoe
I'm on my second pair. I have used these for everything from short, fast dayhiking to weeklong backpacking. The best part is the padded ankle that wraps around and keeps your foot in the back of the boot when going down steep terrain. The fit is very comfortable. The traction is decent. The sole seems to last forever. I did put an inch long gash in the upper on sharp rocks. The waterproofing works until you punch through the wet snow for a while.
I have one problem with these boots. They are hard to get on and off. With a thick hiking sock on you really have to work to get your foot down into them. The only way to put them on easily is to unlace them way down to the fourth eyelet. - A real hassle. Too bad because they are light-weight, sturdy and well made.
This is the product I am using below full shank crampon acceptable boots. The Canadian Rockies scree will destroy them, but not any quicker than a boot/shoe that cost twice as much. Extremely comfortable and breathable. Just an approach shoe with a high ankle. Fairly sticky on rock. My 2nd pair of Montrails, have switched to these guys for approach shoes, which requires a blue collar performance from my closet.
I bought a pair of these last May. Since then I've worn them to the crest of the Andes, several sierra summits, and worked and lived in these shoes. They are an awesome all around light shoes. But they do have problems. Being waterproof-breathable, they are actually neither. Out of the box they cause your feet to sweat in any moderate climate, and tend to grow that wet gore-tex smell. After about 150 miles the main flex point at the ball of the foot wore out on mine and turned into little gills. The rubber rand became a small cup for water and sand and the gore-tex wore through in striated wrinkle lines. So by July I had shoes that weren't waterproof but breathed nicely. The other gore-tex areas of the shoe can hold up to the occasional light splash of snow or water, but any sustained precipitation saturates the shoe. By the end of summer the soles had begun to de-laminate seriously, but managed to hold on through most of the fall. I continued to do stupid things with these shoes, like lots of chainsaw work and dumping glowing coals on my toes, through january, when the internal structure of the shoe broke and carved a significant hole in my pinky toe during a short run (pinky space was always an issue). So they made it about 9 months to total failure. I haven't hiked in them seriously since September. I think I'll buy something with more durability next.
I used these boots as my only pair of shoes for 6 months in New Zealand. I did everything from Backpack with a 30+ lb pack to walking through museums. Temperatures ranged from 0 to 80, and weather conditions from dry to snow to when the hell is this rain going to stop. These took it all and with only slight scuffing on the ankle area. They stayed dry to the bone (except when I had to walk through waist deep water) and very comfortable for a wide footed person as my self. If you something between a full on backpacking boot and trail runner this is it. I love these things.
Amazing fit - right out of the box
I was heading out to Zion for a week of backpacking, and needed a boot upgrade. I bought these after a thumbs up review in Backpacker magazine. The walk around the apartment was very comfortable. The sole is strong and durable, good fit, great ankle support, and lightweight for all of the included features. The fit runs slightly smaller - I usually wear a 10, but needed a 10.5 in the Stratos. My "break in" was a 2 mile walk on a city park trail. During the Zion trip, I never had a problem with these boots. Breatheability is great - I paired them with a lightweight wool sock; when temps were in the high 80s, sun out and dripping with sweat, my feet were staying dry. The only nitpick is that I've noticed the waterproofing fade with only a dozen or so trips in wet/damp conditions.
The Stratos is a great lightweight boot that truly has an "already broken-in" feel to it right out of the box.
Comfortable, but not durable
I'm surprised only one person mentioned it - these shoes smell horrible. Right out of the box you'd think you stepped in horse manure. Still - they are exceptionally comfortable. The real down side for me was the XCR membrane lost its water resistance after just one hike, and after a couple of months of use, tears are already showing above the toes. A good concept in need of further refinement.
Second pair of these fine lightweight hiking shoes. Wore the first pair out in a year with several weekend hikes in the Sierra's including Whitney in a day. Very stable good waterproofing. The new ones are a little tighter in the width of the toe area though. Hope to break them in on some good trails this year.
I'm on day 7 wearing my new pair of Montrail Stratos Boots in the concrete canyons of New York City. The boots were a bit tight during the first 4 days. Having read the prior reviews here, I knew to order a half size larger than normal. I put shoe trees in the boots overnight. They fit properly now. No sore spots, and I haven't had any blisters. I encountered one problem: on day 4, a section of the rand came unglued in the area in line with the ball of the foot which normally bends the most especially when one is in the crouched position. I used SeamGrip and duct tape to fix the spots on both boots. The SeamGrip-repaired spots are holding now. It's raining today in the city. My feet are dry. I may purchase yet another pair of Stratos boots when these wear out, that is if Montrail doesn't come out with something better. I wish they would put Vibram soles on the Stratos. I've always had good experiences with Vibram soles. They take longer to wear out. Too bad the current soles aren't replaceable.
Just got back from six days on the north, south loop of Bishop Pass. I tried the Stratos and really liked them. They were comfortable, gave sufficient support for carrying about 35 pounds and the rand was good whenever I kicked a 1,000,000 year old piece of granite. I used my own custom footbed, which added a little to the weight. However, my feet never felt heavy, nor did I get any blisters. Pretty good after six days and three 11,000+ ft passes. The one downside is that the outer casing on the shoelaces blew in two and three days, making it hard to keep the tension consistent. I'll use them again when I get some new laces.
I have hiked thousands of miles in leather hiking boots...Vasque, Scarpa, and Limmer and while they are all good durable supportive boots but they are heavy. I tried the Montrail Stratos XCR last year after getting tired of hot feet in the Limmers. The Montrails were awesome from the get go. They fit my duck-like wide feet, they are extremely supportive reminding me of volleyball shoes to a point. They're lightweight, waterproof, what else do you need? Oh did I mention that the soles are the best hikers ever for gripping all types of rock and terrain? I mostly peak bag with some trail running workout sessions. These shoes are the best. I have around 750 miles out of first pair before blowing out the side. I ordered new and took them up Adams and Madison for their first trip, no problem. It's a best buy!!!!!
They did stink but that was not a real issue for me. The issue I had was that they didn't fit my foot well. I have narrow bony heels and an average forefoot and this boot lit me up in the heel. The boot that I finally chose is the Garmont Flash II and it still needed several trips to break in.
I had some Montrail trail runners that I love and saw these were highly rated. Got some, and LOVE them. They seem to run about a half-size small so I ordered up. They are great--at a great price--from a great place. THANKS!
These boots were very nice right out of the box. They fit well, with some lacing adjustments, are lightweight and very flexible. I took them from the box to the Mt. Zirkel Wilderness in July 2005, there was snow and miles and miles of bogs above 10,000ft. My socks and feet got a bit wet, not bad considering the conditions. Did 35+ miles with 40lb pack—the Stratos XCR held up well after a week of tromping around. One downside, an eyelet started to break out of the seam.