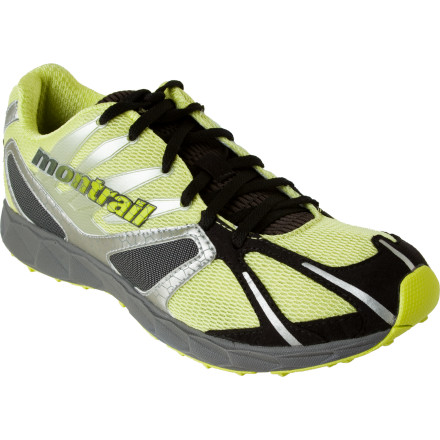 Detail Images

Community Images
When you have a need for speed, or you simply like the minimalist feel, turn to the Montrail Men's Rogue Racer Trail Running Shoe. This astoundingly lightweight trail shoe offers performance combined with an exceptional feel for the trail.
Micro 3-point lug design offers multi-directional traction without weight
Perforated outsole reduces weight
External TPU shank and Trail Shield offer support
Ride height: 18mm heel, 8mm forefoot
Running on the Hardrock 100 Course with my Montrail Rogue Racers.
Sizing... A thumbs width is recommended?...
Sizing... A thumbs width is recommended?

I purchased Fairhaven's in a 9.5, but my toes were too close to the wall. I exchanged for 10, but will the Rogue Racer's size the same?
Best Answer
Eric. A thumbs width between big toe and end of the shoe is recommended. The last between the Rogue Racer and Fairhavens is slightly different but you should be a 10 in the Rogue Racer if you are a 10 in the Fairhaven. I hope this info helps!
Thanks for the quick answer, Jon! I'm going for the 10s :)
I really like these shoes for faster runs and shorter races (up to 25K for me). They're grippy and responsive and feel fast. I know there are folks who run 100s in these, but my legs don't like going longer than 20 miles in them. They feel good on the road too. Upper is flexible and breathable. I've worn a 9 in all Montrails I've had, including the Rogue Racer.
Not true to size - Too small
Never got these on the trail. Ordered 12s which are a bit roomy in most shoes but these my big toe was out of room. They didn't even fit with the footbed removed. Also decided that the Turquoise/Voltage looked better on the screen than in real life. The 12s weighed in at 11oz each. Still looking for a lowrise transition shoe.
Nice light hybrid, do anything trail shoe
While not the most "minimal" with a 10mm heel-to-toe drop, this shoe provides ample underfoot protection and cushioning for those looking for a very long distance trail/gravel road running shoe that is also extremely light weight and breathable. It is a true hybrid shoe in that it works equally well on the roads as it does on the trail. The shallow micro lugs aren't the best for extremely slick trail conditions but they do fairly well all around. In dry conditions this shoe rocks. Fit is a personal thing; while the toe box is a bit narrow the amount of open mesh allows for some give after ample break in. As a member of the Wasatch Speed Goat Mountain Racing Team I've run in ALOT of trail shoes over the years. I can honestly say this shoe fits the bill on many levels; a good all around, long distance, mixed terrain running shoe.
Is it 8.8oz per shoe or for the pair?
Is it 8.8oz per shoe or for the pair?
That is a per shoe weight.
I've been running in these shoes for a year now and couldnt be happier. Lightweight, breathable and quick drying. The traction is great in dry, dusty, rocky conditions, but not so hot for anything too wet or muddy. But I always switch to the Masochists for these kinds of conditions anyway. I use these shoes for shorter runs (<20miles) as I like slightly beefier shoes for going long. But these shoes rip it up on shorter, faster attempts and are my first choice for short races and tempo training. I know lots of people who use these on runs up to 50 miles, but thats not the case for me. Maybe someday Ill work up to that, but for now, they are my go-to daily trail runner.
super lightweight, super breathable, Mesh allows a lot of dust/dirt in
Perfect Hybrid Running Shoe
Super light and low-profile shoe. Perfect for a five mile street run, or 50 mile mountain trail race. I've run several 50Ks and a 50 miler in this shoe and it's held up like a champ. Despite its ultralight weight, amazingly you don't feel the rocks underfoot. Montrail - please do not change this shoe.
Super light trail runner.
I wasn't a fan of Montrail shoes before this, (had a pair of Montrail rock shoes) but have come to love this shoe. All my foot and shin splint pain has left me after starting to run in the rogue racer. Used it on the second leg of a relay not to long ago, and it performed admirably. After having run on minimalist style shoes for a couple of years, I was a little worried the added elevation might throw me, but I haven't had any troubles.
great fitting shoe, but not durable. 1st pair 160 miles blown out mesh just beside the big toe both shoes. Thought it might be a fluke so bought another pair, 2nd pair 140 miles blown out same place. Thought it might be just me, nope, buddy on same day blew out his. Had this problem years ago on the masai and melee(spelling is probably wrong) by montrail. I think a little more r&d with the materials could make this a great shoe.
Does anyone know if these shoes have a...
Does anyone know if these shoes have a normal/wide/narrow toe box? It's hard to tell from the pictures.
bd. I would say the Rogue Racer has a 'normal' toe box. I have two pair and I don't think they are particularly wide and they are definitely not narrow.... so, normal it is! I hope this info helps.
I used to be a big fan of Montrail Shoes, and went through four or five pairs of the Masai before they were discontinued. I've not really liked any of their shoes since: they all seemed to be be heavy and clunky. However, that's all changed with the Rogue Racer.

This is literally a game-changer. It is astonishingly light but provides nearly all the support and cushioning of a traditional trail shoe. I tried them on, ran in them once, and had no hesitation in wearing them for 50 km trail race. I had no foot issues at all.

The amazing thing is that they weigh almost as little as super-minimal trail shoes like the New Balance Minimus or the Merrell Trail Glove. But they provide a lot more cushioning and protection. You may or may not think that is a good thing, but my experience is that the hillier the race, the more cushioning I want on my heel so that I can run fast downhill. Also, the longer the race, the more I want just to be able to put a foot down without worrying too much about placing the foot precisely, avoiding sharp rocks etc.

The Rogue Racers feel very much like a traditional trail runner (like the Brooks Cascadia) but ditch 40% of the weight. I don't know what sort of voodoo Montrail have been cooking up in their research department, but the results are stunning. Expect to see this shoe winning a LOT of races.

If Montrail were to tweak the shoe at all, here's what I would suggest. The forefoot is really nice: soft enough to provide great trail feel, but firm enough that sharp rocks don't leave you limping. However, it's got a noticeable concavity to it that I think is undesirable. The only discomfort I felt with this shoe (after a 4.5 hour race) was right in the middle of the forefoot. I don't know if this is related to the concavity, or just because that's the thinnest point of the sole. But either way, I would flatten out the concavity (which doesn't seem to have much benefit), and thicken the middle of the forefoot by a millimeter or so. Secondly, I would be tempted to drop the heel slightly. After running in near-flat shoes, the heel stack seems high. As I said above, this means that the cushioning is great for thundering downhill, and I didn't experience any instability, but I think Montrail could improve the shoe by dropping the heel 2 or 3 mm.

Despite my niggles (Hey, nothing's ever perfect, right?), this is really a breakthrough shoe that is brilliantly designed. I have more than ten different pairs of trail shoes, and these are the shoe I reach for without hesitation for any long, hilly runs. I'm planning to wear them next in the Pocatello 50.
After 27 miles of Kokopelli
I love this shoe.
Montrail/Mountain Hardwear President Topher Gaylord, athlete Max King, and others running around the Mont Blanc region of France and Italy in Montrail Rogue Racers, Rockridges, and Badrocks. Enjoy!
Rogue Racers from Montrail
Ride Height Correction: 18mm-8mm
Just a quick correction on the ride height of the shoe. Our own website incorrectly states it is 20mm in the heel to 10mm in the forefoot. It is actually 18mm-8mm providing that 10mm drop from heel to forefoot which is typical of most running shoes. This 'drop' contributes to the Rogue Racers ultimate run-ability over other minimalist shoes and provides and easy transition for folks that want to move from a more traditional shoe to a minimalist shoe. Cheers!