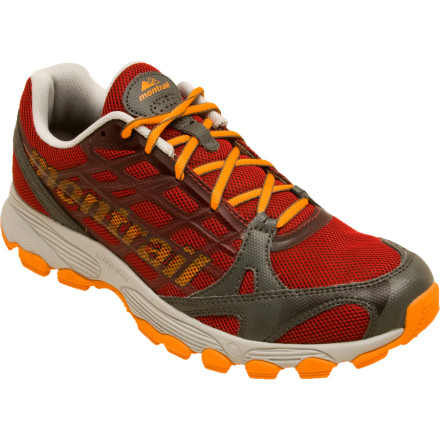 Detail Images

Community Images
Montrail blended superb cushioning with a snug performance fit to make the Men's Rockridge Trail Running Shoe a primo jack-of-all-trades on the trial. Thin structural overlays wrap around the foot for support without excessive weight. And in between the overlays, mesh maintains airflow to spare your toes the ol' sweat-lodge syndrome. Compression-molded EVA with Terra-Hex technology enhances cushioning and multi-directional flexibility. And since your outsole is your ultimate connection with the trail surface, Montrail paid special attention to designing the shoe's Gryptonite outsole. Its dual lug tread pattern provides solid traction no matter how the trail slopes.
This is my first pair of Montrail's and apparently the Rockridge is one of their more popular shoes. I'm writing this a few minutes after my first run in them. Took them up into Kennesaw Mountain which is a steep 6 mile loop. 50% of it is very technical. Lots of steep, rocky sections that you can't even run. My run was in wet conditions. Grip on these shoes is superb in all conditions. Whether it's gravel, soot, mud, wet rock ... the Rockridge is sure footed and cushioning is just right. For the first half of my run I didn't even know the shoes were there which is the best compliment I can give a shoe, then I hit some steep down hill and technical sections which were a little sketchy. The Rockridge seems to be somewhat high volume so depending on your foot it can feel a bit sloppy. I'll soak up some of that extra volume with some Super Feet Orange insoles and see how that works. I have a pair of La Sportiva's which fit my foot like a glove but are a minimalist type of shoe. The Rockridge seems to be more of a bomber.
I was looking for an everyday sneaker, I like using trail runners instead of cross trainers. This is a solid sneaker, good cushioning for wearing to work wear I stand alot (warehouse. After a week of breaking in these fit quite snug. Fit is true to size. Would buy again.
I was looking for an everyday sneaker, I like using trail runners instead of cross trainers. This is a solid sneaker, good cushioning for wearing to work wear I stand alot (warehouse. After a week of breaking in these fit quite snug. Fit is true to size. Would buy again.
I can't even begin to state how many compliments I have gotten on these shoes, they look sharp. I purchased these shoes before going backpacking through Guatemala this past winter. Hiking volcanoes, mountains, through underwater caverns, and the muck and the mud, these shoes held up astoundingly. Nine months after buying them and pretty solid abuse, the sole is starting to slip away at the toe, which is disappointing but the shoe is still intact and useful.

I do have two complaints with this shoe.
1) The shoelaces these come with don't stay tied when running in this (literally, after 10-15 seconds of running they would come untied) and they are too short to double knot or do fancy tying tricks with.
2) My pair had a high pitched and annoying squeak in the left shoe every time I took a step. It was a pain in the butt to break them in but I think my underwater caverning adventure finally did the trick that made them shut up.

All around, a fantastic shoe with some very minor but fixable flaws. Buy these and you won't regret it!
Rockridge Trail Running Shoe
I moved from the Montrail Mountain Masochist to this shoe and right away you notice the differences in the two. The weight is similar between the two but the thing I noticed the most was that I had some room in the toe box finally. It feels like the shoe is a lower profile than the MM but there is plenty of cushion as well as a good rockplate. For me, training for ultras, it was my #1 go to shoe for any type of trail run. Great shoe overall.
Montrail Rockridge Video Review
UltraRunner Chad Brackelsberg reviews his "go-to" shoe.
I've been wearing this shoe mucking out the aftermath of Irene in devastated upstate N.Y. This shoe drains great. I could hose them clean with them on, and they have seen me through three days of pretty intense manual labor. Many trips up and down cellar stairs hauling mud filled buckets. As good as any work shoe, and lighter to boot! or should I say, "not to boot"?
I've done two 1600' vertical trail runs in the last two days on some gnarly ski trails in the Catskills. The shoe is well cushioned, the bottoms are protective , but not insensitive, and the traction was fine by me. I measure 9.5 D on a Brannock Device. I bought size ten. Length is good, and they are no way too wide in the toe. I have a prior irritation on the inside of my pinky toe on one foot that is more or less steady state with these shoes,and although I wish I could punch them out like a ski boot at that point, my early impression is that the shoe, as is, won't make it worse. It's a good shoe and a great price.
I have to agree with the other comments here about the toe box. Did a quick first run in the Rockridges and around mile 5 I started feeling the infamous pinky toe rub. I'm going to try the fix James mentioned and see if that remedies the issue. Hopefully, because almost everything else about the shoe was great! Good weight and height. Like the lower profile. Great stability and rock protection. One other thing that I personally noticed about the shoe was that it does not breathe very well at all which I really needed considering the heat index is currently a little over 105 degrees at 10am in NC!
Most of what I read said the shoes are true to size. I ordered an 11 as that is what I usually wear. They seem a bit sloppy to me on the trails. The do have good toe protection. I have hit several rocks and and roots and I like the protection. Perhaps I am just between sizes. I feel a 10.5 would be small. I am going to try a pair of light running socks with a regular pair over them to see how that works comfort wise, Overall they are OK.
How do these run in size? I usually wear...
How do these run in size? I usually wear a 14, but know some shoes run bigger (or smaller) than the norm.
Joe. These run pretty true to size (according to reviews) and the toe box is pretty roomy so if you are a 14... I would get a 14. In the bigger sizes we don't make 1/2 sizes so you would have to drop down to a 13 to get a smaller size and 15 is as big as we make in this shoe. I hope this info helps!
I'm not a trail runner but an outdoor enthusiast. I use these shoes for biking, hiking, casual wear, V-ball, etc... Long story short, their very comftorable, provide great stability, and they add a little extra bounce to your step. Very happy with the purchase! $40 on SandC, you cannot go wrong!
Good for Overpronated feet?
Good for Overpronated feet?
I would say probably so.. the vibram sole is sure to last a long time on the inside of the foot (at least longer than other soles) and the trail shield shank is supposed to be pretty good. Take a look at the other reviews, other people (even with different foot conditions) seem to love them.
tonygameboy. The Rock Ridge would be considered a "Neutral" Shoe. This is because the midsole does not have a stiffer "post" built in which helps prevent over pronation in your gait cycle. The Rock Ridge is a fairly simple shoe designed for those that are blessed with perfect biomechanics. Every one pronates slightly... not everyone OVER pronates. If you over pronate you need more of a "stability" shoe. In the Montrail line, I would consider the Fairhaven, Bad Rock, or Mountain Masochist for a fine stability shoe. The Bad Rock would be the closest to the Rock Ridge. I hope this info helps!
Will the rockridge work well for a wide...
Will the rockridge work well for a wide foot?
M. Rudan. More than likely. The Rock Ridge has a fairly wide and relatively high volume forefoot and should accommodate a wider foot well. I hope this info helps!
This is my first trail shoe, so take this for what it is.

I do a lot of hills and trails, but have a difficult time finding a shoe with a wide toe box (and run fairly neutral). This is a shoe that offers the room in the front end. However, my ultra-thin but very wide spreading foot (width, F) did require I loosen the toe-end lace, on these shoes, and keep them slack. But, again my feet spread, A LOT! I ordered four sizes and found that a half size larger than your true size was perfect. (I'm an 8, got an 8.5)

Great traction in the dirt, mud, sand, and snow (I even strapped on boot chains). Not quite as good on solid ice, but what is. I also noticed that my road shoes seemed to be a little more sticky on solid rock than these, but that makes sense since you're running on lugs and have less friction. They do fine on bare rock for me, and I figure myself as aggressive on the trail. Materials are tough and, after 9 months, I haven't noticed any breaks or tears.

I would definitely recommend these to a friend, and have.
awesome shoe from monotrail. i've always liked monotrail, use to wear leona divide till they quit making them.tried other monotrails none felt right till the rockridge they really fit great,true to size.. even been wearing them on roads. Legendary Curt
I had to return first pair and get a size up from what I usually wear. I use it now for over a month crossing on Florida trails. Unfortunately shoes still make a squeaky sound (I hope it will finally wear and squeaking stops) and it is a problem for me sneaking from house on weekend morning. Grip, light weight and fit is very very good. I personally would prefer camo style but they only come in screaming palettes so I have to live with it. The mesh is not as easy breathing as it was in my worn to the ground TNF so if I would choose shoe now I would go for TNF.
The Rockridge - A great Hardrock replacement
I have been a diehard Hardrock user for over 6 years. When the Hardrock was end of lifed, I was very disappointed. I did not like the fit of the Sabino (the Hardrock replacement), but the Rockridge was a greate replacement. These shoes have less cushion than the Hardrock, but the lighter weight makes is a good sacrifice. I put 200 miles on a pair of Rockridges in a little over 3 weeks of August and now these are my 'go-to' shoe for any run over 20 miles. The shoes handle smooth trail and rocky, technical trail equally well.