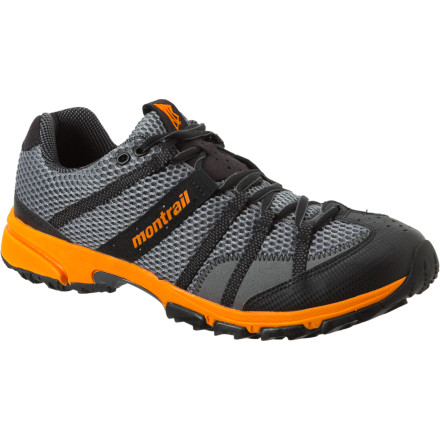 Detail Images

Videos

Community Images
Montrail's Mountain Masochist II Trail Running Shoe makes no bones about leg-loathing mountain excursions. You don't run because it's easy (if it were easy, it would be walking). You run for the adventure and the rush, and this pain-loving shoe utilizes savvy mountain tech to get you from A to B.
Breathable mesh upper and gusseted tongue manage moisture and encourage ventilation
Compression-molded EVA midsole utilizes a low profile for responsiveness while still targeting pressure points for comfort
Angled forefoot texturing gets a deep and secure grip even on rough or steep terrain
Webbing and strap closure system ensures a snug fit from ankle to toe
Share your thoughts
What do you think of the
Montrail
Mountain Masochist II Trail Running Shoe - Men's
? Share a...
Great Product
Familiarity:

I've used it several times

Fit:

True to size
Pros: generous toe box, cushy inner soles, firm heal placement, true to size fit, decent traction, comfortable overall fit.

I bought these shoes primarily because of price, but also because my favorite hiking boots had been Montrail. When Montrail quit making hiking boots I turned to others and eventually came to love Salomon X Ultra Mid GTX trail runners. Not only are those shoes a bit pricey but they just don't last so was looking for an alternative. Montrail became on obvious choice and I'm glad I gave them a shot. Have worn the shoes on several hikes including a 24 mile backpacking trip. The shoes have been tested in sand, dirt and steep rocky terrain. No complaints.
All time favorite!
Familiarity:

I've put it through the wringer

Fit:

True to size
I have owned 4 pairs of these running each into the ground and love them. I usually run trails and dirt roads with a little bit of pavement with lots of volume work. They are very comfortable on my boney low to mid volume feet and I have experienced extremely good durability with a noticeable lack of chaffing. Usually when Ive beat down a pair over 4-6 months I make them my hiking shoes where they continue to perform for another 6 months. Eventually bits of the tread have demalinated but long after they were done as runners. I have used other Montrail shoes and have found some to be a little larger volume than these.

Pros: Wonderful fit, great trail protection, dry quickly, aggressive traction. Also, the inner lining around the heel is extremely long lasting. I have heel spurs and tend to shred these linings but not with the Mtn Masochist.

Cons: I always replace the foot bed with something offering better support. Also, the aggressive tread can be a bad thing if you run in a lot of clay/mud as it does not shed mud well.
Avoid
Gender:

Male

Familiarity:

I've put it through the wringer

Fit:

True to size
I'm surprised at all the positive reviews of this product, as I've found the shoe to be probably the worst shoe I've ever owned - barely making it to 130 miles, before the bottom has completely worn out. The panels of actual rubber which are glued to the bottom of the shoe tend to peel off, and the EVA foam gets ripped to shreds. Any lugs are quickly ground down, leaving an incredibly slick bottom.

Running my last run in these were treacherous, and I slipped/fell many times negotiated rocks in my way. I've owned many pairs of Montrails - it's basically the only brand I've used. The Bajada Outdry's also show this "panels of rubber peel off" problem, except the rubber covers more area.

The Badrock and Badrock OutDry do not seem to exhibit this problem, as the bottom does not have paneling, but is covered in the rubber.


Overall High Quality Lite Trail Runner
Familiarity:

I've used it once or twice and have initial impressions

Fit:

True to size
Reviews around the web were generally positive for both this shoe and its earlier version. There's even a very thorough YT video that finally convinced me to give them a shot. As an ultralight backpacker I wanted a sturdy, quick-drying, very light, grippy trail runner to use for hiking.
After a few weekend trips I am overall satisfied with the quality (exceptional) and design (expert). While the shoe runs true-to-fit one problem is the tight toe box. I had read another review that mentioned this and thought it might be rare. However, any buyer would want to try Masochist II's out first to ensure they're not too snug in the front.
My new daily drivers
Familiarity:

I've used it several times

Fit:

True to size
I got these shoes specifically for outdoor/sporting activities, but they have become my daily shoe for work. I sit behind a desk, so take this with a grain of salt, but these are the most comfortable shoes. Not only do these have a pretty good shape for my arch, but they also provide excellent ankle support. As far as I can tell, they are very well constructed and are properly ventilated. I haven't put them through any serious stress, but they have gotten wet and do dry out quickly.
I am looking for the Montrail Men's Mountain...
I am looking for the Montrail Men's Mountain Masochist II OutDry. Your description on your website does not include the word "Outdry". On the Montrail website, the shoe I want to buy is their item #1462641. Is this item on your website that shoe? Is this shoe the exact same as the Montrail item #1462641?
Best Answer
Hey Hiredman,

This shoe is product number 1454671 on the Montrail site. Essentially this is the version without Outdry tech.
I am looking for summer hiking shoes. Would...
I am looking for summer hiking shoes. Would these be ok for the summer?
Best Answer
Hi there Jonathan,
They would indeed be a good summer choice! The mesh up top will make them super breathable, so your feet don't get swampy. They also have a great rubber grippy sole that makes them a solid choice for a hiker!
Worthy trail runner, hope yours endures
Gender:

Male

Familiarity:

I've put it through the wringer

Fit:

True to size
I bought these because I wanted extremely breathable and lugged-out trail runners for rocky trail running. These breathe very well and have the rugged bottoms that I was aiming for, plus they've protected my feet from sharp rock.

My state of slightly-bummed-out-hood is with the quality of the pair I own: Before hitting 300 miles the bottom lugs pulled away from the footbed. For the price, I would have liked to get double that mileage. Ok, maybe that's a little greedy, but I was bummed to see the bottoms peel because they perform well shoe-goo at their age is too soon.
Montrail Mountain Masochist II
I bought these because of how much I loved my old Montrail hiking shoes, and I'm definitely not disappointed. Great traction, great arch support, plenty of padding, and they're lightweight.
light the anatomical footbed and lightweight. breathe very well. very comfortable right out of the box.
Nice!
Gender:

Male

Familiarity:

I've put it through the wringer
Been waiting to rough these up a little before reviewing. I bought these for something to wear on the concrete at work, and while the fit was a little tight at first, they have since surprised me. This is quite a comfortable shoe. Having spent a while running in minimalist shoes I expected an awkward transition to the MM II. I don't seem to have much trouble on my forefoot in them. The sole is super aggressive and feels secure on loose terrain. The quality of the shoelaces also stood out a lot and i'm not entirely sure why. They feel nice and are easy to tie. All in all, great shoe so far and I have a new appreciation for Montrail.
Very Nice Trail Shoe
Gender:

Male

Familiarity:

I've used it several times
The Mountain Masochist II has a number of things in it's favor. The front toe guard and underfoot rock guard are both strong, yet flexible. The collar and the tongue are both well padded, some might even think it is too thick. I find it to be very comfortable. The toe box is quite roomy, the mid shoe is tight enough to hold the foot is place without being overly tight, and the heel shank is strong and stiff. The construction seems quite good. Having had to cross flooded trails, I have found that they also drain/dry fairly well, which surprised me, given the thickness of the collar. Where they really excel is the grip. The lugs give it more then adequate footing on technical or sloppy trails. I think if I ran in cold or very technical conditions, I would appreciate the shoe even more. The only drawback I have noticed is the hot spotting on the ball of my feet, which I start to feel around mile 6 or 7. It isn't a problem for me, as that is the top end of my current distance, but as I begin to stretch the long runs I hope it doesn't become an issue.

I believe that the mark of a good shoe is if you think about it while you running. Or better yet, if you don't. I noticed that was especially true today, as I had this review in mind at the beginning of my run, yet barely thought about the shoe while I was running.
Awesome shoe for Everyman
Gender:

Male

Familiarity:

I've put it through the wringer
What makes a good shoe is highly subjective. I like to run in lightweight shoes with minimal structure. I also race regularly, and as much as possible, like to to train in the shoes I'm going to use in a race.

My favorite race shoes for the last couple of seasons have been Montrail Rogue Racers. However, these are definitely not for everyone: they are ultralight with minimal structure and with very little protection from from rocks in the forefoot. And as races get longer and/or rockier, I find they're not even for me, either! At the end of a particularly rubbly 50k, I my feet were tired and aching. And my brain was tired from the effort of placing my feet carefully.

So for longer races, casual training, and just all-round use, I love the Mountain Masochists. They are only a little heavier (680g vs 505g), but provide much more support, more rock protection, better traction, and more durability.

The Mountain Masochist is a well-rounded thoroughbred of a trail shoe that I would recommend to almost anyone for any use. The only exception I can think of is if you have narrow feet. The MM runs a little wide.
Ok, maybe a bit over dramatic but these are great shoes. They're true to size, I'm a 9.5. They feel great, they make me feel like I should be running (if I feel like it or not). They stay cool and they just are a thousand times better than my last pair.
These are very comfortable shoes and if you are looking for a great road/ rough terrain running shoe this is definitely one to look at. The arch support is definitely more of a neutral based shoe, and so I decided to get their custom molded insoles that you can put in the oven to get a proper fitted insole to put in your shoes. You will love them and enjoy every mile you put on them.
Great hiking/running shoe
This review is for the previous version of the shoe, as I believe Montrail has now released a newer version for 2012.
So this is my first pair of Montrail shoes and I purchased them because of user-submitted reviews, so I figured I'd do my part by adding to the community. I like to try my gear out for several months before writing a review, since longevity is a crucial factor in determining overall performance and quality. I've beaten these shoes up on rocky, steep terrain in the Cleveland National Forest, the San Gabriel Mountains, the San Bernardino Mountains, and the Sierra Nevadas. I've worn them on muddy trails, in rainstorms, and while scrambling over granite boulders.
I've logged hundreds of miles using them as both a running shoe and a hiking shoe. I'm not sure about the prevailing wisdom on this, but I've used them for overnight hikes and week-long backpacking trips and loved the grip. These shoes give me confidence when I'm hiking straight up a rocky mountainside or when I'm sliding down on my backside. They also fit true to size. I wear a size eleven and these shoes are perfect for me. I wore them straight out of the box on a 14-mile day-hike in Cleveland NF. I highly recommend this product to anybody!