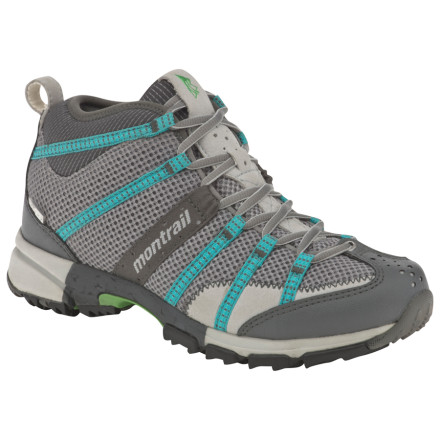 Detail Images
If you love to run down but prefer to hike up, check out the Montrail Women's Mountain Masochist Mid OutDry Shoe. Whether you trail run or hike, this versatile, mid-height shoe gives you both the traction and support you need for bagging peaks or small mountains.
OutDry technology allows your foot to flex freely while preventing water absorption
Lightweight, responsive shoe provides you with lateral and medial support for trail stability
Webbing and strap closure system for an exceptional fit and comfort for the long run
Full-foot trail shield helps protect your foot from rocks and trail debris
A gusseted tongue keeps out debris
Gryptonite outsole gives you superb traction on wet and dry surfaces
Big, angled blades at the forefoot, plus digging lugs, make it easy to grip on loose or muddy terrain
What do you think about this product?
Have questions about this product?
Check out this video to see what OutDry is all about. It's a little long but does a great job of explaining the technology. Cheers!
I have the regular Mountain Masochists and...
I have the regular Mountain Masochists and love them. I just had a pretty bad ankle injury, and it'll be a while before I can hit the trails again, but I'm wondering if, when the time comes, this shoe would be a good option that provides more ankle support than lower running shoes. Is it still light and comfortable enough to run in, or does it feel more like a hiking boot? How much ankle support does it provide? Thanks!
Kerry. The Mountain Masochist Mid would be a great option for you if you are looking for a more supportive shoe that is still 'runnable.' It is not going to provide you with the support of a hiking boot but it will fall somewhere in between a running shoe and a hiking boot. The height of the shoe around your ankle will provide a little added support while at the same time will not provide enough support that they are uncomfortable to run in. Definitely try them out! A few folks us these during 100 mile races for the added support and stability. I hope this info helps!
What does OutDry mean? I've had a Montrail...
What does OutDry mean? I've had a Montrail over the ankle hiking shoe for years, and have worn it everywhere, hiking, teaching outdoor ed classes, gardening, etc. and they have finally worn out. They were waterproof till the seams gave away... and I really like that feature. They don't seem to be making them anymore, and I was wondering if this shoe might substitute for them? Also, in the Montrails, I had to skip the middle set of lace hooks for a fit that would not hurt the ankles. Suggestions? Thanks.
Christina. Thanks for your questions. I think the video I just posted on this page will explain OutDry better than I ever could in an answer. It is a little long but does a great and thorough job of explaining the technology and the advantages. As for the choice of boots, this particular shoe is probably a very different animal from the Montrail boots you had before but would probably work great for your intended uses. I hope this info and video helps! Cheers!