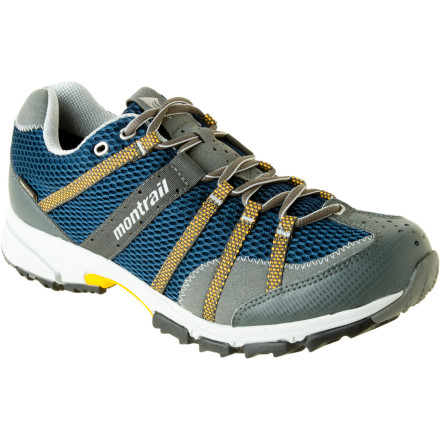 Community Images
For those who take great pleasure in a day filled with punishing ups and downs over rough terrain, the Montrail Men's Mountain Masochist WB Trail Running Shoe is here to ease the pain. With a waterproof breathable membrane to seal out moisture associated with muddy trails and splashy creek crossings, this lightweight shoe bears the beating you're sure to put it through. Montrail sandwiched a protective yet flexible Trail Shield plate in between the Masochist's sticky Gryptonite rubber outsole and triple-density Vapor Response EVA mid sole, so you get the most functional blend of traction, protection, and comfort.
2 Summers no sweet!
Gender:

Male

Familiarity:

I've put it through the wringer
Fantastic sneaker! I was always a NorthFace sneaker loyalist but after seeing their quality drop in several different product catagories I wanted to try something else. One of the guys at Backcountry told me to try theses and he was spot on! Comfortable, fit is true to sizing, dual density sole is supportive. Traction is as good as it get is slippery conditions. Overall construction has held up great over the past 2 years. I think a pair of trail sneaks living 2 years says a lot all by it self! Ordering pair number two as soon as there back in stock.
I mainly use these for hiking as I don't like hiking boots. They are fantastic. Great traction, great comfort and cushioning. I have done a little running in them and they seem fine, but I prefer my lighter Rockridge shoes for that. I'm a huge Montrail fan and the Masochists are working great so far. I haven't used them long enough to determine durability.
I've been running with this shoe for 3 years with no real foot problems. Comfortable for any distance. Last hundred miler not a single blister or mark at the end.
these are a great sneaker the tow box and forefoot is wide while the heal is tighter and the arch high. these fit my feet extremely well i noticed right away the high arch which my foot needs. i would not say this shoe is as good as the Salomon XA Pro 3D Ultra GTX but it is a very good shoe. the soles grip well, i have walked a 6 hour hike on the appalachian with a backpack and they worked great, i also use them for my trips skiing and they are warm and do not get wet walking through sow and slough to the lodge. although they aren't like the salmons which your feet never feel cold which makes them feel wet while they are not these are a great shoe at the price point
What width to the Montrail mountain trail...
What width to the Montrail mountain trail shoe come in?
Best Answer
bobganser. Unfortunately, we don't sell them in widths. Each last has a slightly different feel to it and I would say that most of the shoes would register around 'C or D' on the width scale. I have an overall lower volume foot with a wide forefoot and a narrow heel and Montrail has always fit me well... even before I worked for them! I hope this info helps!
Any comments on using this shoe on the...
Any comments on using this shoe on the road? I train both road and trail, with the majority of my races on trail I really do not want to buy two pairs of shoes. I already own a pair of hokas and am looking to get into a low profile shoe
Rob. I would consider either the Mountain Masochist or the Rogue Racer from Montrail for your lower profile shoe. As for the Masochist on the road, they have plenty of cushioning and flex in the midsole to make them a one quiver shoe! I hope this info helps!!
What shoe is similar to the Montrail...
What shoe is similar to the Montrail Vitness? Adventure Raced in them, wore them everyday... they were perfect for me.
Thomas. I as well enjoyed many a mile in the Vitesse but sadly there really isn't a shoe in the line that compares. It was a great shoe but the design became outdated with advancements in shoe design and materials.

We have three shoes in the line however that would be worth checking out. The Mountain Masochist came out in '09 and it's an award winning shoe that our athlete Geoff Roes once put 1036 miles on a single pair! This shoe also holds course records at many ultra marathons like Wasatch 100 and Western States 100 on the feet of Geoff. The next shoe to check out would be the Rock Ridge. It is a little stiffer overall with a slightly more aggressive outsole than what is on the Masochist. This shoe came in second at this years edition of the Hardrock 100 on the feet of Dakota Jones and may be the shoe for you. The last shoe I would check out would be the AT Plus. It is most like the Montrail shoes of old but functions better as a hiking shoe than a running shoe.

I hope this info helps and I hope you decide to check out some of our new models! Cheers!
I have logged well over 400 miles on these shoes and haven't a single complaint on comfort or wear. I saw many complaint about the lack of trail shield, however i have worn a 50 lb pack on several weekend trips and had no fatigue. We were mainly hiking on forest trails, so I cant speak about prolonged time on rock. They have also been my snowshoeing shoes and I saw no wear or had any leakage problems. They seem to have a slightly bigger toe box than other shoes I have worn which is a big plus for my feet. I have a second pair in the closet waiting in case they quit making these.
just ordered another pair
So I've put a pair of these through their paces as my primary everyday shoe for over a year (yes the same pair!) and really like the fit and function of these shoes. This time, I went for the gore-tex versions, as it seems prudent. I guess you can say I've found a really nice pair of all-around shoes that can handle 90+% of what I run across.
Mountain Masochist VS. the Continental Divide.
I started my trail running way back when with the Continental Divide then the Hurricane Ridge, back to the Continental Divide. Continental Divide was a great trail shoe but I think the Mountain Masochist is just as good if not better. I run 3 days on the road and 4 days on a very ruff trail (lots sharp edged rocks) and the Masochist so far has handled very well.I have yet to roll an ankle so I can say I like the support. I just bought the Masochist GTX for winter trail running and I hope they do as well as the Mountain Masochist.

PS: I have not yet run an Ultra trail race in the Masochist but I bet they do well.
Great shoe if you know what its for
This is not a back packing shoe or a stability shoe. It's amusing to see people saying that this shoe doesn't compare to the Continental Divide, I say thank goodness. The CD was way to stiff to be a decent trail runner. This is a runners shoe, one meant for those of us who love to speed down mountains and fly over rocky terrain. It is designed with a minimalist mind set to reduce the weight, and provide critical protection but still allow you to feel the trail. It is supper flexible allowing you to run with a midfoot strike which most built up trail runners won't allow. I have run long miles in these for almost six months, and although the shoe looks like hell right now (and smells even worse), I am still putting the miles on them. Best trail shoe yet.
Okay, some background info first. 1) I'm a big fan of the Continental Divide shoes. 2) I purchased these with the intent of backpacking the Long Trail (pack weight under 25lbs total) 3)It has been the rainiest, coldest stretch in June/July when I was hiking. Now onto the shoes.

1) These were way too soft for hiking that trail. Walking rocky ridgelines for 12-15 miles a day, my forefoot took a beating. These are not nearly as stiff as the CD's were. I'm not sure how they'd fair for a runner, but a 10 miles run every day under similar conditions would give the same results, I imagine.

2) After about 95 miles in the shoes, they began showing compression stress marks in the heels, and after 170 or so, the outsole started delaminating from the midsole at the heel (notice split heel in the photos above). This is not what I would have expected from a Montrail.

3) I could NEVER get these shoes to dry out on the trail. I'll won't totally knock the shoe, given the record wet/cold conditions, but as much as I hate to say it, after the first 5-10 miles, it did seem like these shoes would leak from below the footbed. I could be wrong, but it didn't seem like my feet could sweat for as much moisture was on the inside of the gore-tex membrane.

Overall, I'm stocking up on CD's until they bring out something similar.
Does anyone know how these compare to the...
Does anyone know how these compare to the Montrail Continental Divide?
Best Answer
The Mountain Masochist is a much different shoe than the Continental Divide. The ride height is much higher in the C.Divide than in the Masochist. The C.Divide has a heel post where the Masochist has much smaller medial post or 'fatigue post' as I call it. The Masochist has a de-coupled heel and in conjunction with the small post will still provide a bit of motion control but I would not consider this a motion control shoe in the traditional sense. As has been mentioned, it is light, agile, progressive, and won the 'Gear of the Year' award from Outside Magazine. It is a phenomenal shoe and very different than the C. Divide. If you are looking for a slightly stiffer and more supportive shoe... consider the Hardrock '09 from Montrail as well. Hope this helps!
I have owned both the CD and this pair. I'll credit that the design objectives for the two shoes are probably different, so it may not be a fair comparison. Either way, I took these out for backpacking the Long Trail in the end of June and early July this year (record amounts of rain and cool temps). I have to say that these shoes, in comparison to the CD, utterly failed for that trip (perhaps credit my gear selection, but I was looking for a waterproof shoe). These shoes are much softer in the forefoot, with a much less rigid trail shield. I had much more foot soreness and bruising rock hoping through muddy spots that I ever would have had with the CD. I was very dissapointed and frustrated at this aspect. But again to credit the shoes and what Jon has testified to, these are designed differently.

In addition, I faced durability issues with my pair. To begin, I wore them for two 10 mile break in hikes. Everything felt good with the shoes. Granted, the fit would probably still have been good out on the trail, but it was just too wet and blisters were inevitable. However, after the first 75 miles or so, the heels started to show compression marks, and after the first 150 miles or so, the outsoles started to delaminate from the midsole in the heel (take note of the split heel in the photos above). This was certainly not up to my expectations for a shoe, esp. from the good history I've had with montrails.

In my opinion, if you are looking for a replacement for the CD, this is not your shoe. I've begun stockpiling the CD (I'm up to 3 pairs) in fear I won't find a replacement I like.

Jon, please consider this customer feedback wanting the CD's to come back! They were the best lightweight backpacking shoe ever.
I'm still trying to find a replacement for...
I'm still trying to find a replacement for my old Montrail Diez Vista's, does any know if this is it?
Best Answer
The Mountain Masochist is a lighter weight shoe than the Diez Vista, your foot would sit lower to the ground in the shoe than in the Diez Vista, and it still has a medial post like the Diez Vista. Not as big a medial post but none the less it is present. With that said that is where the similarities end. Ultimately it is a very different shoe but might be worth a try. Also, check out the non-GoreTex version of the Mountain Masochist as well.
it's worth trying the masochist but i'd say you also won't get the stability in the platform that the diez vista had either. the masochist is much less stable, and thus light and agile!