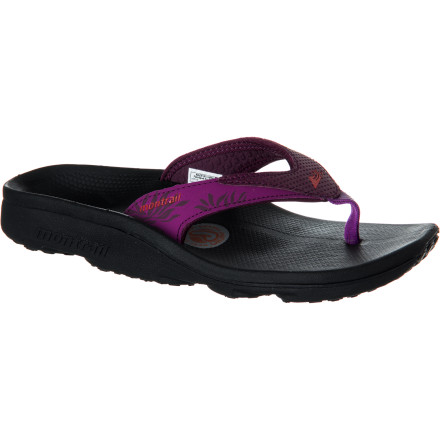 Detail Images

Community Images
The Montrail Women's Molokini Sandal offers a thermo-moldable fit to ensure serious comfort at the beach, at the trail head, or at your friends BBQ. Synthetic backing makes the straps super plush, so you don't have to worry about any top-of-the-foot rub. Montrail understands how nice it can be to slip into a cozy pair of flipflops after a long day out.
Really disappointed
Familiarity:

I returned this product before using it
I purchased this same shoe in a different color at a foot store and love it just the way it was. I did not heat the first sandal and it has on its own conformed to my foot and is my go to shoe when I get home from work. The foot /arch support bed of this sandal purchased online was really different right out of the box. So much so that without even wearing it, the arch support was already much flatter and did not extend up the bottom of the foot. Is there a quality control issue here..?
Comfy flip flops - but didn't last
Gender:

Female

Familiarity:

I've put it through the wringer
Initial Impressions: Just got these the other day and so far I'm very impressed. I really like the way they're contoured and fit my feet. I have longer toes and there's enough space for them which is great. Very comfy and happy with my choice!



Update: I got these in May and now, just September, the grip/traction on the bottom is starting to peel away. Granted I wear these at least once a week and sometimes in some tougher terrain but they definitely aren't lasting as long/well as I hoped. I had the same problem with Reef flip flops which is why I gave these a chance. While they're still comfy I feel like anything that costs 60$ should last longer than a few months!



Disappointed in the longevity for sure! I'll have to try something else in my next pair of flips.
I have pretty narrow feet, and when I pulled these out of the box, I have to admit that they looked so clunky and um, big, that I thought there was no way they'd fit well and no way I'd want to wear them. I also thought they looked a bit silly on my feet. But once I walked around in them, I couldn't even think of sending them back. They are so comfortable. I even wore them on two fairly rocky hikes and my feet felt great (I hate wearing any kind of shoe in the summer). As far as looks, they aren't the sleekest, but for comfort for long walks or long days on your feet, they're awesome.
I'm now on my second pair of Molokini's. Seriously, you can't go wrong with these sandals! No break-in time needed. My feet don't ache after wearing these all day. These are my go to sandals!
These are so very comfortable and I almost live in them. They are clunky and large and that did put me off a bit but once I started wearing them around more I got used to them. I live in a rocky area and while I've only had them for a few months have not noticed any chunks coming off or anything. I wore them hiking in the Southern Utah desert with no issues. Great flipflops!
My best friend LIVES in these. She loves them. She raves about them. They look cute on her. So I ordered a pair for myself. I normally wear an 8 in flip flops. I wear a 7.5 in sneakers and boots. I ordered an 8 in the Molokini and it was the strangest fit I've ever seen! It looks like this is a flip flop for people with extremely LONG toes b/c the toe post was set so far back from the front of the shoe. Had I gotten a smaller size the back of my foot would have been over the edge. It was just an odd fit. There was no way I could wear these without looking like a clown! I also noticed that the straps rubbed the sides of my foot pretty bad. Had I tried to wear these on vacation I'd have had blisters in no time. I was disappointed. I really wanted these to be great. They had to go back. I'll stick with my Teva Mush and Reef Slaps!
These sandals have gotten me through two pregnancies. From about 7 months on, they are all I wore, even to church! Really saved on the back aches, and I didn't have to bend over to put them on.
I have been wearing mine for about 4 years now and I love them! It is only now that I am having to retire them for a new pair. The best and most supportive flip flop ever!!!
These sandals really are the best sandals I've owned. Truly comfortable. No break in period required. I bought them for a cruise knowing we would be doing a lot of walking on the excursions. I had no aches or discomfort in my feet. Good traction, lightweight. These were and will continue to be my go-to sandals! If you can spend a little extra money on sandals, these are worth it!
I bought my first pair of the Molokini Sandal this summer. I never knew a flip-flop could be so comfortable! This is the only shoe I have ever found that I can actually walk in for several hours without pain. I hate for winter to come...I don't think they will work for a Montana winter!
Why doesn't Montrail make more colors of...
Why doesn't Montrail make more colors of the Molokini flip flop?????
Faye. Next season we will have no less than 5 colors of the Molokini Flip. Sorry more are not available at this time. Thanks for your awesome review below! We are coming out with a new flip next season called the Lithia Loop (named after a trail of course..) that I think you will like just as much as the Molokini. Looking forward!
Molokini flip flops are Wonderful
I think Montrail Molokini flip flops are the greatest and then I think they are the
greatest!! Wow what a flip flop!! I can wear them 18 to 24 hours and my feet still feel absolutely wonderful!! I wish I would have had these years ago. Everyone should be so blessed to have these. I do not have one negative word to say about the Molokin flip flops. I just wish they would make at least 50 colors. I have had many chances to sell the Molokini's right off of my feet!!
These are really pretty comfortable actually. They feel like they form to my foot, and support my arch. There are a few downsides though. They get EXTREMELY hot if you wear them out in the scorching sun. My feet felt like they were in an oven, much like they felt when you have to 'cook' them and put them on to form your foot bed. Also, I am in a rocky area, and just normal walking around has already taken small chunks off, especially around the toe area. I probably will not order these again.
This is my second pair and I was desperate to find them since wearing the first pair out. I have terrible feet and if I could wear them 24/7 I would.
ALWAYS ALWAYS ALWAYS put these flops on after a run, especially if I have to go to work. I am getting ready to purchase a pair of black molokini's.
Ultimate footbed support!
Normally when I come home after a long day of pounding the NYC pavement all day, I eagerly slip on my Stegmans or my Birkenstocks for foot relief at the end of the day. No more. These Molokini flips are AMAZING. The footbed reaches up and grips my feet, hugging and supporting every curve. No rubbing at the thong insert. Not the lightest flip flops but not heavy either. They're so rocking that I immediately bought a pair of Montrail hikers and that foot bed is also ready to wear terrific. I don't need or miss my orthotics in either shoe!
Makes me smile when I slip my feet into these customized Molokinis that I can take in water. I do have other sandals: Keen, Born, Chaco, Birkinstocks. I love the styling of my others, but my feet protest when I wear the first three for very long. I sure don't take my Birkies in water because of the higher maintenance and the slippery footbed, so with these Montrail flops, I have it all---fit, safety, versatility, affordability. I also have Montrail trail running shoes and hiking boots, no disappointments.