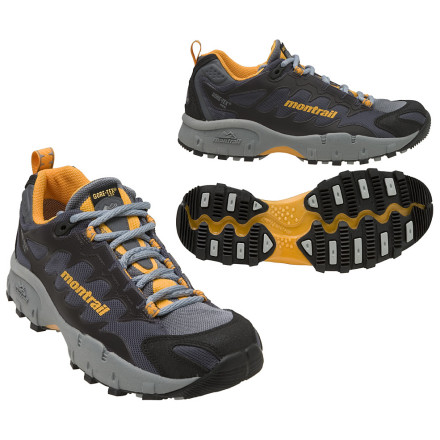 Detail Images
I have other montrails and love em (READ: i drank the montrail cult koolaid)

B-U-T-

these were not cutting it at all...

-stiff, far stiffer that i could ever need or enjoy

-enrty and exit hampered by welded tongue

-heavy

-fit was off for my feet

-sole pattern not good or grippy (perhaps due to the sole stiffness)

but does clear debris very well


these just werent for me gone the way of the dodo is perhaps the best fate.
Love it! No issues at all. Does everything it was designed to do. True fit. A bit heavy compared to the Masochist and a bit firmer. Would buy more if I could find a size 12.5 or 13. Also has been very durable for me.
What became of the Hurricane Ridge now...
What became of the Hurricane Ridge now that Montrail has gone all Columbia on us?
Not sure what you mean by 'going Columbia' on us as it has been almost 4 years now since the acquisition.... but, the Hurricane Ridge has gone the way of the Dodo for spring '09. In it's place is a new GoreTex runner called the Mountain Masochist. It is a very different shoe... much lighter, more agile, with a little less support. It's non-Gore cousin won the 'Gear of the Year' award from Outside Mag and we were up against allot of good shoes from great brands. It is a testament that we as a company are moving in the right direction with our shoe design... lighter faster more agile. Much more in-line with where the running shoe biz is heading. The Hurricane Ridge had a great run and was a great shoe (I own a pair!) but it was time to move on. Check out the Mountain Masochist. I think you'll like 'em... Cheers!
fyi: montrail is now run by the mountain hardwear crew down in the bay area.. NOT columbia. phew.
Great shoe, Go 1 size bigger..
These are great shoes!!! This is my 3rd pair of Montrail Hurricane Ridge, and I love them!! BUT, I would nornally wear a 10, but the 10 was too small/tight on my toes. So I ordered a 10.5 and they fit great. Order a half size larger than usually. I use them for climbing 4,000 footers in the white mountains in N.H. and running. The new ones(size 10,5) are the same size as my old ones (size 10), I measured them. Love Montrail...
I've taken these on a couple trips so far, backpacking and hiking. Walked through shallow creeks a couple times...no leakage. They are super comfy and for Gore lined sneaks they breath well. Try not to stub your toes on junk in the trail though...on my first hike they were nicked up pretty well...I'm diggin' em.
Do these shoes fit true to size? I heard...
Do these shoes fit true to size? I heard you have to order half size larger than what you usually wear.
Thanks.
I have found it to be true from personal experience to order 1/2 size down.
i have really wide feet with a high instep...
i have really wide feet with a high instep and a high arch would these be good for me
Hi Jacob,

The width might be okay for you, but you should look into aftermarket footbeds to deal with instep and arch issues. Superfeet are great, but are semi-difficult to fit without a professional around. Maybe head to a local shop that carries them, and find someone with knowledge how to fit them, and try them there.

Steve
First off, this is a great, great shoe, by a great, great shoe company.
They are comfortable for running in the wet, and they actually keep your feet dry.

The problem is, they have a defect, which makes the shoe a ticking bomb.

There is a grey plastic eyelet at the top of the show, and it is stitched on in such a way that it can be snapped off where it is stitched. Once it breaks, it is not possible to properly lace the shoe. I babied mine, only wore them when it was wet, and I got much less use out of them than I would expect for a 120 dollar shoe when one of the plastic eyeles snapped off unexpectedly during a lace up.

Junk.
Were great but not anymore
First of all DONT PAY TOP PRICE!! My first trip with these was a 20mile hike in the Gila in NM and they were great. But for some reason after that these shoes decided to bite me on the top of the foot. So I decided to try and skip some eye lets to relieve the pain and that worked well for the time being. The sole began to seperat as well. Not a little shoe goo could'nt fix though. So my next two trips were the inca trail in Peru and the Na Pali coast trail in Kauai. All was well until the eye lets began tearing (I'm assuming this was due to the alternate laceing technique that was needed to relieve the pain the shoes would cause on the top of my feet) and before i knew it the only eye lets that were left were the ones at the toes and the ones at the ankle area. Also the soles didnt last very long. All in all kind of disapointed in the shoe especiall for the price. they are now great yard working shoes
How much do they weigh? Are they light?
How much do they weigh? Are they light?
Best Answer
As per the tech specs the shoe weighs 28oz. for a pair. They are not the lightest shoe on the market but for a 'motion control' GoreTex shoe they are right in there. Check the Montrail Mountain Masochist GTX version for a light Gore shoe. Thanks!
The last eyelet (I think that's the name?) up top came off mine. I could not tie the shoe properly.
Fell apart on me quickly (>_<)'
At first I thought this was going to be a great time together... running through the forest, splashing around Seattle puddles... And that is what happened for the first 2 months... Then the shoes outer soul started to come off letting water get in, right where the foot bends.
Other than that, they worked great. But I haven't owned shoes this expensive before that just came apart like this.
Never worn Montrails, but people seem to...
Never worn Montrails, but people seem to think these fit narrow feet well, and that sounds just about right to me... Width aside, do they run true to size?
, ☃bcs_badge_alumni_label☃
Montrails run true to size - I've had about 5 pairs of Montrails and never had to adjust sizes.
Montrails typically fit true to size. This may be illusory, but myself and a few friends have noticed inconsistency in sizing since the Columbia buyout (Chinese manufacturing?). I have had 2 pair feel like a half size smaller and thus returned for a replacement pair. The replacements were fine and felt true to size. In my opinion, Montrails are great for gnarly, long days requiring ALOT of shoe. No question they have their place!
this is my second pair of hurricanes. i love them. they hold my narrow feet wonderfully. i use them for trail running and just kicking around. it is true that running on pavement kills the tread but that isn't what these shoes are made for. they are excellent in the woods!
Just what I was looking for.
I was very reluctant to try a Gore-Tex shoe, but I wanted a warm shoe to run long distances on snow/ice conditions. Once I received the shoe, I took them straight to the Columbia Gorge and did such a run. The Hurricanes performed very well for being straight out of the box and running up very steep, snowy, and icy conditions for a long period of time. I received some small, yet expected, blisters. Other than that, these shoes are exactly what I was looking for. They have excellent traction, support, rigidity, and allowed me to stand around for several minutes without letting my feet freeze.
I'm not a hard core runner. I use them in winter for everything, ski trips, gym and road. In Summer I use on rainy weather days. I've had four surgeries on one foot and these shoes have the best cushion and protection of all the Gore-tex shoes I've experienced. Make sure you get a least a 1/2 size larger that you normal size.
I bought the Montrail XCR's a few months back. My early impression: I have used them on about 5 runs so far. First, as stated in other posts, they are pretty stiff out of the box. On my last run they started to loosen up (25 miles on shoe). I bought these to run the trails near my house in wet weather. So far I really like them. My feet have stayed totally dry. I run on fairly rocky terrain and the soles provide great protection. Also I like the ankle support they provide. The only drawback so far I see is the weight of the shoe. This is my first pair of burly trail running shoes, previously I ran in a pair of Adidas XCR's which feel much lighter.
To wrap it up I'm a fan, looking forward to more runs with dry feet.
i've been wearing this shoe mdoel since I found them 5 or so years ago. this is my 4th pair. Each conception of them seems slightly less quality as the model before, but they are still a good shoe. I wear an 11.5 US and the size remains true with this model. My foot is slightly wider and flater than normal and i have never had a problem with the medium size width. The neoprene'ish sock-like tongue is my favorite component of the shoe. The dual foam for pronation control is also still good. The clear plastic arch support and ankle strap is cheesy. The shoe is fairly warm - it's warmer than my previous model of this shoe. It's been my experience that the soles hold up well for lightweight hiking, but scree slopes are vicous on them. Mine ussually live for about 1.5 years of near daily townie use and 150 or so backcountry hiking miles. The gortex will rip if you hike in rough terrain - the waterproofness goes out the window after that - it's a pointless amenity in my opinion. The toe seems better design on this shoe than previous "running shoe" style toes - this model has a rubberized nylon on the front of the toes instead of suede-like toe box - it seems like a durability improvement..
Keep the Moisture & the Sand out
i honestly try to avoid gortex shoes. this is because they don't typically drain very well. what keeps moisture out, REALLY keeps moisture in as well. so they are great until you dunk the foot in a puddle and water runs over the top. i still stick to that. however this shoe has been great on those wet in between days in the pacific northwest where it's wet, but you can avoid submerging the foot completely. i also love them for snowshoe running. perfect for that. they are supportive and the gortex upper gives the shoe a bit more protection while being light and comfy.

in the 2006 primal quest adventure race my teammate wore these shoes. it was 120 degrees in moab and super hot. we all had more "breathable" shoes on, while he went with the gortex to keep the sand out. after just 2 days of non stop racing our feet were torn up from the sand and the friction. his were pristine. so if you are running sandy canyons or beaches these gortex is great for keeping the sand out.
Do these work with gaitors for winter use....
Do these work with gaitors for winter use. If so, is there a recommended gaitor?
i agree. unless the lacing system is covered or something crazy most shoes work with standard gaiters. these mountain hardwears mentioned are great. dirty girl gaiters are also very good and even more minimalist. they aren't for off trail travel however since they are super light and not very protective.http://www.backcountry.com/store/MHW0881/Mountain-Hardwear-Trail-Gaiter.html