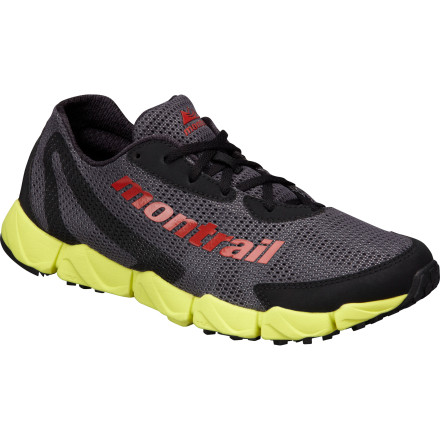 Detail Images
As you might guess from the name of the Montrail Men's FluidFlex Trail Running Shoe, supreme flexibility is its calling card. The articulated flex grooves in the sole allow total foot mobility, while a low drop enables a natural forefoot-strike stride. You'll get plenty of cushioning from the FluidFoam in the midsole, too, which even after three months of wear offers 7% more impact absorption than standard EVA, eliminating the need for gel pods or air cushions or other such gimmicks. A hybrid that you can wear out the door to the trailhead, the FluidFlex is ready to go with the flow.
Breathable upper mesh offers a snug, supportive allover fit without excessive overlays to add weight
Full-length, one-piece FluidFlex midsole features articulated flex grooves that move with the natural motion of your foot
FluidFoam in midsole offers better energy absorption, flexibility, and cushioning than EVA, from which it's derived
4mm drop and relatively low stack heights delivers a secure, close-to-the-ground feeling
Microlugs in the Gryptonite outsole offer secure traction on a variety of surfaces from wet roads to fire trails
Grippy and Squishy
Familiarity:

I've put it through the wringer
I used this shoe as my primary trail shoe the past winter. I loved most things about the shoe, and what I didn't, I learned to live with.

-The foam sole was the perfect level of squishiness when on gravel or hard packed trails. It was a little soft when used on road. Also, when running on sharp or jagged rocks, care is required as there is very little in the way of rock suppression.

-The mesh upper is very meshy and did not hold water. This came in handy when the trail was muddy or the rain was falling (which is often here in the PNW). The shoe never felt heavy or waterlogged. But, sand or fine dirt would find their way in when running on dry trails. This shoe is very light for a cushioned trail shoe, so you know there are going to be compromises.

-The toe box is wide and the mesh does not provide any support, even when the laces are cinched tight. This shoe is more for packed trails. If you need more support, Montrail offers more rugged shoes (I like the Bajada).

-The heel is very sharp and cut into my Achilleses when standing. But, when running, the problem magically went away, and I never had a problem with chafing or abrasions as long as I had on socks that covered my ankle.

-Cleaning the shoes is a breeze: rinse in a stream or hose off when done, let dry. The mesh allows the shoes to dry very quickly.

-The lugs provide a ton of grip. I am amazed at how well this shoe clings to the trail, even in muddy and slick conditions.



If you know you will be on a very technical trail, I would pick a shoe with more support and rock protection. For a trail run, there is no shoe that can beat this.
Good, but watch your step
Familiarity:

I've put it through the wringer

Fit:

True to size
The Montrail FluidFlex trail (the original 2013 model) were definitely a good purchase for me, but they are not perfect.

*They have way more cushioning than most "minimalist" shoes, and for a trail shoe, that's a good thing. The "FluidFoam" is so squishy that they feel a little disconnected when you first put them on, but that disappears when you start running.

*The toe box is very roomy, but the mid-foot laces down securely, even on my narrow feet.

*There is quite a bit of traction from the knobby rubber on the sole, but after about 70 miles of mixed, mostly trail terrain, I'm starting to tear up the foam a little from sharper rocks. Time will tell, but I'm pretty sure they will wear fine.

*I have a mid-heal strike, and haven't noticed any ill effects from running in these shoes, even though they're theoretically designed for a mid-foot strike.

*There is no rock guard between the mid- and out-sole of these shoes, like is typical of trail shoes. The only time I've found that to be a problem is when running on the sharp granite and sand stone of the Rocky Mountains. (They're not called that for nothing!) Sometimes a rock will be too much for the foam sole to absorb, but it's not that bad. For smoother trails gravel, dirt, flatrock, hardpack, etc, they offer great protection.

*The first time I wore them they really tore up the skin on the back of my Achilles, where the top of the shoe rubs, but that was probably my own fault for wearing really low socks. It hasn't been a problem since.

*The shoe is extremely light, extremely flexible, and is now my go-to trail shoe. Hopefully by the time these wear out the next model will be old enough to be on sale!
Decent, but not the best
Familiarity:

I've used it several times

Fit:

True to size
These shoes are super light, the fit is good and they have great traction. I didn't care for the foam though(a little squishy) and the back of the heel cup is too high for me(afraid it will lead to chaffing).



If you want lightweight without sacrificing cushion, this would probably be a good choice.
Not for me.
Familiarity:

I've used it several times
I wear this shoe in an 11 for the length, and perhaps (at least some of) the shortcomings I found are a results of a too-wide-for-me toe box in that size. I found this shoe to be sloppy. I didn't feel that it stayed planted through a running stride. My second issue, however is less about fit. The soft foam of this shoe was problematic. It added to an insecure squishiness and the feeling that the shoe was moving under me (when it was supposed to be in place). Despite that thick squish of sole, the soft foam didn't protect well against rocks. I felt them more clearly (ie uncomfortably) than in any of the other shoes I run in. So for me, the foam was too thick to provide good response and connection to the ground, but not stiff enough to protect against terrain.



On the other hand, it is a very lightweight shoe.
I have run almost exclusively in Montrail shoes over the last few years. I thought the Rogue Racer was a breakthrough in providing great feel and cushioning at an astonishingly light weight. The Rogue Fly, which I also loved, felt like an incremental improvement, shaving a little weight with no discernible loss of performance. I wore both shoes in 20+ trail races. My only criticism was that the forefoot protection felt just a little too minimal (not comfortable over sharp rocks!) and the heel stack felt just a little too high.



Maybe Montrail were listening to me. Or maybe they got the same feedback from a lot of athletes. Because the FluidFlex is an *awesome* shoe that remedies these issues. The forefoot sole is thicker and provides more protection, but still retains remarkably good trail feel. The heel is dropped slightly, giving a flatter, lower-profile, more stable platform. And the weight remains feather-light, not discernibly different to the Rogue Fly.



After using the shoes in only a couple of training runs, I felt comfortable enough to race a 50k in them, and a 50-miler two weeks later.



I still have absolutely no complaints. These are close to perfection.