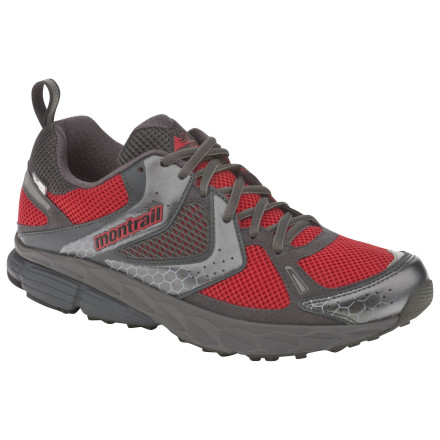 If you're looking for a hybrid road and trail shoe that can take a beating and go anywhere on a whim, it's hard to ignore the advantages of the Montrail Fairhaven OutDry Shoe. Built with a flexible, waterproof breathable OutDry membrane and Montrail's new FluidPost pronation control tech, the Fairhaven makes rugged trails seem flat and delivers plenty of flex for those long, flat road sections.
OutDry waterproof breathable membrane keeps you dry through wet and muddy conditions and allows foot sweat and moisture to escape
Unlike more static waterproof breathable membranes, OutDry membranes allow your foot to flex freely for a more fluid stride
FluidPost adaptive and personalized pronation control tech matches the midsole's cushioning and stability to changing terrain underfoot
Gryptonite outsole features a tetrahedral lug design for enhanced traction and agility as well as horizontal and vertical flex grooves for natural forefoot flex
Montrail Fairhaven OutDry Shoe - Men's
Got these shoes in 10.5 (same as my salomons and nikes) and they fit quite well. They started out a bit on the tight side, but after wearing them for a couple hours they were more broken in and felt good. Haven't tested the waterproofing too much, but seems to work. Good look, got them for about 90 bucks too. Definitely glad I got them.
Like the Badrock OutDry, these are pretty decent for trail hiking and or fast packing. I wear minimal shoes for trail running even on 100 mile runs, so it does not pay to wear a shoe that is double the weight on a long trail run. The cushion is nice on these for carrying a substantial load. I have used these on 5 fast pack trips now and they really perform quite well. The tread is aggressive, the cushioning around the ankles is soft and flexible. The toe box has enough room for proper phalange flexion. There is ample protection on this shoe especially on the toe kick. All in all I think these are a decent shoe. Like I said they are too heavy for trail running for me, but may work well for someone that does not mind the extra weight and enjoys the added cushion. I wear a size 10.5 in most shoes and these fit me just fine.
I love these shoes immensely. Montrail tends to fit my foot really well. I run mostly trails, even in wet weather. The gore-tex trail Masochist had zero breathability & my feet were consistently soaked in sweat. These are much more breathable. I've had absolutely no problem with the tongues, even during long runs up to 20 miles.
I really wanted to love these shoes.
I was excited when I first say the Fairhavens, and living in Oregon I knew I would need a waterproof shoe. I tried them on in the store and they felt awesome, I showed them to the friends I was with and got the style thumbs up, and the fit / road feel was excellent. Supportive, but not numb. Cushioning, but not soft. So why the tree stars? It all comes down to the tongue. It does not feature a stay to secure it in place via the lacings. Due to this while running, and even casually walking, it tends to drift off to the left or right. At first you don't notice it, but after a bit too much drift it gets very uncomfortable. If they could fix this I would easily give it five stars.